Speedskating has been one of the most action-packed, adrenaline-filled sports throughout the duration of the 2014 Olympics in Sochi. After the conclusion of the men's 10,000-meter event on Tuesday, we have seen nine disciplines reach their conclusions.
With only the ladies' 5,000 meters, men's team pursuit and ladies' team pursuit remaining, certain storylines have developed that will play a huge part in speedskating's finale.
From the Netherlands' dominance to disappointing finishes by the United States, let's take a look at the ongoing storylines that will be very apparent throughout the sport's conclusion in Sochi.
Can Anyone Keep Up with the Netherlands?
Quinn Rooney/Getty Images
The first speedskating event that took place this year in Sochi was the men's 5,000 meters. Right off the bat, the Netherlands asserted its dominance, as it swept the podium for the first of what would be many times.
Not only did it sweep that podium, but Sven Kramer started the Olympics off in style, setting a new Olympic record with a time of 6:10.76.
Sven-golly! Dutch speed-skater Sven Kramer won gold in the 5000m and set an Olympic record. http://t.co/qiSV9Ulvj1 pic.twitter.com/jbpLNO9No3

— NBC Sports (@NBCSports) February 8, 2014
One day later, the Dutch were at it again, as Ireen Wust topped the ladies' 3,000-meter event. The following day, we saw another Dutch sweep, highlighted by Michel and Ronald Mulder—brothers who took the gold and bronze medals, respectively.
Another Dutch sweep came about in the ladies' 1,500-meter event, as Ireen Wust was at it again, earning the silver medal and her third overall medal of the Olympic Games.
Finally, on Tuesday, we saw another Netherlands sweep in the men's 10,000-meter event. This time it was Jorrit Bergsma who set a new Olympic record with a time of 12:44.45, just edging out Kramer, who set an Olympic record of his own in the men's 5,000 meters.
Here's your Dutch #Speedskating update: Another podium sweep for the Netherlands, including an Olympic record: pic.twitter.com/M6GUoR1Ygr

— NBC Olympics (@NBCOlympics) February 18, 2014
Here's one way to put this country's dominance in perspective: The Dutch have the most Olympic medals thus far in the Olympic Games with 20. Nineteen of those came from speedskating. The other one came from a similar sport: Short-track speedskating.
With 3 speed skating events left, NED has 19 of 27 medals, shattering single OLY rec for speed skating medals (13 in 1988 by East Germany)

— ESPN Stats & Info (@ESPNStatsInfo) February 18, 2014
Looking ahead, the Dutch will look to reach the podium on Wednesday in the ladies' 5,000 meters. Wust will be skating once again and look to claim her fourth medal in Sochi. She will have tough competition, however, as Russia's Olga Graf and Germany's Claudia Pechstein are solid skaters in their own right.
Can the United States Overcome its Disappointing Finishes?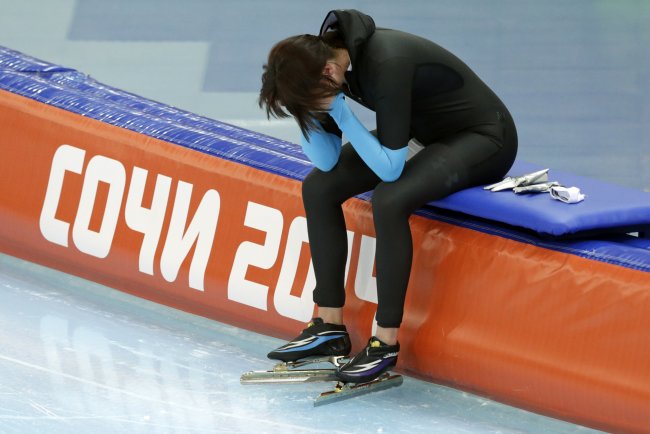 Matt Dunham/Associated Press
It's been a tough Olympics for Team USA as far as speedskating is concerned. The Americans have yet to earn a single medal through the conclusion of nine disciplines.
What makes that so tough to swallow for the United States is that it was supposed to have a couple of legitimate chances to reach the podium already in Sochi.
Team USA's biggest names are struggling under Olympic pressure: http://t.co/DYPjaY8YPc

— USA TODAY Sports (@USATODAYsports) February 13, 2014
Shani Davis entered the 2014 Olympics trying to claim his third-straight gold medal in the men's 1,000-meter event. If he was successful, he would have made Olympic history as the first male American speedskater to win the same event in three-straight Olympic Games.
Not only did Davis miss out on the podium—which featured two skaters from the Netherlands—but he only managed to finish in eighth place with a time of 1:90.12—a full .73 seconds off the gold-medal pace.
Shani Davis the latest American male to miss out on three consecutive golds. It's a tough triple. http://t.co/5O98Q29Hfp

— Joe Posnanski (@JPosnanski) February 13, 2014
Davis had another shot to medal in the men's 1,500-meter event, but like the 1,000 meters, he fell short and finished in 11th place.
After the race, he confided in Paul Myerberg of USA Today regarding his lack of confidence:
I wasn't good enough today. I think after the 1,000-meters race, it took a lot out of me knowing that I did the best I could and wasn't good enough there. And not having the confidence of the 1,000, I think it carried into today.
On the ladies' side, Heather Richardson also had a fair shot at reaching the podium. Unfortunately, her finishes resembled those of Davis.
She started strong in the ladies' 500-meter event, placing fourth in the first race. However, after a poor showing in the second race, she was only able to come away with eighth place.
Richardson took part in the ladies' 1,000-meter and 1,500-meter events as well, placing seventh in both.
During an interview with Jeff Mills of News and Record, Richardson spoke of her disappointment:
I went home (to the Olympic Village) and cried forever about the 1,000. But I have to let it go at some point and focus on the rest of my races. That's what I tried to do. Each skater is an individual. For me, mentally I needed to be stronger going into my races.

Richardson will have one more shot at the podium, as she is slated to race as one of the three Team USA skaters in the ladies' team pursuit event on Friday. If the United States fails to capture a medal in the remaining events, it will go down as one of the biggest letdowns in an otherwise solid Olympic performance.