There's less than a week of the 2014 Winter Olympics left, and as such, countries are beginning to tie up loose ends when it comes to their respective medal counts.
Through 11 days, Germany have the most gold medals (eight), while the Netherlands have the most overall medals (20).
You can see the full medal count below.
A total of 21 medals over seven events were handed out on Tuesday. These are some of the biggest developments from the day's action.
Can the Dutch Let Anybody Else Have Fun?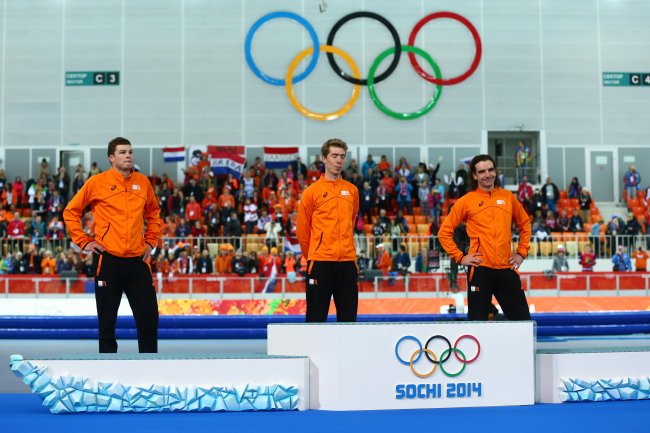 Quinn Rooney/Getty Images
For the longest time when it came to the Netherlands competing in international competitions, many immediately thought of the national football team. The Oranje always have a ton of talent, yet underwhelm at major tournaments because of infighting, poor performance and any number of issues on and off the field.
Clearly, the Dutch speedskating team is trying to clear the Netherlands' good name.
By sweeping the men's 10,000-meters, Dutch speedskaters have won 19 of the 27 medals so far, per ESPN Stats and Info:
With 3 speed skating events left, NED has 19 of 27 medals, shattering single OLY rec for speed skating medals (13 in 1988 by East Germany)

— ESPN Stats & Info (@ESPNStatsInfo) February 18, 2014
Jorrit Bergsma's time of 12 minutes, 44.45 seconds was an Olympic record and nearly five seconds better that countryman Sven Kramer, who finished second.
The two had been close throughout the whole race, and Bergsma's great finishing kick was the difference. Should Kramer have won with his time of 12:49.02, he also would've broken the Olympic record, just to cement how great the two were.
After the race, Bergsma could hardly believe the result, per Paul Newberry of the Associated Press (via ABCNews.com):
'I'm still dazed,' Bergsma said. 'Sven for a long time matched my (lap) times. I knew my finish was pretty fast. I knew I had a fast time. But he kept matching me for a long time. And then I realized he couldn't hold on to those laps.'

[...]

'I was doing 29-second laps and was able to hold on to those late in the race,' Bergsma said. 'We fought really hard for this.'
The scary thing is the Dutch still have three more speedskating events to add to their already historic haul.
David Wise Saves the Day for American Skiers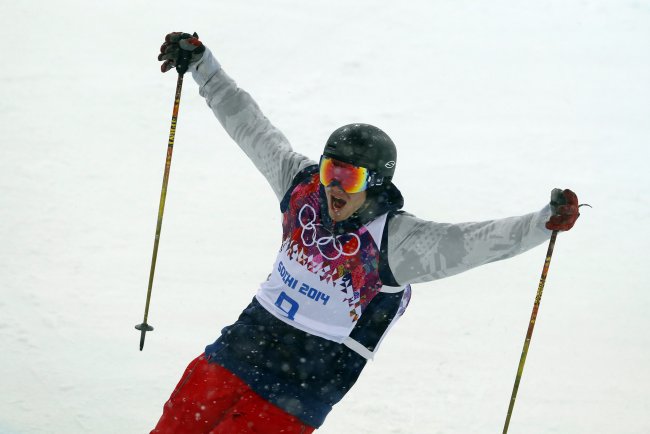 Sergei Grits/Associated Press
Tuesday saw the first-ever men's freestyle skiing halfpipe competition at the Winter Olympics. The United States had four entrants in the qualification round, but only David Wise and Aaron Blunck would make it through to the final.
Torin Yater-Wallace had come in with somewhat lofty expectations and became a bit of an Internet sensation for his now-famous burger run. He would go on to finish 26th out of the 28 skiers.
Lyman Currier fared even worse, as he was dead last in qualifying and looked to have hurt his leg, per Yahoo! Sports' Jeff Passan:
Ooh boy. American pipe skier Lyman Currier (@urmotherlovesme) is down in the pipe and grabbing his leg. Doesn't look good. Medics coming.

— Jeff Passan (@JeffPassan) February 18, 2014
Luckily for the U.S., Wise pulled through in the clutch, winning gold and beating out Canadian Mike Riddle. That got the United States into a tie with the Netherlands for both the overall lead and gold-medal lead.
Norway Pad Medal Tally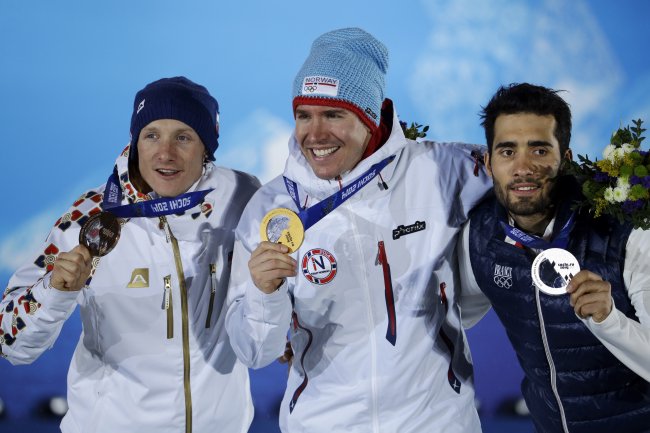 Morry Gash/Associated Press
In 2010, Norway finished with 23 medals, which was the fourth most of any country and all the more impressive when you consider how much smaller the talent pool is for the Norwegians than it is for the United States, Canada and Germany.
That success has continued into 2014, as Norway has earned 18 medals, the fourth-highest total so far.
What helps Norway is their specialization in some of the more lesser-known events that don't get a lot of attention.
For instance, look at Tuesday's results.
Emil Hegle Svendsen won gold in the men's 15,000-meter biathlon, while Joergen Graabak and Magnus Hovdal Moan won gold and silver, respectively, in Nordic combined.
Sure those lack the cachet of figure skating, ice hockey, speedskating and Alpine skiing, but they count all the same.