Sweden vs. Slovenia: Olympic Ice Hockey Quarterfinal Preview and Prediction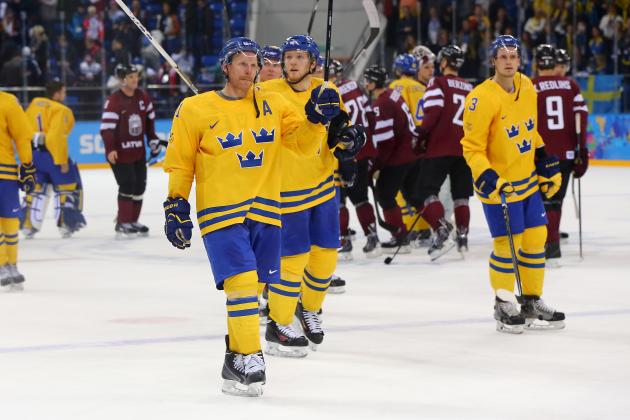 Martin Rose/Getty Images

Congratulations, Slovenia. You've made it to the quarterfinals in your first Olympic tournament. You'll be celebrated by your countrymen for generations. Maybe a few more hockey rinks will be built.
But Sweden stands in the way of your inspirational Miracle on Ice story continuing, and the Swedes are pretty darn good.
They earned the top seed out of the group stage as the only team to win every game in regulation time. They are on a mission of their own. That mission is a gold medal. Slovenia is just happy to be in the top eight.
Read on to see how this game breaks down. Hint: It won't be pretty for Slovenia.
Begin Slideshow

»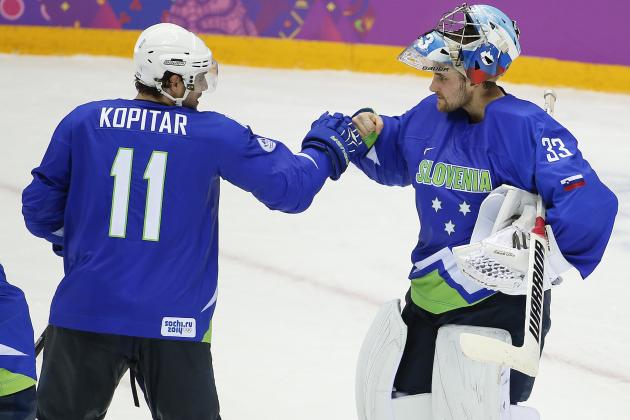 Julio Cortez/Associated Press

The puck drops Wednesday at 3 a.m. ET and can be seen on NBCSN in the U.S. and TSN in Canada. The game will also be streamed online.
For live Internet streams, go to NBCOlympics.com in the U.S. and Olympics.CBC.ca in Canada.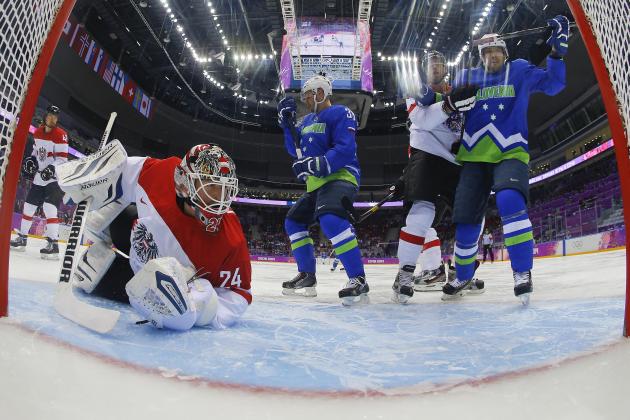 Mark Blinch/Associated Press

Underdog looking to have its day
The fact that Slovenia made the quarterfinals in its first Olympic appearance is impressive. For years at the World Championships, casual hockey fans constantly confused Slovakia and Slovenia. With just one NHLer—Anze Kopitar—on the roster, Slovenia won't be expected to beat the Swedes to advance into the final four. Then again, neither was Slovakia in 2010 when it upset Sweden in the quarterfinals in Vancouver.
Maybe Slovenia won't mind being confused for Slovakia just this one more time.
A chip on their shoulders
Despite finishing as the No. 1 seed after the preliminary round, the Swedes have a lot of doubters. Maybe it's because so many big names are absent, with injuries to Henrik Zetterberg and Henrik Sedin giving pundits pause when it comes to picking Sweden as a serious gold contender from the remaining teams.
But expect Sweden to use its skeptics as motivation. This is still a great team with plenty of NHL star power—Daniel Alfredsson, Erik Karlsson, Daniel Sedin, Alex Steen and Henrik Lundqvist—that is capable carrying it into the semifinals.
Kyle Terada-USA TODAY Sports

Forwards
• Gabriel Landeskog—Patrik Berglund—Alex Steen
• Daniel Sedin—Nicklas Backstrom—Loui Eriksson
• Gustav Nyquist—Marcus Johansson—Daniel Alfredsson
• Carl Hagelin—Marcus Kruger—Jimmie Ericsson
Defense
• Oliver Ekman-Larsson—Erik Karlsson
• Niklas Kronwall—Johnathan Ericsson
• Johnny Oduya—Niklas Hjalmarsson
Goaltender
• Henrik Lundqvist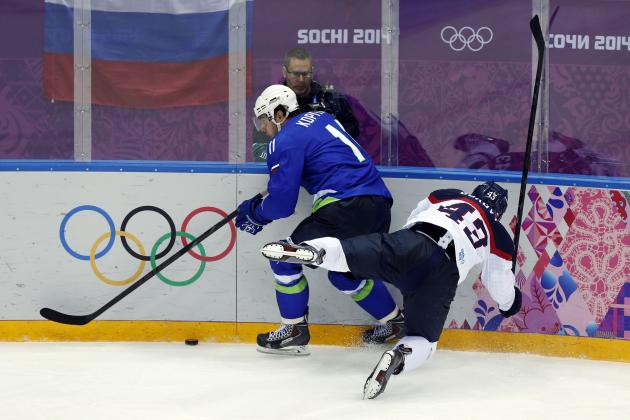 Winslow Townson-USA TODAY Sports

Forwards
• Ziga Jeglic—Anze Kopitar—Jan Mursak
• David Rodman—Rok Ticar—Marcel Rodman
• Tomaz Razingar—Jan Urbas—Ziga Pance
• Anze Kurait—Ales Music—Robert Sabolic
Defense
• Sabahudin Kovacevic—Blaz Gregorc
• Ales Kranjc—Mitja Robar
• Andrej Tavzelj—Matic Podlipnik
Goaltender
• Robert Kristian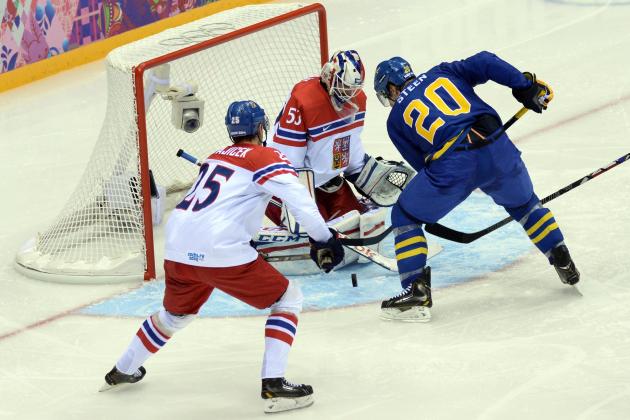 Jayne Kamin-Oncea-USA TODAY Sports

Anze Kopitar, Slovenia
His dad is the coach. He's the only NHLer on Slovenia's roster. Basically, as surprising as this team has been, Kopitar is the only player to keep an eye on from this squad. He scored in the opening minutes of the qualifying game against Austria, and his teammates got their confidence from that early lead to carry them through to the quarterfinals.
Erik Karlsson, Sweden
This 23-year-old star leads all defensemen in goals (15) and points (55) in the NHL this season. He's pacing Sweden here at the tournament with a team-leading five points and is proving to be deadly on the power play. This kid is Norris Trophy material and is thriving on the big stage at the Sochi Games. He's amazing to watch.
Alex Steen, Sweden
Steen has just a pair of assists through three games but is bound to break out in the goalscoring department. He's having a career year in the NHL with 28 goals and 46 points through 46 games, and Sweden coach Par Marts told the IIHF's Ryan O'Leary he's not surprised about Steen's success.
Alex has always been a talented player. This season he found a way of playing where he got the most out of his ability. He can play all roles out on the ice. Except as goalie. I am not surprised at all at the season Alex is having. He has always had this talent.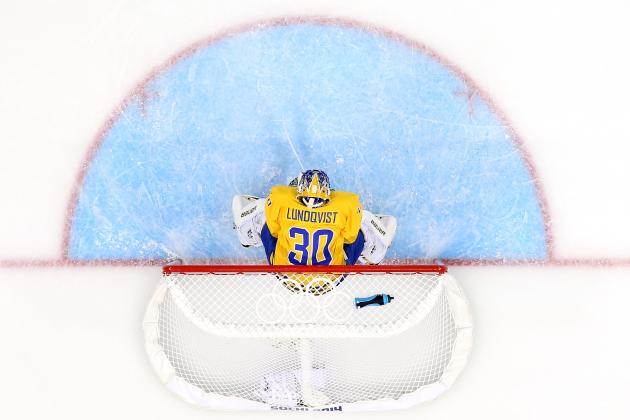 Martin Rose/Getty Images

Henrik Lundqvist, Sweden
Lundvist played every minute of Sweden's three group-stage games and looked incredible doing it, posting a shutout and surrendering just five goals in three victories for the tournament's top seed.
The New York Rangers netminder has a .936 save percentage and 1.67 goals-against average in the tournament and is the key to Sweden's success going forward in the elimination games.
He's the only goalie to start every game for his team.
Robert Kristian, Slovenia
Kristian was back in the net for the qualifying game against Austria after sitting out the contest against the U.S. at the end of the group stage.
He rewarded his coaches with a shutout and is now 2-1 in the tournament with a 2.00 goals-against average and .936 save percentage.
He'll have to be a brick wall for the Slovenians to have a chance against Sweden.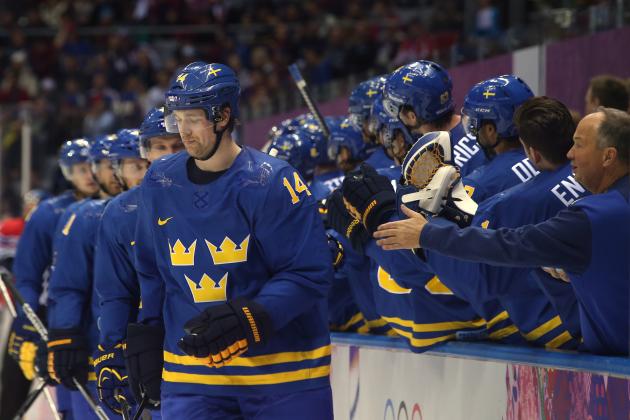 Bruce Bennett/Getty Images

Sweden has a better offense, defense and goaltender. Slovenia has a Mighty Ducks (the movies, not the NHL team) mentality.
Many people predicting the tournament's results coming in would have pegged Slovenia as going winless and finishing dead last. Sweden was a favorite for gold even after sustaining injuries to key players.
Barring a referee being paid off, I don't see how Slovenia can keep this incredible story going forward. Sweden will be motivated to make sure it squashes the underdog.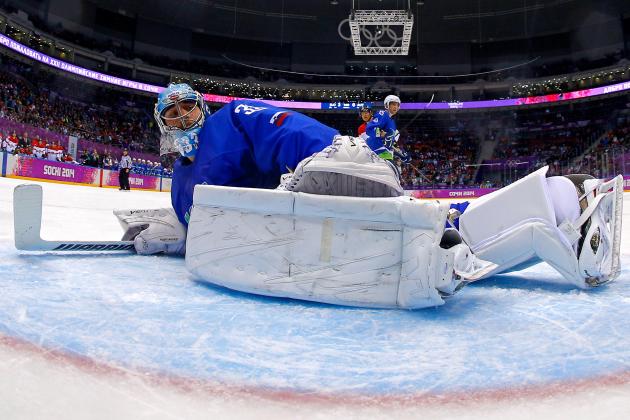 Pool/Getty Images

The Cinderella story has been fun, but let's be realistic.
Slovenia was the 17th-ranked country in the world prior to these Olympic Games and has a pool of approximately 150 professional hockey players to choose from. The 20-plus members of this squad have done an amazing job to get this far, but the Slovenians are outmatched in every single area of play against the top-seeded Swedes.
Sweden goalie Henrik Lundqvist would have to be injured in the opening minutes. A flu bug would have to tear through the defensive corps. Alex Steen would have to defect to the other side for Slovenia to have a realistic shot at this.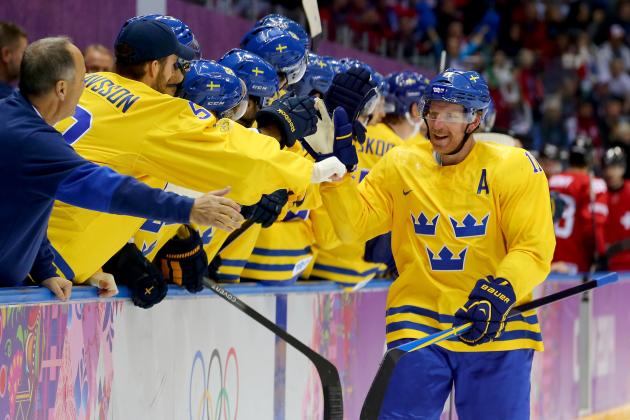 Martin Rose/Getty Images

Slovenia is the little country that could, and while it's impressive it has made it all the way to the quarterfinals, the magical run ends now.
Anze Kopitar is a great NHL player, but he can't carry an entire team against a Goliath opponent in Sweden, which still has a very good shot at a gold medal.
The game will never be in doubt, with the Swedes striking early and often and giving up a goal on a Slovenia power play, which will be celebrated as if it's the gold-medal winner.
Predicted score: Sweden 6, Slovenia 1