The NFL Scouting Combine is a chance for prospects to illustrate their athletic ability alongside players at the same position. The goal is always to make front office personnel from around the league reconsider their stance before setting final draft rankings.
A preview of the best positional battles at the event should be headlined by quarterback considering the extreme need among teams near the top of the draft. Unfortunately, that won't be the case due to a lack of participation by the top prospects.
Chris Burke of SI.com laid out the quarterback landscape and it's clear team scouts won't be able to learn much from the combine, as multiple big names will opt against throwing:
Johnny Manziel won't. Neither will Derek Carr or A.J. McCarron. Blake Bortles has yet to make up his mind—his dad told the Orlando Sentinel it will be "a game-time decision." And a couple of injured QBs (Aaron Murray and Zach Mettenberger) are not healthy enough to take the field fully yet.

Should Bortles sit, that would leave three of what may be the top four QBs drafted (Teddy Bridgewater, Manziel, Bortles and Carr) sitting on the sidelines during a key combine drill.
That doesn't mean there won't be some intriguing battles in Indianapolis, though.
Let's check out the three positions that will likely steal the spotlight with quarterback failing to provide the drama it would have if everybody were a full participant.
Running Backs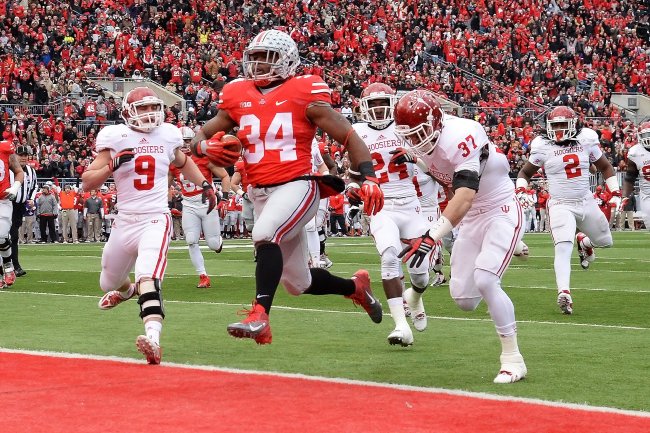 Jamie Sabau/Getty Images
The running back situation is interesting on two fronts.
Most importantly, there isn't a clear No. 1 and the combine is a chance for one of the handful of backs with a chance to earn that spot to stand out. Then there's the question mark as to whether any of them will be impressive enough to go in the first round.
Carlos Hyde is the most experienced of the group and coming off a terrific senior season with Ohio State. He averaged over seven yards per carry and a strong showing at the combine would help him pull away from the pack.
OhioStateBuckeyes.com's Jerry Emig passed along some of the back's impressive numbers:
Carlos Hyde is 6th with 3,198 rushing yards and has a handful of Top 5 totals, incl. rushing touchdowns (37) and total touchdowns (41).

— Jerry Emig (@BuckeyeNotes) February 17, 2014
If Hyde isn't able to establish himself as a clear No. 1, the door will open for the likes of Ka'Deem Carey, Tre Mason, Jeremy Hill and Bishop Sankey, among others. The combine will go a long way toward sorting out the order since they are all so closely grouped heading into the showcase.
Tight Ends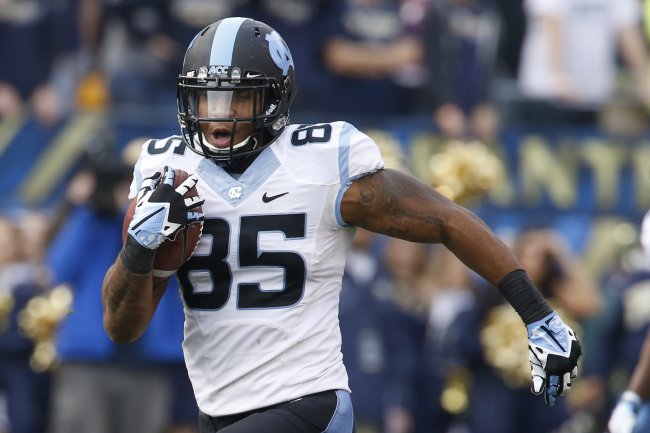 Keith Srakocic/Associated Press
Perhaps the main reason Peyton Manning had such a remarkable, record-breaking season for the Denver Broncos was the emergence of Julius Thomas. He showed the impact a great tight end can have on an offense by creating mismatches in the middle of the field.
It's a trend that's picked up steam in recent years. Therefore, teams without good pass-catchers at the position are looking for one.
This year's class is headlined by North Carolina's Eric Ebron, who's clearly looking forward to the combine:
Talking To My Coaches At UNC Reminds Me Of How Blessed I Am To Be Here! Can't Wait To Rep With 6 Of My Brothers This Week #NFLCombine

— Eric Ebron (@Ebron85) February 17, 2014
Now the question is whether anybody can challenge Ebron. Jace Amaro and Austin Seferian-Jenkins are both promising prospects, but the combine could be their last chance to move up big boards. At the very least, they need to show that they belong in the conversation with the UNC star.
Outside Linebackers
Alex Gallardo/Associated Press
Three outside linebackers have pulled away from the pack, but all have question marks. For Khalil Mack, it's level of competition. For Ryan Shazier, it's size. For Anthony Barr, it's the ability to become an instant three-down force.
Which battle are you most looking forward to?
They all arrive at the combine, a level playing field, with hopes that their athletic displays will help alleviate any lingering concerns. Mack enters with the inside track given his all-around ability, but a poor showing would allow Shazier and Barr to state their case.
Much like tight end, outside linebacker is a position of increasing importance as teams seek more ways to pressure opposing quarterbacks. As such, all three of the prospects should hear their names called pretty early, but the order is still to be determined.