In Depth: Scouting the NFC West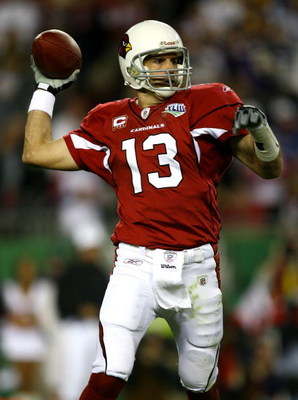 Going into the 2008 season, the Seahawks earned the right to be called the class of the NFC West.
Coming off their fourth consecutive division title, the veteran-laden Hawks again looked capable of a postseason run. But what followed was an injury-marred 4-12 season, highlighted by injuries to quarterback Matt Hasselbeck and a host of wideouts.
The Seahawks look capable again in 2009, but injuries to key veterans on offense could derail the Hawks again.
On paper, the 9-7 Cardinals finished just one game ahead of their 2008 pace. But after coasting the last two weeks of the regular season once clinching the NFC West title, the Cardinals postseason run earned them the NFC Championship.
With changes to their defense and running game in the offseason, the Cards will be players in the NFC yet again.
The Rams appear to be rebuilding under former Giants defensive coordinator Steve Spagnuolo after a miserable 2008.
St. Louis was largely quiet this offseason, but re-signed key secondary members O.J. Atogwe and Ron Bartell. On offense, Spagnuolo wants the Rams to recommit to Steven Jackson and the running game.
The 49ers are a question mark. The offense improved once Shaun Hill took over at quarterback, and there is talent at the other skill positions. New coordinator Jimmy Raye also wants the 49ers to recommit to the running game, led by Frank Gore.
But the defense must improve its 2008 20th ranking versus the pass, and a minicamp injury to starting cornerback Walt Harris did not help the situation.
It wouldn't be shocking to find anyone among the 49ers, Cardinals, or Seahawks on top in 2009.
Cards Betting on Changes to Defense, Running Game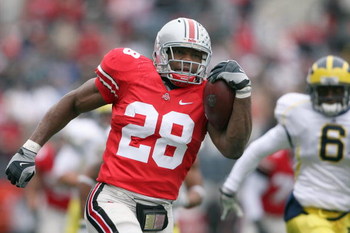 It wasn't long after the Cardinals February Super Bowl loss to the Pittsburgh Steelers that coach Ken Whisenhunt shook things up.
Most notably to go was defensive coordinator Clancy Pendergast. His 4-3/3-4 defensive hybrid run in 2008 will be replaced by a full-time 3-4 preferred by new coordinator Billy Davis.
Defensive personnel changes were immediate.
Oft-injured Steeler Bryant McFadden was brought in to replace Rod Hood at cornerback opposite the promising Dominique Rodgers-Cromartie. Rookie fourth rounder Greg Toler will be given every chance to win the fifth corner job from returnee Ralph Brown.
Scheme changes also mean revisions at linebacker. Longtime Steeler regular Clark Haggans was re-signed and given the starting job at outside linebacker opposite returnee Chike Okeafor.
Unlike Pendergast's scheme, both outside 'backers will now be responsible for bringing pass rush heat, meaning rookie Cody Brown and Bert Berry also figure into the mix.
The change to a full time 3-4 will also impact the line. Wide body, third year man Gabe Watson possesses ideal nose guard size (6'3", 332) and will try to wrestle the job from greybeard Bryan Robinson (6'4", 300).
The 14 year vet held his own in 2009 in the hybrid, but is a less than ideal fit in the new scheme.
Also along the line, end Mark Smith departed for the Texans. But massive Calais Campbell was groomed as a rookie to take his place opposite returnee Darnell Dockett.
In addition to Dockett, the talented inside linebacker tandem of Gerald Hayes and Karlos Dansby returns. Depth here, however, is untested, and the Birds need both on the field.
Incumbents also return at safety: Antrelle Rolle and Adrian Wilson. In his first season since converting from corner, Rolle's play at free safety improved dramatically the second half of 2008. Wilson remains a run-enforcing Cardinals stand by.
Offensively, the pass happy attack of quarterback Kurt Warner and his three 1,000 yard receivers return: Larry Fitzgerald, Anquin Boldin, and Steve Breaston. But after the departure of coordinator Todd Haley to Kansas City, Whisenhunt will now call his own plays.
Changes abound in the backfield, where first rounder Beanie Wells takes over for departed Edgerrin James. Improving the Cards' last ranked rushing attack (74 ypg) shouldn't require much, but the Birds need Wells to stay healthy.
Should the speedy Wells not be able to shake the injury bug that riddled him at Ohio State, the Cardinals will be forced to rely on oft-used Tim Hightower (400 yards, but just 2.8 ypc as a rookie). Ideally, Hightower (34 catches) would be more of a third-down back.
To further boost the running game, a pair of vets were added: yet another from the Steeler pipeline, fullback Dan Kreider, and blocking tight end Anthony Becht. The Cards will see if either has something left in the tank to aide the ailing rushing attack.
Becht joins a deep position with returnees Stephan Spach, Leonard Pope and Ben Patrick.
An offensive line that is a mixture of youth and experience returns, headed by the guard tandom of Deuce Lutui and Reggie Wells, and right tackle Levi Brown. But the Cardinals are left hoping to coax another year from journeyman left tackle Mike Gandy.
An injury or down year from him could cause shuffling across the line, as top reserve tackle/guards Elton Brown and Brandon Keith are best used inside.
Probable Depth Chart
WR FITZGERALD URBAN
LT GANDY VALLEJO
LG WELLS E. BROWN
C SENDLEIN CLAXTON
RG LUTUI KEITH
RT L. BROWN ROSS
TE BECHT SPACH
WR BOLDIN BREASTON
QB WARNER LEINART
FB KREIDER CASTILLE
HB WELLS HIGHTOWER
K RACKERS
DE CAMPBELL IWEBEMA
NG ROBINSON WATSON
DE DOCKETT DYKES
OLB HAGGANS C. BROWN
ILB HAYES TOGAFAU
ILB DANSBY HIGHSMITH
OLB OKEAFOR BERRY
CB McFADDEN TOLER
CB RODGERS-CROMARTIE R. BROWN
SS WILSON FRANCISCO
FS ROLLE R. JOHNSON
P GRAHAM
Rams Look to Boost Running Game, Implement Spagnuolo's Defense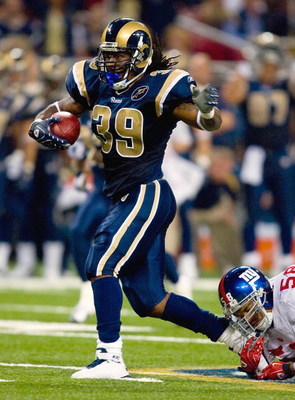 The Rams dedicated the offseason offensively to focusing their offense on their strength: Steven Jackson.
After bursting on to the scene in 2006 with more than 2,300 yards from scrimmage, Jackson has struggled to get past the 1,000-yard rushing mark the last two seasons. A healthy Jackson will go a long way towards the Rams success offensively in 2009.
Useful backups Kenneth Darby and Antonio Pittman return to spell Jackson.
Jackson will also have a frontline fullback for the first time since current Giant fullback Madison Hedgecock's release, with former Saint Mike Karney added during the offseason.
The line is bolstered by rookie first round pick Jason Smith, who will begin as a right tackle. The problem position of center was dramatically upgraded by the addition of coveted former Raven Jason Brown.
The Rams, however, will keep their fingers crossed at other spots. Inconsistent Alex Barron will man the left tackle spot until Smith is ready.
The club also hopes second year guard John Greco can push either left guard Jacob Bell or, more likely, right guard Richie Incognito out of the job. Versatile Adam Goldberg is also available.
Veterans Torry Holt and Drew Bennett were not brought back by the new staff, so the Rams will be reliant on young wideouts Donnie Avery (53-674-3 as a rookie), Keenan Burton (13-172), former Falcon Laurent Robinson (37-437 in 2007), and possibly former Giant Tim Carter.
The staff has also been pleased with the offseason work of perennially disappointing tight end Randy McMichael (11-139 in 2008). Should McMichael falter, the tight end position becomes a sixth lineman with blocker Billy Bajema.
Getting them the ball will likely be Marc Bulger. After posting a 24-8 touchdown-to-interception ratio and 4,000 yards in 2006, Bulger has fallen to 22-28 TD/INT the past two seasons.
Part of the problem has been horrendous line play and injuries to Jackson, but Bulger faces a make-or-break season. With the unimpressive duo of former Raven Kyle Boller and rookie Keith Null likely in reserve, the Rams may have no choice but to leave things to Bulger.
Defensively the Rams took a step forward by re-signing cornerback Ron Bartell and safety O.J. Atogwe. The two fit Spanguolo's physical secondary style. Throw in former Giant James Butler, who was brought in to man the strong safety spot, and things look improved.
Finding a starter opposite Bartell from the group of former No. 1 pick Tye Hill, nickel man Jonathan Wade and rookie Bradley Fletcher would go a long way to completing the group.
Spagnuolo immediately shook up the linebackers.
Middle linebacker Will Witherspoon was moved to the play making weak side spot, the spot he originally played in Carolina. Second rounder James Laurinaitis will be given every chance to take Witherspoon's old spot in the middle.
Versatile veteran Chris Draft, former starter Quinton Culbertson, and Larry Grant will be pushing to compete for strong side duties.
The biggest job for Spagnuolo will be to develop the defensive line. Coming from the Giants' group of Michael Strahan, Osi Umenyiora, Justin Tuck, and Mathias Kiwanuka, this group will seem unrecognizable.
The Rams hope a more attacking style will benefit second-year right end Chris Long, who netted 40 tackles and just four sacks as a rookie top choice.
At left end, the Rams will attempt to milk another season out of a combination of Leonard Little (six sacks), James Hall (6.5 sacks) and Victor Adeyanju.

Inside the Rams face even bigger questions.
The club must decide which of its two tackles, underachieving former first rounder Adam Carriker and Clifton Ryan, is the nose tackle. The unimpressive duo combined for less than 60 tackles and zero sacks in 2008.
Depth and competition for the starting duo must also be found. Rookie Darrell Scott, former Bengal Orien Harris and former Panther Gary Gibson offer the best chance. But this is a trouble spot and Spagnuolo and company will likely be checking the waiver wire often.
Probable Depth Chart
WR K. BURTON ROBINSON
LT BARRON HEERSPINK
LG BELL GRECO
C JA. BROWN SETTERSTROM
RG INCOGNITO SCHUENING
RT J. SMITH GOLDBERG
TE McMICHAEL BAJEMA
WR AVERY CARTER
QB BULGER BOLLER
FB KARNEY KLOPFENSTEIN
HB JACKSON PITTMAN
K JO. BROWN
DE LITTLE ADEYANJU
DT CARRIKER HARRIS
DT RYAN SCOTT
DE LONG HALL
OLB DRAFT CULBERSON
MLB LAURINATIS VOBORA
OLB WITHERSPOON CHAMBERLAIN
CB HILL FLETCHER
CB BARTELL WADE
SS BUTLER JOHNSON
FS ATOGWE BASSEY
P JONES
Singletary Hopes Toughness, Discipline Rub Off on 49ers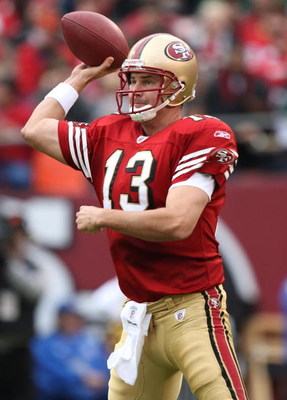 The continued development of Shaun Hill is vital to the 49ers offense. Despite being in his eighth season, Hill's ten starts the past two seasons were the first of his career.
Hill hit 58 percent of his passes for 13 touchdowns and eight interceptions once taking over as starter in Week 10. But more importantly, the 49ers are 7-3 when Hill starts.
Officially, former starter Alex Smith is in competition at quarterback, but he'll likely be reliant upon poor play or an injury to Hill to see the field.
Whoever takes snaps will have a talented group of receivers that will have to fight for jobs in camp. Rookie No. 1 pick Michael Crabtree will likely be paired with Titan-import Brandon Jones, or emerging speedster Josh Morgan (20-319-3 in 2008) at wideout.
Despite never having more than 41 catches or 500 yards in a season, the 49ers signed Jones to a signed a 5-year, $16 million contract in the offseason.
He'll also have to fend off 2008 leading receiver Isaac Bruce (61-835-7), who decided against retirement in the offseason.
Jason Hill (30-317-2) and former starter Arnez Battle will also compete for roster spots and time in multiple wideout sets.
Former No. 1 pick Vernon Davis faces a make-or-break season at tight end. Davis was benched by Singletary late in 2008, but with only Delanie Walker behind him, the 49ers need Davis to perform. New coordinator Jimmy Raye wants to see Davis used more, so opportunities will exist.
The 49ers also need a recommitted Frank Gore to establish the running game. Gore has had three consecutive 1,000 yard seasons, but hasn't come close to his 1,600 yard breakout season of 2006.
To accommodate Gore, good friend a adequate fullback Moran Norris was brought back from Detroit in the offseason to clear the way. Rookie third rounder Glen Coffee was also brought on to spell Gore.
The run game should benefit from a talented, but inconsistent line that returns intact.
Joe Staley provides solid play at left tackle, and returns for his second season after moving from the right side prior to the 2008 season. Finding a bookend with Staley has been the problem.
If former Steeler Marvel Smith's back holds up on the right side, former regular Adam Snyder would be free to move inside to compete with guards David Baas and Chilo Rachel.
Baas and second-year man Rachel have yet to start full seasons at guard, but have the size and ability Raye looks for in lineman. The duo flanks able veteran center Eric Heitmann.
There is decent depth up front, with spot starter Tony Wragge and former Jets starter Jacob Bender inside, and Snyder and longtime Raider starter Barry Sims at tackle.
The 49ers are hoping continuity breeds success on defense.
In the only change to the front seven: last season's invisible first round pick, Kentwan Balmer, will go to camp ahead of Redskin-import Demetric Evans opposite returnee Justin Smith (seven sacks in 2008) at left end.
Veteran run stoppers Isaac Sopoaga and Aubrayo Franklin return at nose guard. When size is needed across the line, Sopaga will continue to kick out to end.
The inside linebacker duo of tackling machine Patrick Willis and veteran Takeo Spikes return to anchor the NFL's 13th ranked run defense. Former starter Jeff Ulbrich and rookie Scott McKillip will compete for depth.
The largest improvement needed from the 49ers front seven is a boost to the pass rush. The 49ers hope for improved play from former No. 1 pick Manny Lawson (three sacks in 2008) and the continued development Parys Haralson (eight sacks) on the outside. Otherwise, former Bengal starter Ahmad Brooks, moved from inside during the offseason, will could get a look.
The 49ers also need improved play from their 2008 20th ranked pass defense.
The loss of veteran starting cornerback Walt Harris during offseason mini camps didn't help. Nickel corner Tarrell Brown (one career start) will get first crack at his job. However Veteran Dre Bly, signed after Harris' injury, and former starter Shawntae Spencer will also compete for time. Whoever starts is likely to get picked on, as the other side is ably manned by Nate Clements.
Third-year safety Dashon Goldson was handed the free safety job in the offseason after playing primarily as a reserve his first two seasons. The 49ers hope his athleticism and range overcome a lack of experience. Pedestrian strong safety Michael Lewis returns, but will get a push from converted cornerback Reggie Smith.

Incumbant free safety Mark Roman remains, but will likely get his walking papers.
Probable Depth Chart
WR CRABTREE J. HILL
LT STALEY SIMS
LG BAAS BENDER
C HEITMANN WALLACE
RG RACHEL WRAGGE
RT M. SMITH SNYDER
TE DAVIS WALKER
WR JONES MORGAN
QB S. HILL A. SMITH
FB NORRIS KEASEY
HB GORE ROBINSON
K NEDNEY
DE BALMER EVANS
NG SOPOAGA FRANKLIN
DE J. SMITH McDONALD
OLB LAWSON HARRIS
ILB SPIKES ULBRICH
ILB WILLIS McKILLOP
OLB HARALSON BROOKS
CB CLEMENTS SPENCER
CB BROWN HARRIS
SS LEWIS R. SMITH
FS GOLDSON ROMAN
P LEE
Changes to Defense, Questions in Running Game for Seahawks
The Seahawks' new coaching staff seemed to get the message in the offseason: get bigger on defense.
To improve their 18th rank run defense, they added 330 pound tackle Colin Cole from the Packers, who will lineup next to talented third-year tackle Brandon Mebane. Cole's signing allows Mebane to move from nose, to under tackle.
End and sometimes tackle Cory Redding (6'4"/295) was added from the Lions to bring size to end, where Darryl Tapp (6'1"/270), and Lawrence Jackson (6'4"/271) were relied upon in 2008.
The greatest boost to the group, however, is the return of left end Patrick Kerney. Kerney netted 14.5 sacks in his first season with Seattle in 2007, and had five in seven games before being lost for the season in 2008.
Speed, however, will still be the word at linebacker. No. 1 pick Aaron Curry will learn on the strong side as a rookie, allowing former strong side starter LeRoy Hill to move to seemingly his natural play making spot on the weak side.

Lofa Tatupu returns to anchor the middle, while there is also capable depth with D.D. Lewis, Michael Hawthorne and Will Herring.
Seattle brought back corner Ken Lucas from Carolina to upgrade the spot opposite Marcus Trufant. The move reverberates through the secondary, with ex-starter Josh Wilson now manning the nickel role, and former No. 1 pick Kelly Jennings now competing just to get on the field.
Veteran safeties Deon Grant (strong) and Brian Russell (free) return to form an adequate safety tandem. Useful backup Jordan Babineaux, once a corner, also returns.
Offensively, the Seahawks got serious about upgrading receiver by signing former Bengal T.J. Houshmandzadeh. The Seahawks now possess a receiver who has averaged more than 1,000 yards and has scored 32 touchdowns the past four seasons.
Just who starts opposite will be sorted out in camp. Nate Burleson and oft-injured Deion Branch will likely head to camp as the favorites. But with Burleson returning from knee surgery, impressive and speedy rookie Deon Butler and someone from the group of youngsters Jordan Kent, Logan Payne, Ben Obamanu (also returning from injury), and Courtney Taylor can't be counted out.

The Seahawks made a nice find in the second round of the 2008 draft in tight end John Carlson—the rookie grabbed 55 passes for 627 yards and five touchdowns.
Free agent John Owens was swapped out from Detroit with Will Heller to upgrade the No. 2 tight end spot.
Getting the group the ball will again be Matt Hasselbeck. After posting the worst numbers of his career in 2008 (only seven starts, five touchdowns, ten interceptions), Hasselbeck will look to return the form that got him to three Pro Bowls and a Super Bowl with the Seahawks.
Should Hasselbeck falter, backup Seneca Wallace proved his worth in 2008, posting a touchdown to interception ratio of 11-3, and hitting 58 percent of his passes in eight starts.
Veteran left tackle Walter Jones is back for another year, and if he holds up it allows right tackle Sean Locklear to stay put. Resigned Ray Willis will then be allowed to compete with right guard Rob Sims, who missed last season with a knee injury. If Jones is out, Locklear will move to the left side, with Willis taking his place at right tackle.
Another veteran, Mike Wahle, returns at left guard, while rookie Max Unger will be given every chance to take the job of disappointing former No. 1 pick Chris Spencer at center. Steve Vallos, a converted tackle/guard who filled in at center in 2008, will provide additional depth across the line.
The largest question facing the Seahawks is the running game. Julius Jones rushed for 698 yards in 2008, sharing time with since departed Maurice Morris. With Morris now with the Lions, the Seahawks hope Jones can return to the form of 2006 when he cracked 1,000 yards with the Cowboys.
Other options are slim. Former Falcon T.J. Duckett will serve as backup and short yardage back. Another former Falcon, Justin Griffith, will likely get the nod at fullback over second-year man Owen Schmitt, and be the third ball carrier.
Probable Depth Chart
WR BURLESON BUTLER
LT JONES WILLIAMS
LG WAHLE WROTTO
C SPENCER UNGER
RG SIMS VALLOS
RT LOCKLEAR WILLIS
TE CARLSON OWENS
WR HOUSHMANDZADEH BRANCH
QB HASSELBECK WALLACE
FB GRIFFITH SCHMITT
HB J. JONES DUCKETT
K MARE COUTU
DE KERNEY TAPP
DT COLE BRYANT
DT MEBANE TERRILL
DE REDDING JACKSON
OLB CURRY LEWIS
MLB TATUPU HAWTHORNE
OLB HILL HERRING
CB TRUFANT JENNINGS
CB LUCAS WILSON
SS GRANT BABINEAUX
FS RUSSELL WALLACE
P RYAN
Keep Reading