In the longest individual speedskating event at the Winter Olympics, Jorrit Bergsma set a new Olympic record and took home a gold medal in the 10,000-meter race.
Racing in the second-to-last group, the 2013 world champion put together an incredible performance to beat compatriot and favorite Sven Kramer:
NED Jorrit Bergsma breaks Olympic record in 10km at 12:44.45. Prev. held by KOR Lee Sung Hoon set in Vancouver. @cbcolympics

— Sonali Karnick (@sonalikarnick) February 18, 2014
Kramer appeared to be in decent shape early but slowed down in the final few laps, finishing with silver. Still, it was a great performance by the Dutch, with Bob de Jong taking bronze:
Sven Kramer wins SILVER in 10,000m behind Jorrit Bergsma. NED sweeps, takes overall medal lead with 20.

— Nick Zaccardi (@nzaccardi) February 18, 2014
Here is a look at the complete top 10, courtesy of Sochi2014.com:
Speedskating Men's 10,000-Meter Results

| | | | |
| --- | --- | --- | --- |
| Rank | Name | Country | Time |
| 1 | Jorrit Bergsma | Netherlands | 12:44.45 |
| 2 | Sven Kramer | Netherlands | 12:49.02 |
| 3 | Bob de Jong | Netherlands | 13:07.19 |
| 4 | Seung Hoon Lee | South Korea | 13:11.68 |
| 5 | Bart Swings | Belgium | 13:13.99 |
| 6 | Patrick Beckert | Germany | 13:14.26 |
| 7 | Shane Dobbin | New Zealand | 13:16.42 |
| 8 | Moritz Geisreiter | Germany | 13:20.26 |
| 9 | Yevgeny Seryayev | Russia | 13:28.61 |
| 10 | Emery Lehman | United States | 13:28.67 |
via Sochi2014.com
This race is truly a battle of endurance, as pace is just as important as top speed. Willie Cornblatt of NBC Olympics points out that not all skaters were able to hold up to the conditions:
Lehman looks to be using the vomit bin after the 10,000m, this race takes its toll on skaters #speedskating

— Willie Cornblatt (@WillieCornblatt) February 18, 2014
Obviously, this creates some separation between the skaters, but no one did better in his pair than the veteran de Jong, as noted by Jared S. Hopkins of the Chicago Tribune:
Watching the 10K in speedskating. Bob de Jong, 3X Olympic medalist, lapped his opponent en route to 1st place with four skaters to go. Wow.

— Jared S. Hopkins (@JaredSHopkins) February 18, 2014
After Bergsma took the lead with an Olympic record, it still seemed possible for him to be beaten in the final pairing of Kramer and 2010 champion Seung Hoon Lee.
Kramer was looking for redemption in this competition after failing to medal in 2010. He finished with the best time in the event, but he was disqualified due to a coaching mistake which led him to switch to the wrong lane.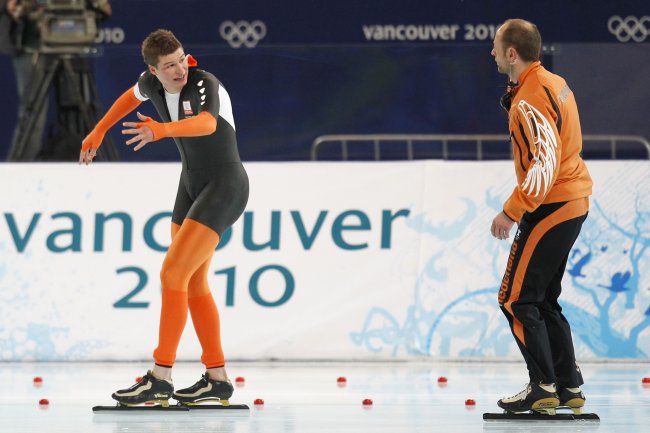 Matt Dunham/Associated Press
While he was able to make his way onto the medal stand this year, he did not get his gold. Fortunately, he was able to win the 5,000-meter event earlier in the week.
On the other hand, other teams would like to see someone secure any medal. As has been the case throughout the Sochi Olympics, the United States once again failed to medal in a speedskating event. Despite coming in with high expectations, the country has now gone through nine events without reaching the podium.
Patrick Meek, who finished 11th on Tuesday, complained earlier in the week about the humidity to Filip Bondy of the New York Daily News:
It's a really nice surface, and they've done the best they can. But you can see the Black Sea from the building. You're fighting geography. It's what we call fake ice. You think it's fast, but it's not fast.

Add this to the list of problems along with the new speedskating suits. Still, the Americans only have the women's 5,000-meter event along with both team pursuits remaining if they want to leave Russia with a speedskating medal.

The good news is help is on the way. Emery Lehman finished in 10th place to pair with his 16th place in the 5,000-meter event. While this is far from elite, he has youth on his side, as noted by Cornblatt:
U.S. speed skater Emery Lehman (@Mry_the_Eman) up now, 17-year-old high school student, guy is the future of @USSpeedskating #Sochi2014

— Willie Cornblatt (@WillieCornblatt) February 18, 2014
Lehman won gold at the 2013 World Junior Championships and showed great endurance in this long race. Once he builds up his strength and learns better technique, he could be one of the best skaters in the world.
Competitors in 2018 at Pyeongchang, South Korea, better be ready for the young star in the making.
While Lehman might be a big name in the future, though, the Dutch continue to perform well in the present. They have now won 19 speedskating medals, with no other country earning more than two.
On the men's side, they have 12 out of 15 total medals and four out of five golds. Bergsma added to that list with a fantastic performance where he seemed to get stronger as the race went on.
With a bronze in the 5,000-meter event earlier in the games, Bergsma has proven to be the top distance racer in the world over the past two years. He will remain tough to beat going forward.
Follow Rob Goldberg on Twitter for the latest breaking news and analysis.