Rightly or wrongly, Yaya Toure has increasingly adopted the role of the fall guy when Manchester City lose. And given that they welcome Barcelona—and Lionel Messi—to the Etihad Stadium on Tuesday, the Ivorian knows he is in the firing line once again over the next 24 hours.
Like any talisman of a top team, Toure carries the responsibility for his side's results. Win, and he's the hero. Lose, and the opposite view is taken.
The player himself sums up the polar reaction he is subjected to, per Sky Sports:
Sometimes you guys (in the media) criticise, we understand that. You have to understand that in football, (the media says that) when we win, we're better, when we lose, we're a bad team.

We understand that is part of the game. But the most important thing is just to continue. At the end of the season, if we've won the trophies it's going to be fantastic for us.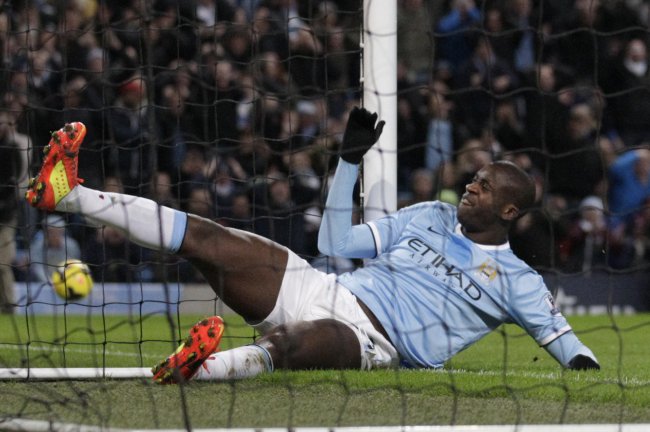 Jon Super/Associated Press
Toure's not alone in the fickle perception of his performances. Steven Gerrard, equally important to Liverpool's midfield, was questioned earlier in the campaign when Liverpool performed well without him in the 5-0 demolition of Tottenham. The truth is Gerrard is enjoying one of his most influential campaigns for years.
Both players are monumental to their respective clubs. Toure has scored 12 league goals and created another four this season, per ESPN FC, and you would be hard pressed to find any City fan calling for his exclusion. Indeed, Toure would improve any midfield in the country.
However, as City prepare for arguably the most inventive attack in world football when Barca come to town, it is Toure's defensive discipline that will be called into question. Messi plays in the exact "enganche" position (player in the hole) to exploit any of the Ivorian's flaws, so Toure will be asked to prove he is a complete midfielder.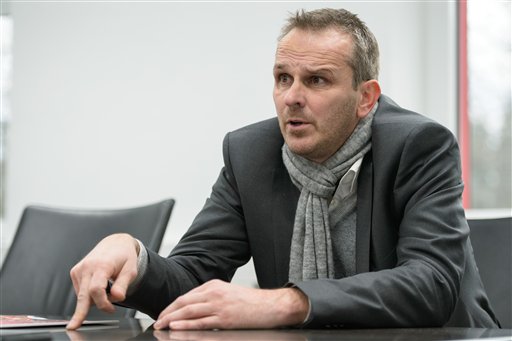 Sebastian Widmann/Associated Press
Dietmar Hamann, former City player and winner of the Champions League with Liverpool, recently labelled the African powerhouse a "defensive liability" on BBC's Match of the Day, as reported by David Kent of the Daily Mail.
His accusation was that Toure's exceptional attacking qualities were overshadowing a tendency to desert his defenders, leaving spaces for opposition forwards to exploit on the counter.
Such a pattern has been evident in losses to Chelsea and Newcastle, and Barcelona boast the exact setup to exploit City's tactical naivety to the fullest.
Like Bayern Munich, the Catalans play around a midfield pivot. For the Germans it was Philippe Lahm, for Barcelona it is Xavi. Triangles are set up around those pivots, always with the intention of releasing an attacker "between the lines" in front of the defence.
In world football, there is no scarier sight than seeing Messi turn and face the opposition goal. The way to combat it is to field two disciplined anchor midfielders, capable of swamping his space.
Bayern Munich did it last season, with Javi Martinez and Bastian Schweinsteiger sitting deep. Back in 2010, Jose Mourinho fulfilled a similar brief at Inter Milan by handing Thiago Motta and Esteban Cambiasso shackling assignments.
The fit-again Fernandinho will surely take up one such role for City on Tuesday, and Manuel Pellegrini has the option of using Javi Garcia as the other. This would free Toure to attack without restriction.
The Telegraph's Paul Hayward advocates such an option:
Pellegrini knows a damn sight more than me but why not play Fernandinho and Garcia with Yaya Toure up behind Negredo with Silva and Nasri?

— Paul Hayward (@_PaulHayward) February 18, 2014
However, Pellegrini loves to attack, and it is expected that Toure will be the second central midfielder, leaving City every bit as exposed as they were in the home thumping by Bayern earlier in the season.
According to Rob Dawson of the Manchester Evening News, Pellegrini will play "the same team you see every week," which means an open and aggressive 4-4-2 formation.
Pellegrini has opted for a two-man strikeforce all season, with two wide players complementing a midfield duo. If he does this against Barcelona he will commit footballing suicide, and it won't be entirely Toure's fault.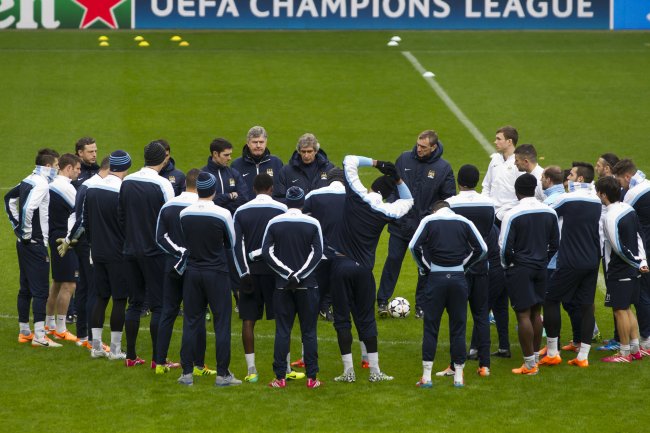 Jon Super/Associated Press
The trio of Sergio Busquets, Xavi and Andres Iniesta will keep the ball all day, utilising their superior numbers, staying patient until the opportunity arises to unleash their Argentinian magician.
Neymar, who will likely start on the bench after his recent return from injury, claims City won't be able to stop Messi, per Charlie Skillen of the Daily Mail:
Messi is the best player in the world for me. I thought that when I joined - and now I believe it even more. You can make a plan to stop him - but when he plays at his top level - then it is not possible to stop him.
Each time Toure strides forward at the Etihad, he will cause trepidation around the ground. Barca will fear what he does with the ball, but City will sit nervously in anticipation of what might happen when he is without it.
Barcelona will remember the Yaya Toure who used to play the deep-lying role almost exclusively during his time at the Camp Nou. Indeed, he even played at centre-back in the 2009 Champions League final when they beat Manchester United.
It is that side of Toure that City need if they are to overcome Messi and Co., but Pellegrini's open tactics—rather than Toure's own shortcomings—are likely to ensure more criticism heads the Ivorian's way on Wednesday morning.