There is not a team across the entire college basketball landscape that needed a win more than the Oklahoma State Cowboys heading into their showdown with Baylor.
So much for that.
Oklahoma State, still without Marcus Smart thanks to the suspension he received after shoving a fan at Texas Tech, went on the road and lost to the Bears to the tune of 70-64 in overtime. The Cowboys have now lost their last seven games and eight of their past nine.
Cory Jefferson led the way with 25 points and 13 rebounds, while Isaiah Austin tallied a double-double of his own with 12 points and 12 rebounds.
Credit Oklahoma State, though, for showing incredible fight, as Leyton Hammonds stole an inbounds pass with three seconds remaining and drilled a three-pointer to tie the game at 58, as SportsCenter pointed out:
Leyton Hammonds is CLUTCH!!! Oklahoma State guard steals an inbounds pass and beats the buzzer to send game vs. Baylor to OT. #SCtop10

— SportsCenter (@SportsCenter) February 18, 2014
Matt Norlander of CBS Sports captured the moment perfectly:
Unfortunately for the Cowboys, there are no moral victories in the Big 12, even if the loss comes in overtime on the road.
It wasn't that long ago that Oklahoma State was in the Top 10 and a serious candidate to make the Final Four. Now, only TCU is keeping it out of the Big 12 basement after the loss to Baylor as it fights for its NCAA tournament life.
ESPN Stats & Info pointed out just how alarming the free fall has been for the Cowboys:
Oklahoma St: lost 6 straight gms; haven't had longer streak since 1972-73 (7). BPI gives OKST 53.7% chance to win tonight #OKSTvsBAY

— ESPN Stats & Info (@ESPNStatsInfo) February 17, 2014
Playing with the urgency you would expect from a team that needed a win as badly as Oklahoma State, the Cowboys jumped out to a 33-28 halftime lead.
Phil Forte III led the way with 12 points, two assists, one rebound and one steal, while Markel Brown tallied 11 points, five assists and three rebounds before intermission.
Brown was once again critical in Smart's absence, especially because Le'Bryan Nash dealt with foul trouble and was held without a field goal in the first half.
The effort from Brown and Forte did not go unnoticed by David Ubben of Fox Sports Southwest:
They're going to have to carry Markel Brown and Phil Forte onto the team plane.

— David Ubben (@davidubben) February 18, 2014
Jefferson led the way through the first 20 minutes for Baylor with 10 points, eight rebounds (four of the offensive variety) and a block.
It's worth mentioning that the Bears came out with bright fluorescent jerseys that caught the eyes of Bleacher Report's Scott Henry:
Thinking about ordering #Baylor jerseys for my in-laws, as they like to go walking in the dusk hours. Can see those things from space.

— Scott Henry (@4QuartersRadio) February 18, 2014
The Cowboys, likely fueled by the momentum they had with the lead at the half, came out of the locker room and created some breathing room after intermission with a small spurt. However, Austin hit a critical three-pointer and swatted away multiple attempts (he ended up with five blocks on the game) at the rim to lead the Bears back to within five at 49-44.
ESPN College Basketball was ready for a thrilling finish:
A good one in the #Big12. Oklahoma State leads Baylor 49-44 with 7:59 left on ESPN. #OKSTvsBAY

— ESPN College BBall (@ESPNCBB) February 18, 2014
After a couple of minutes of back-and-forth action, Austin battled down low on the offensive glass and scored a critical putback to draw Baylor within one. A free throw later, and the game was tied at 50-50.
The efforts of Austin and Jefferson on the offensive glass were monumental, as the Bears finished with an astounding 22 offensive rebounds. Austin flushed one down to finally give Baylor a 52-50 lead with less than five minutes remaining.
The Bears made their second-half run to grab the lead when Brown was basically playing on fumes. He carried Oklahoma State for so long without a rest early in the game that fatigue was clearly an issue in the middle of the second half.
Just when it appeared Baylor was going to create some separation, Forte drilled an off-balance three at the top of the key to give Oklahoma State a 53-52 advantage.
Doug Gottlieb of CBS used the opportunity to throw in a little wordplay:
Shooting is his Forte #splash

— Doug Gottlieb (@GottliebShow) February 18, 2014
Jefferson, though, provided Baylor with just the answer it needed.
Two critical baskets, one of which came off of an offensive rebound, gave the Bears a 58-55 lead with 1:14 remaining.
Brown missed a potential game-tying three with less than a minute left, and then Baylor dribbled almost the entire clock out. Although the Bears missed their shot, Austin grabbed yet another offensive rebound with 11 seconds remaining and had a chance to ice the game at the line but missed his free throw.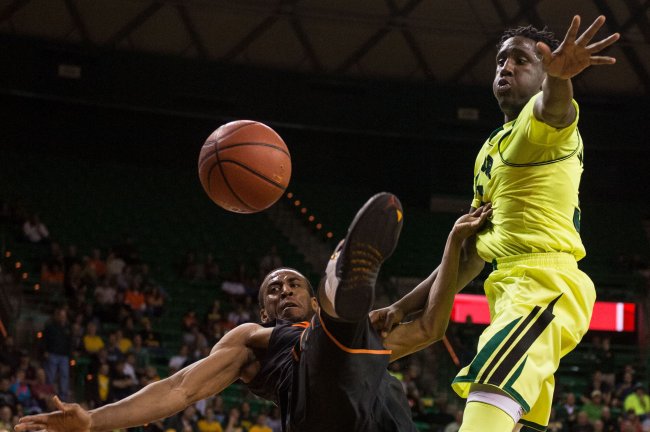 Jerome Miron-USA TODAY Sports
Forte's three-point attempt clanked off the rim, and the contest appeared over until Hammonds stole the inbounds pass and hit the three at the buzzer.
In a situation like that, it wouldn't be unreasonable to expect Baylor to fold in overtime, but it did the exact opposite.
The Bears controlled the extra period from the opening possession (once again, largely because of their prowess on the boards) and jumped out to a quick lead, but Brown drilled a much-needed three to cut the lead to 66-64 with just more than a minute remaining.
However, from there, the Bears scored a critical basket and hit the necessary free throws to ice the game away. It was a much-needed win for Baylor as it battles for an at-large spot in the NCAA tournament but is just as crippling of a loss for the Cowboys.
Jeff Goodman of ESPN pointed out just how crippling of a loss it may be:
Oklahoma State will get Marcus Smart back next game, but it maybe too late for NCAA tourney berth-- Cowboys now lost 7 straight.

— Jeff Goodman (@GoodmanESPN) February 18, 2014
One thing that Baylor did well in its 76-70 victory over Oklahoma State from earlier in the season is hit three-pointers. Credit Oklahoma State even in defeat for clamping down on the outside this time around and holding the Bears to only 8-of-21 shooting from downtown.
Cowboys coach Travis Ford pointed out the need to do that in his postgame press conference after the first matchup in quotes that were passed along by Baylor's official athletic website:
You have to give credit to Baylor. They made shots. They were 11 of 23 on threes, and we were 6 of 21. That's the story. We let a kid, who all he does is shoot threes, shoot threes. We had some guys whose shots weren't falling, but Baylor made shots and withstood every run we made at them. Even after our big dunk to regain momentum, they had a dunk and an and-one on the other end. We just didn't play well. We have to regroup as a team -- not as individuals -- as a team. We're at a crucial point in the season.
Grades
Isaiah Austin, Baylor: A -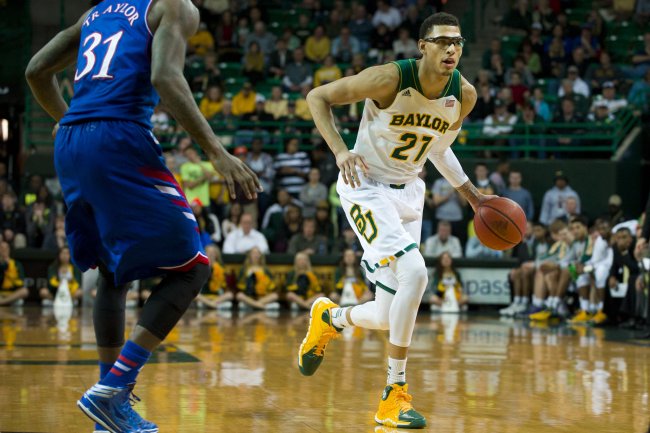 Cooper Neill/Getty Images
Oklahoma State had a 10-point lead and appeared to be in control of the game, but Austin keyed a critical second-half run on the offensive glass with a momentum-swinging three-pointer and his shot-blocking prowess on the defensive end.
Austin finished with 12 points, 12 rebounds and five blocks and was an imposing presence on both ends of the floor throughout the game.
It was crystal clear why many NBA scouts still feel he has a bright future ahead of him at the next level. The only reason he didn't finish with an A is because he shot 5-of-12 from the field.
Cory Jefferson, Baylor: A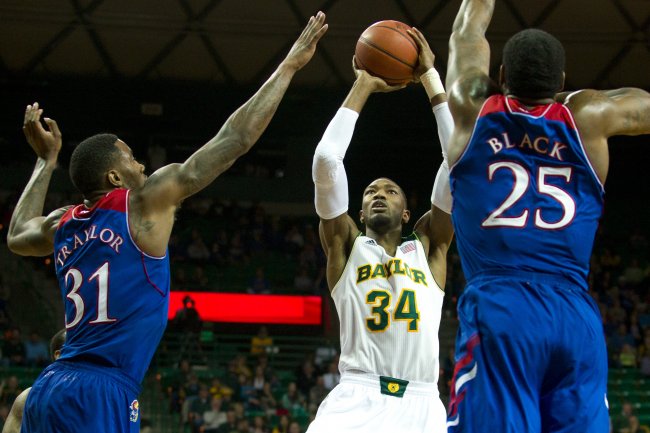 Cooper Neill/Getty Images
Jefferson was an absolute monster in this game and finished with 25 points, 13 rebounds and three blocks behind 8-of-12 shooting from the field and 8-of-11 shooting from the free-throw line.
He, alongside Austin, dominated the contest on the boards and was the best player on the floor for much of the game. If he plays like this the rest of the way, the Bears should be able to get into the NCAA tournament by Selection Sunday.
Markel Brown, Oklahoma State: A -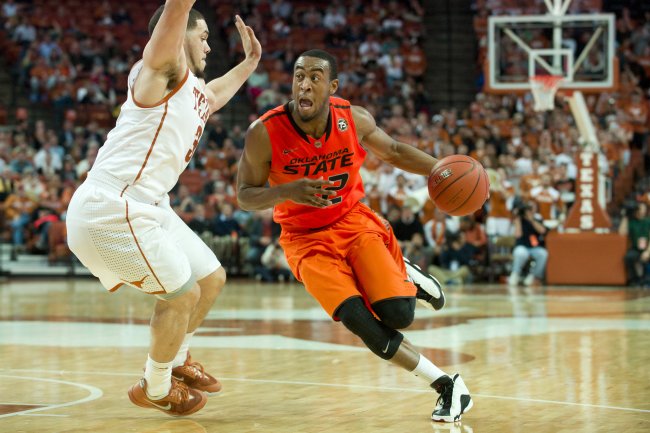 Cooper Neill/Getty Images
Sure, Oklahoma State lost the game, but Brown showed the gutsy effort that the Cowboys needed with no Smart.
He finished with 26 points, six assists and four rebounds behind 10-of-19 shooting and played every single minute of the overtime contest.
As to be expected, he fought through serious fatigue in the second half and overtime but was still impressive.
What's Next?
After a couple of games at home, Baylor will head out on the road again in the treacherous Big 12. The Bears go to West Virginia and then to Austin to take on the nationally ranked Texas Longhorns.
Will Baylor make the NCAA tournament?
As has been the story all season, Baylor has the talent to beat both squads. It's just a matter of whether the Bears can tap into that, or if some of the struggles that have haunted them in conference play will rear their ugly head again.
As for Oklahoma State, the Cowboys return home for a date with Texas Tech and then a trip to TCU. The rematch with the Red Raiders is notable because that is the opponent Oklahoma State was playing when Smart pushed a fan.
The Cowboys should be able to beat TCU at the very least and certainly have the talent to pick up two more wins in the coming games.
Follow me on Twitter: