Manchester City manager Manuel Pellegrini confirmed that the club's best striker, Sergio Aguero, will not be on the team sheet for City's Champions League collision with Barcelona.
"Pellegrini confirmed Aguero would not play a part in the first leg of the last 16 tie but said he could be fit for the visit of Stoke on Saturday," reported David McDonnell of the Mirror.
Perhaps there could be no truer example of City's star-crossed history than Aguero's absence for the first leg of the Barcelona Champions League tie.
City are into the round of 16 in the Champions League for the first time ever, and they will take the pitch without their best player. Of course they will. How could it happen any other way?
No one (certainly not Barcelona) will shed any tears for City or Pellegrini. The Sky Blues are one of the wealthiest clubs in the world and they have three elite strikers behind Aguero. Still, it is a shame for City fans that Aguero could not heal in time for this match.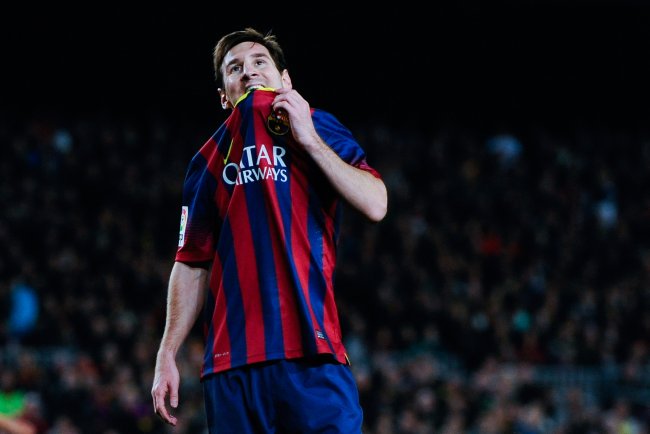 David Ramos/Getty Images
Word that the Argentine might be back in time for Stoke, though, is a real relief. Because City's schedule in the next few weeks is really stout.
In the next five weeks, City will play:
two Champions League matches with Barcelona
the Capital One Cup final against

Sunderland

an FA Cup quarter-final against defending champion Wigan

—who beat City for the trophy last year

the Old

Trafford

derby against Manchester United
Getting Aguero back for as many of those encounters as possible is indescribably important to a City side who have struggled to score goals without their talisman.
Before breaching Chelsea for two goals to advance in the FA Cup, City had been held scoreless in their two prior matches. The Sky Blues scored five times on Jan. 29 against Tottenham—and Aguero had the first goal.
Aguero has 26 goals in 25 appearances in all competitions for City this season. That explains how he leads City in scoring despite multiple injury breaks.
Any team missing its leading striker is bound to struggle to score goals. For City, though, Aguero's absence causes more problems than just the lost scoring threat.
How should Pellegrini deal with Aguero's absence?
Alvaro Negredo has 23 goals this season. Negredo's emergence is inextricably tied to his successful partnership with Aguero, as noted by Jamie Jackson of The Guardian. Negredo has looked fairly ordinary in recent matches without Aguero (scoreless in his last three appearances). Negredo seems especially lost when he is paired with Edin Dzeko.
When Aguero is missing, then, Pellegrini must make two decisions about his formation, not just one.
Ordinarily, Pellegrini prefers a fairly predictable 4-4-2 with Aguero and Negredo running riot up top. Take Aguero away, though, and the 4-4-2 becomes less automatic.
Rather than scuffling along with Dzeko or Stevan Jovetic, Negredo is best served playing alone as a striker with an extra attacking midfielder like Samir Nasri providing him service.
But if Pellegrini really wants his 4-4-2, he is better served deploying Dzeko and Jovetic to start and bringing Negredo on (if needed) after the interval.
City will need Aguero's lethal scoring prowess to keep their four trophy chases alive. Negredo, Dzeko and Jovetic are all great players but not one of them is Aguero's equal.
And Pellegrini will surely not miss having to tinker with his formations once Aguero returns to the XI.