We took one step closer to the 2014 NFL season on Monday when teams were officially allowed to place the franchise tag on players. When a team uses the franchise tag, it essentially means a one-year contract that locks the tagged player in with his team instead of letting him test free agency.
Compensation is based off of the player's position, not their stats, with varying prices for every position. It's not required of teams to use the franchise tag, but for some, it's a handy little ace to have up their sleeve if contract negotiations go stale.
For the New Orleans Saints, the franchise tag is going to be their best friend because it will likely be what keeps Jimmy Graham in a Saints uniform. The two sides have been at a standstill contractually, largely because Graham wants to be paid like a wide receiver since that's where he lines up most of the time.
New Orleans is strapped in cap space even after releasing a slew of players to make room, leaving the franchise tag all the more necessary to bring back Graham.
As with anything, there are positives and negatives to using the franchise tag, but there are some teams who will be thankful they have it this offseason.

Baltimore Ravens
The Baltimore Ravens had their worst season under John Harbaugh in 2013. As expected, they felt the losses of the players who left in free agency last year, and the gaps left by those players were barely filled. This year, they're facing the potential loss of their starting tight end, Dennis Pitta, to free agency.
The reliable pass-catcher is an invaluable piece of their offense, and is Joe Flacco's clear security blanket. He only played in four games in 2013, a stat that was clearly reflected in Flacco's numbers. While one could argue that it was largely the loss of Anquan Boldin that adversely affected his stat line, and it did, not having Pitta was second in line and greatly affected Baltimore's offensive output.
Given the fact that they already took care of another would-be free agent when they re-signed Terrell Suggs yesterday, it seems as though franchising Pitta is inevitable.
Kyle Casey of Russell St. Report seems to believe that the Ravens franchising Pitta isn't a matter of "if," but rather a matter of "when."
Franchising Dennis Pitta seems like a foregone conclusion at this point, with an extension before the July 15 deadline just as likely.

— Kyle Casey (@kylecasey094) February 17, 2014
While Eugene Monroe could also be an option for the franchise tag, Pitta is much more valuable to the team and would be a bigger loss. He will be wearing purple and black in 2014, whether it's as a franchised player or on a long-term contract.
Carolina Panthers
The Carolina Panthers boast arguably the best defense in the NFL, and an integral part of that defense is Greg Hardy. The blossoming defensive end has had breakout numbers the past couple of years, tallying 11 or more sacks in each of the past two seasons. Hardy's a tremendous pass rusher and also helps in run support; he's the total package and a great fit in Carolina's defense.
While they could afford to take the loss if Hardy did walk, they would not be the same defense without him. This was a unit that helped carry the team to the No. 2 seed in the NFC last season, and a big part of that was Hardy's effect. Whether he's making the play himself or drawing double teams, Hardy made an impact on nearly every defensive play for Carolina.
What's great is that Hardy isn't opposed to the franchise tag like some players. In fact, he recently said he would be honored if the Panthers gave it to him.
Greg Hardy told @NFL_ATL it would be a "big honor" if the cap-challenged @Panthers use the franchise tag on him http://t.co/ZS22vs1K8B

— NFL: AroundTheLeague (@NFL_ATL) January 15, 2014
It is of utmost importance for them to bring him back, and the franchise tag looks like it will be the only way for the cap-restricted Panthers. If Carolina allows him to hit free agency, it is expected that he will have a healthy handful of suitors willing to roll out the red carpet for him, and that's not what the Panthers want.
It's looking more and more like their best chance of keeping Hardy will be via the franchise tag, buying them another year to work out a long-term deal.
Cleveland Browns
The Cleveland Browns have had meltdown after meltdown over the past several months, and they need to keep whatever dregs of continuity they have left intact. Two important parts of that continuity are safety T.J. Ward and center Alex Mack.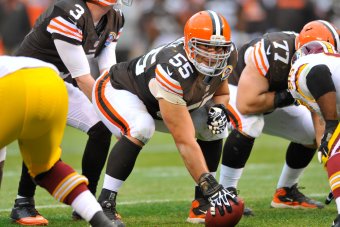 USA TODAY Sports
Ward is a top-tier safety with tremendous ability in both coverage and run support who's been one of the few bright spots of Cleveland's roster for awhile now. Mack, on the other hand, is the anchor of their offensive line who has been a very consistent piece of their offense when there wasn't much talent around him.
Both of these players hold varying levels of importance with the Browns' big wigs, although both would be worth giving the franchise tag to. It's unlikely that they could re-sign one and tag the other, simply because there's not much there to attract these two.
They may think that less money on a more talented, more together team would be a better situation for them, and that will likely drive them to jump ship. It's hard to say which player would be a smarter choice to franchise, but the Browns will be losing a great player either way, so it wouldn't make a very big difference anyway.
New Orleans Saints
As I mentioned earlier, New Orleans's hand will likely be forced by Graham, causing them to slap the franchise tag on him.
Graham lined up as a wide receiver 66.8 percent of the time, and clearly made a much bigger impact at that position than at tight end.
Jimmy Graham/TE vs. Jimmy Graham/WR

| | | | | |
| --- | --- | --- | --- | --- |
| Pos. | Plays | Catches | Yards | TDs |
| Tight End | 291 | 18 | 377 | 4 |
| Wide Receiver | 586 | 68 | 838 | 12 |
ESPN.com
Graham certainly has a point about being lined up as a receiver most of the time, but there's just no plausible chance that the Saints will end up giving him that money at this point, meaning he makes the most sense to put the tag on.
Graham is the best football player on their roster after Drew Brees, and losing him would have a catastrophic effect on their offense. There's no denying Graham's elite ability, and the Saints have to do whatever they can to keep him.
He's expressed his disinterest in being franchised tagged, likely because he wants a long-term deal and the tag means he will be getting slighted financially.
It's been argued that, if he should end up getting tagged, he should receive the equivalent of a wide receiver, not a tight end. While these two positions are mere yards away on the football field, there's more than a $5 million difference between the two when it comes to franchise tags.
At the end of the day, Graham deserves the money he's asking for, but he won't get it. Best case is he gets the $11.6 million wide receiver tag, worst case is he gets stuck with the $5.8 million deal. Either way, New Orleans is holding on to Graham.