The men's and women's ice hockey tournaments have been a highlight of the 2014 Winter Olympics thus far, and the expectations for Day 11 have grown after such exciting play.
With Team USA dominating in the men's and women's tournaments, the hype around the games each day and the potential matchups for the Americans has hardcore and casual hockey fans alike excited for the action.
Here is all the latest schedule information for Day 11.
Where: Shayba Arena and Bolshoy Ice Dome, Sochi, Russia
When: Tuesday, Feb. 18
Watch: NBC Sports Network and MSNBC
Live Stream: NBC Live Extra
Day 10 Men's and Women's Hockey Schedule

| | | | | |
| --- | --- | --- | --- | --- |
| Date | Time (ET) | Classification | Matchup | Predicted Winner |
| Feb. 18 | 3 a.m. | Women's | Germany vs. Japan | Germany |
| Feb. 18 | 3 a.m. | Men's | Slovenia vs. Austria | Slovenia |
| Feb. 18 | 7:30 a.m. | Women's | Finland vs. Russia | Finland |
| Feb. 18 | 7:30 a.m. | Men's | Russia vs. Norway | Russia |
| Feb. 18 | 12 p.m. | Men's | Czech Republic vs. Slovakia | Czech Republic |
| Feb. 18 | 12 p.m. | Men's | Switzerland vs. Latvia | Switzerland |
Source. NBCOlympics.com and Sochi2014.com
Russia vs. Norway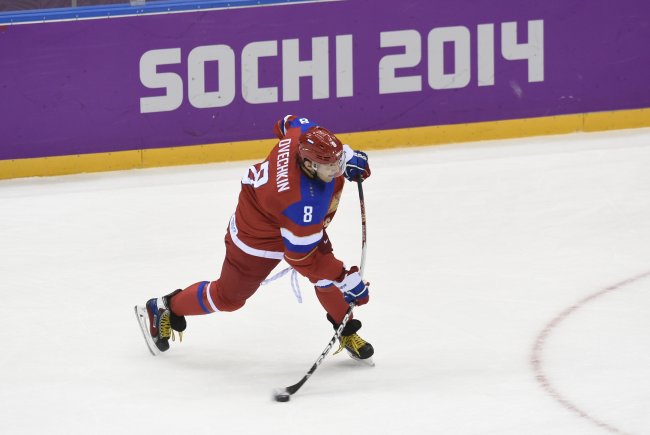 Scott Rovak-USA TODAY Sports
A battle against Norway should be the ideal elimination game for Team Russia after yet another overtime victory forced the squad out of the top four positions in the tournament, but the Russians can't afford to take the Norwegians lightly.
Norway lost all three games in group play and have struggled most with consistency. Whether it's in the offensive or defensive ends, the Norwegians have struggled to hang with their competition for all three periods.
Russia's not out yet. A win over Norway and Finland, both doable, puts them back medal contention. #CapitalsTalk #Olympics

— JJ Regan (@TheDC_Sportsguy) February 17, 2014
The Russians have also struggled to find consistency in the offensive end, but with the raw skill on the roster—stars like Alex Ovechkin, Evgeni Malkin and Ilya Kovalchuk—and the advantage of playing in front of a raucous home crowd, this is Team Russia's game to lose.
The winner of this battle will then go on to play the No. 4 seed Finland. As strong as the Finnish team have been in this tournament, the deeper roster and home ice advantage will give Team Russia the advantage in that matchup as well, if they can get by Norway.
Predicted Final Score: Russia 4, Norway 3
Switzerland vs. Latvia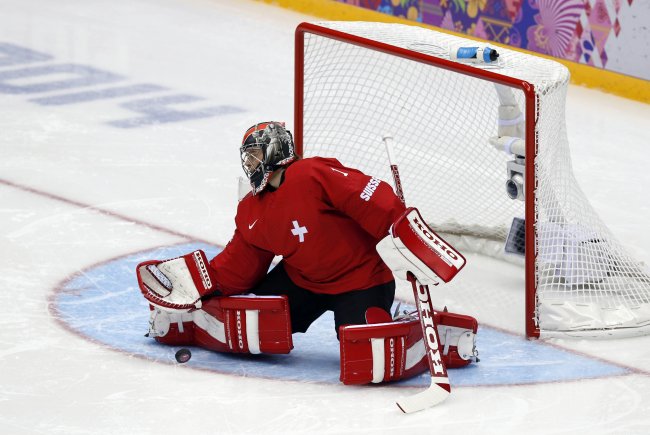 Winslow Townson-USA TODAY Sports
The battle between Switzerland and Latvia is a rematch from group play in which the Swiss team held on for a 1-0 victory. Hockey fans should expect more of the same on Tuesday.
Team Switzerland is one of the strongest defensive teams in the competition. Not only does the nation boast a stellar defense, but the elite play of
netminder
Jonas
Hiller
—who has played 120 minutes during the Olympics and has yet to allow a goal—should send the Swiss to the next round.
Latvia have a strong core of players, but the team was winless through group play and will not pose a serious threat to Team Switzerland.
Regardless of which team pulls out the hard-fought victory in this elimination game, the next matchup is against the No. 3 seeded Canadians. Whether it's Team Switzerland or Team Latvia that plays, it will be Team Canada heavily favored in the quarterfinals.
Predicted Final Score: Switzerland 3, Latvia 1
*All stats and information via NBCOlympics.com and Sochi2014.com.