Doug McDermott strengthened his already ridiculous resume for National Player of the Year on Sunday night with a season-high 39 points in Creighton's 101-80 win over Villanova in Omaha.
In his team's 21st win of the season, McDermott passed Larry Bird on the all-time Division I scoring chart and put a stronger grip on the player of the year title.
Doug McDermott just passed Larry Bird for 13th place on the NCAA's all-time scoring list. pic.twitter.com/F29pvpdHSP

— SportsCenter (@SportsCenter) February 16, 2014
Doug McDermott tied a season high with 39 points, passed Larry Bird for 13th on the all-time scoring list. The list: pic.twitter.com/wKgbVCyrCw

— ESPN Stats & Info (@ESPNStatsInfo) February 17, 2014
In 25 games this season, the 6'8" senior has had just one bad game. That's right, only one bad game: a seven-point showing in a loss to George Washington back on December 1.
Other than that, there has been very little criticism about the play of the son of Bluejays head coach Greg McDermott.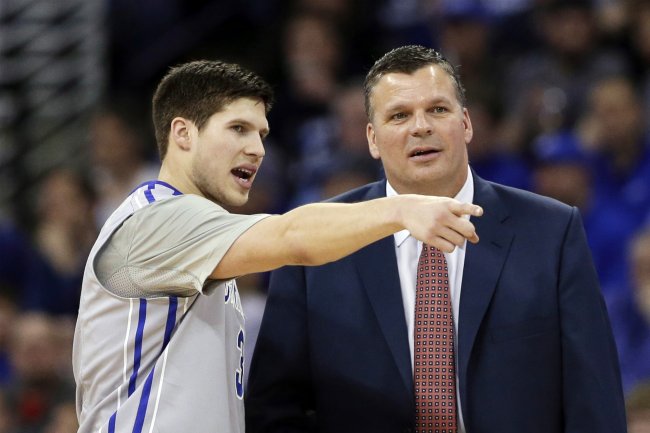 Nati Harnik/Associated Press
The younger McDermott's resume starts with his outstanding point production, as he has scored at least 20 points in 21 games and netted 30 or more on nine different occasions.
No one in the nation, not Tyler Ennis, Andrew Wiggins, Jabari Parker, Marcus Smart, Joel Embiid or any other player labeled as dominant has been that consistent in the scoring department.
Combined, that group of five players has scored 20 points in a game in 33 outings and produced just two 30-plus-point performances all season.
While that is a small sample size, it gives you an idea of just how impressive McDermott's single-game performances have been compared to the other National Player of the Year hopefuls.
What a ridiculous stat line from Doug McDermott today. The battle for 2nd in the national player of the year race will be interesting.

— Eric Prisbell (@EricPrisbell) February 17, 2014
His season totals are quite astounding as well, as he leads the nation in scoring with 25.9 points per game. To go along with his scoring numbers, McDermott averages seven rebounds per game and shoots over 50 percent from the field.
If Doug McDermott averages 28 points per game over the final 5 regular-season games, he will crack 3,000 on Senior Night - March 8 vs. Prov.

— Jeff Goodman (@GoodmanESPN) February 17, 2014
McDermott's intangibles are what separate him from the pack. He can play both inside and outside, pass the rock and be an emotional leader all in one.
Every single NBA executive I spoke to prior to my mock draft said they would be extremely surprised if Doug McDermott slides beyond 20.

— Jeff Goodman (@GoodmanESPN) February 16, 2014
McDermott is also terrific at defending, which is something some prolific scorers do not do well. The best example of his versatile defensive prowess on Sunday came with about 16 minutes left in the second half when he stayed in front of Villanova guard Ryan Arcidiacono and forced a shot clock violation without fouling the sophomore point guard.
Most defenders in the college game would lose discipline at some point during that sequence, but McDermott held his ground, kept his hands up and made a play that will go unnoticed in the box score.
It is little things like that that make the senior forward a joy to watch every time he steps on the court.
With a perfect skill set for the college game, McDermott deserves to be honored for his four years in Omaha with the National Player of the Year award when the season concludes. That should be the case no matter how well anyone else plays for the rest of the year.
Follow Joe on Twitter, @JTansey90.