It seems somewhat absurd that as little as a week ago, Mesut Ozil's Arsenal performances were being widely questioned. The player himself told Sky Sports that his run of poor form had been a stern "test of character." However, he has responded in some style. In the past week, he has delivered impressive performances against both Manchester United and Liverpool. Ozil is now ready to face many of his international team-mates in the intimidating form of a Champions League tie with Bayern Munich.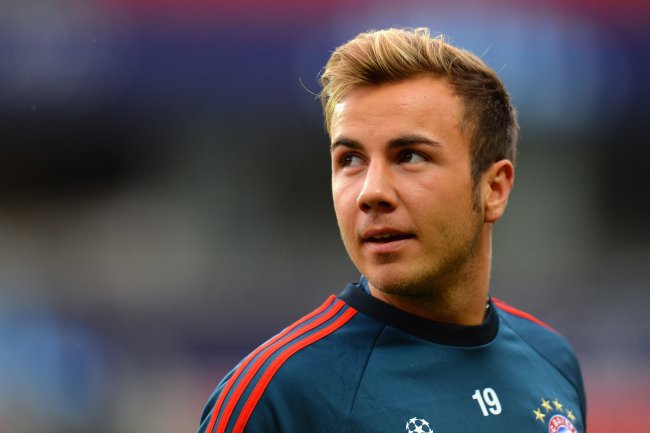 Shaun Botterill/Getty Images
One of those team-mates is Mario Gotze. In July, Gotze became the most expensive German footballer of all time when he moved from Borussia Dortmund to rivals Bayern. That record was surpassed just weeks later by Ozil's move to Arsenal. These are the two greatest German talents of their generation—but which is better?
Goal Scoring
If there is an obvious flaw in Mesut Ozil's game, it is surely his goalscoring. For one of the most gifted attacking players in the world, his goal tally remains surprisingly low. Speaking recently to John Cross of The Mirror, Arsene Wenger explained that Ozil is sometimes too unselfish in front of goal: "You want the guy who plays behind the striker to score some goals and sometimes he is too obsessed with making the perfect pass when he could take a shot at goal."
Ozil has just five goals for Arsenal this season, and has not scored since December 8. By contrast, Gotze has almost double Ozil's tally. Whoscored shows that Gotze's six Bundesliga goals are supplemented by three in the Champions League.
According to Squawka, Ozil has a high shooting accuracy. Eighty-four per cent of his shots have hit the target, whereas only 75 per cent of Gotze's efforts have tested the goalkeeper. That suggests the greatest barrier to Ozil's goal scoring remains his own reluctance to shoot.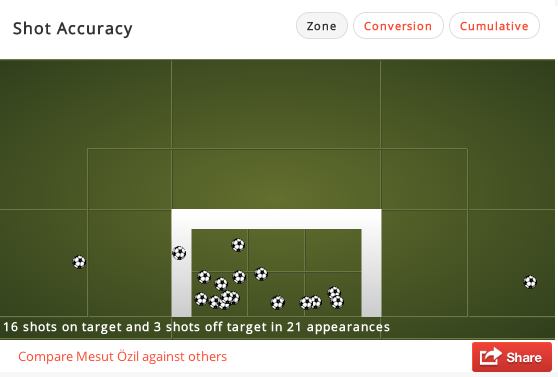 Squawka.com
In this area, Gotze undoubtedly has the edge.
Creativity
Both players are renowned for their ability to forge opportunities for their team-mates.
Mario Gotze has wonderful creative gifts. His intricate dribbling and pinpoint passing can create a chance in the most packed penalty areas. According to Squawka, he has created 20 goal-scoring chances in 16 Bundesliga appearances. Five of those chances have been converted into full-blown assists.
However, Mesut Ozil is the arch-creator. Few players share his remarkable ability to make the telling pass. This season, he already has eight Premier League assists. According to the ESPN assist charts, only Steven Gerrard and Wayne Rooney can better that tally.
Not even Gotze can hold a candle to Ozil's creativity.
Versatility
Mesut Ozil has made the Arsenal No. 10 role his own. His talent demands it: the team is built around him. He has occasionally shown up on both the left and right flank, but is predominantly found operating in the area just behind Olivier Giroud.
This season, Gotze has demonstrated superior versatility. At Dortmund, he was known as a player equally capable of playing in the centre or on the flank. However, at Bayern he has added another string to his bow by showing he can also be deployed as a false nine.
WhoScored.com
The false nine is a position that is synonymous with the attractive style of football associated with Bayern's new boss, Pep Guardiola. He devised it to get the best out of Lionel Messi, and Gotze's technical ability makes him equally ideal for the specialist role.
By necessity, Gotze is the more versatile of the two players.
Defensive Contribution
Neither Gotze nor Ozil is a particularly fearsome defender.
According to Squawka, the taller Ozil is more successful in the air, winning 42 per cent of his duels. However, on the ground he is less effective.
Gotze's low centre of gravity and prodigious work rate make him a more effective tackler than his compatriot. Gotze wins 42 per cent of his tackles—not an enormous tally, but 13 per cent higher than that of Ozil.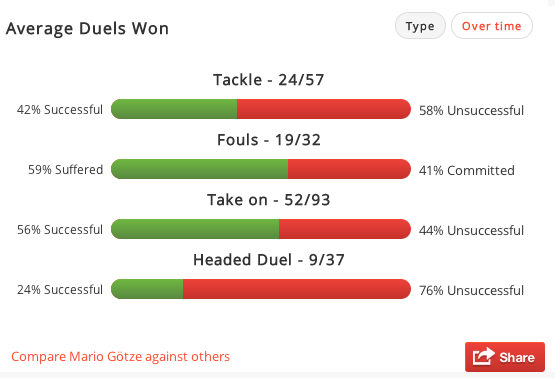 Squawka.com
The evidence suggests that not only is Gotze more versatile—he's also a superior defender.
Influence
This category can't be quantified by statistics. It's a qualitative judgement, based on a player's influence over their team.
When it comes to this section, Ozil is the undisputed winner. He defines any team he plays in. They dance to his beat. It's as true of the German national team as it is of the Arsenal XI.
By contrast, Mario Gotze has not yet made himself an iconic member of the Bayern side. According to WhoScored, he has been named as a substitute more often than he has played in any one position. His versatility has arguably been his enemy.
Conclusion
For now, Mesut Ozil has the edge. Gotze does not yet share his invaluable status with club and country. However, Gotze is four years younger. His superior goal scoring and versatility suggest that in time, he could yet surpass his compatriot.
The Champions League tie between Bayern and Arsenal will provide a fitting stage for these two great schemers to do battle.
James McNicholas is Bleacher Report's lead Arsenal correspondent and will be following the club from a London base throughout the 2013-14 season. Follow him on Twitter here.