Canada vs. Finland: Score and Recap from 2014 Winter Olympics
Use your ← → (arrow) keys to browse more stories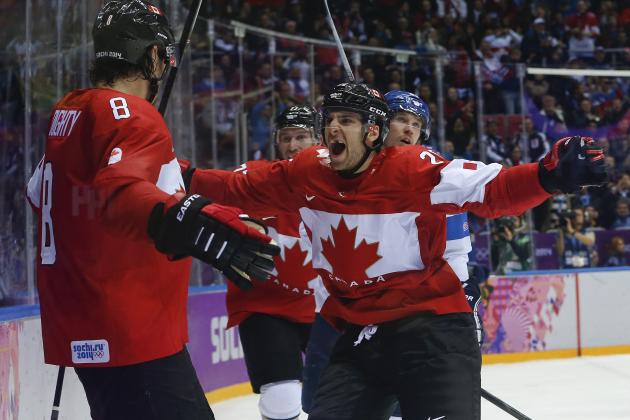 Mark Humphrey/Associated Press

Canada defeated Finland 2-1 on Sunday in an overtime thriller at Bolshoy Ice Dome to win Group B of the men's ice hockey tournament at the 2014 Winter Olympics in Sochi, Russia.
Canada defeats Finland 2-1. Game stats: http://t.co/ddR4Up0TVL pic.twitter.com/dR9p9Glv4b

— Hockey Canada (@HockeyCanada) February 16, 2014
Both teams entered having won both of their previous games in the preliminary round and were vying for seed positioning for the playoff stage of the competition. Because the game went to overtime, though, both Canada and Finland earn byes to the quarterfinals.
Chris Stevenson of the Toronto Sun broke down what lies ahead for each club after this hard-fought battle:
The winner between Canada and Finland gets winner of Switzerland/Latvia. Loser gets Russia/Norway.

— Chris Stevenson (@CJ_Stevenson) February 16, 2014
The highly anticipated showdown featured NHL stars on both sides and lived up to its gaudy billing, but only one side could emerge with the critical win.
This physical affair featured strong play between the pipes, quality scoring chances and a stern measuring-stick type of game for both clubs. Los Angeles Kings defenseman Drew Doughty has scored just eight goals all season with his pro team, but he put in both goals for Canada, including the winner with 2:32 left in the overtime period.
That was Doughty's fourth goal of the tournament, and he skated in on an odd-man rush to give the Canadians the No. 3 seed, dropping the Finns to the fourth slot.
The talented 24-year-old also opened the scoring 13:44 into the first period.
Doughty rifled a wrist shot on that occasion into the near top corner past Finnish goalie Tuukka Rask after some great puck movement and execution with the man advantage, courtesy of Jarkko A. Immonen's interference penalty.
TSN analyst Ray Ferraro remarked on how much offense Doughty and fellow defender Shea Weber of the Nashville Predators have brought from the blue line:
I'm a bit amazed after 7 periods that most consistently dangerous offensive players for Canada are their 2 dmen, Doughty and Weber

— Ray Ferraro (@rayferrarotsn) February 16, 2014
Before the game, Doughty said he was looking forward to facing Finland despite the formidable test the impending opponent promised to provide.
"We're looking forward to the matchup against Finland," said Doughty, per NHL.com's John Kreiser. "Obviously they're going to be our toughest matchup yet. At the same time, no matter who we face we're going to have the same confidence and the same swagger. We're looking forward to it."
Those words certainly reflected the trend of how this clash played out. Stagnancy cost the Canadians, who were clinging to a one-goal lead until Tuomo Ruutu notched the equalizer for Finland on a redirection with just two minutes remaining in the second period.
Joe Haggerty of CSNNE.com complimented Ruutu's grit for the goal, which Canada goalie Carey Price could do little about:
Tuomo Ruutu always gets those gritty goals. Camped in front & deflects puck past Price. Tied 1-1 headed into 3rd. Finns just hanging around

— Joe Haggerty (@HackswithHaggs) February 16, 2014
There was no doubt that Canada had control of puck possession throughout, which is why Finland's offensive efficiency was so impressive in Ruutu's case. Neil Davidson of the Canadian Press alluded to how the Finns had only four shots on net in the second period:
Second period ends, with Finns scoring on 1 of their 4 shots. They were full value for the goal, had been coming on late in period. #CPSochi

— Neil Davidson (@NeilMDavidson) February 16, 2014
Who is likelier to qualify for the gold-medal game?
The action heated up in the final minute of regulation when Canada had several chances. Rask denied a big slap shot from Doughty, and a golden opportunity for Marc-Edouard Vlasic was deflected into the stands.
But alas, a 1-1 draw forced a five-minute overtime period, where Doughty's penchant for pitching in on offense continued and landed Team Canada a landmark win in their bid to defend their spot atop the podium.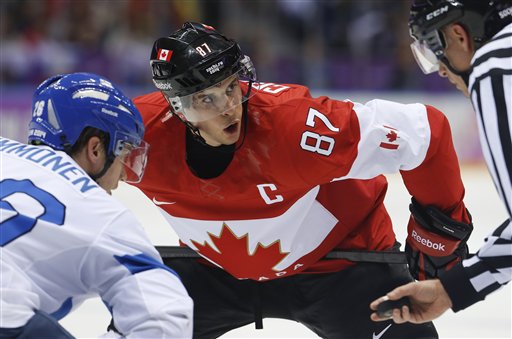 Mark Humphrey/Associated Press
Eventually one of the stars in Canada's slew of talented forwards has to step up for the reigning gold-medal winners to really compete with the likes of USA and Russia. Pittsburgh Penguins superstar Sidney Crosby assisted along with Weber on the first goal of the game, but production from the crop of elite players was thwarted by a stout Finland defense.
Sportsnet's Sid Seixeiro provided a humorous take on the lack of production from Canada's front line, which has resulted in six of the team's 11 goals coming from defensemen:
Dear Drew Doughty: Thank you. Signed, Every Canadian Forward. #canada #finland

— Sid Seixeiro (@Sid_Seixeiro) February 16, 2014
Although this matchup leads to Finland likely having to encounter the hosting Russians in the quarterfinals, the fourth seed will at least have the luxury of a bye to prepare for the tough test and battling the home crowd.
The good news for Canada is that the lack of scoring from the likes of Crosby, Rick Nash and other talented offensive players indicates that there is room for the squad to improve. Coach Mike Babcock has been distributing minutes rather evenly in the early going, which may be part of the reason the cast of stars isn't quite meshing into the prolific force they have the potential to be just yet.
If the Canadians are able to put everything together, tighten up their preparation a bit and find some chemistry with their four strong lines, they will be a big threat to repeat as men's ice hockey Olympic champions.