The host country's stay at the top of the medal standings at the 2014 Winter Games was a short one thanks to another podium sweep by the Dutch in a speedskating event on Day 9.
Russia had assumed the top position after Day 8, but the Netherlands now sits atop the standings with a total of 17 medals and a superb five golds:
Russia nabbed just one medal on the day, while the United States grabbed two in order to keep pace.
Overall, it was a rather quiet Sunday. Hockey ruled the proceedings without any medals on the line as just four medal events took place overall.
Men's Super-G
Men's Super-G Medals

| | | | | |
| --- | --- | --- | --- | --- |
| Medal | Athlete | Country | Time | Difference |
| Gold | Kjetil Jansrud | Norway | 1:18.14 | - |
| Silver | Andrew Weibrecht | USA | 1:18.44 | +0.30 |
| Bronze | Bode Miller | USA | 1:18.67 | +0.53 |
| Bronze | Jan Hudec | Canada | 1:18.67 | +0.53 |
Sochi2014.com
Regardless of a first-place finish for Norway's Kjetil Jansrud, who posted a time 30 seconds better than the nearest competitor, the story of the day goes to America's Bode Miller.
Miller finished with a total time of 1:18.67, which finally got the U.S. alpine skiing team a sense of redemption after consistent struggles in Sochi that saw Americans win just one medal of the 15 awarded through the first five events.
Andrew Weibrecht actually finished better than Miller for a silver medal, but his performance is overshadowed by the history the 36-year-old made. According to Joe Fleming of USA Today, Miller is the oldest to win a medal in the discipline:
Bode Miller, 36, the oldest winner of an Olympic alpine skiing medal (@USATsportsImage ) #SochiSMG pic.twitter.com/QTMvBUoNJn

— Joe Fleming (@ByJoeFleming) February 16, 2014
For Miller, it was a trying day with relief at the bottom of the slope:
Thanks for all the support, today was one of the most emotional days of my life. I miss my brother.

— Bode Miller (@MillerBode) February 16, 2014
The double dip on the podium for the United States may be a sign of things to come with the giant slalom and regular slalom events still on the horizon.
Men's 4x10-kilometer Relay
Men's Relay Medals

| | | | |
| --- | --- | --- | --- |
| Medal | Country | Time | Difference |
| Gold | Sweden | 1:28:42.0 | - |
| Silver | Russia | 1:29:09.3 | +27.3 |
| Bronze | France | 1:29:13.9 | +31.9 |
Sochi2014.com
The champs were back in form on Sunday as Sweden made history with its gold in the men's 4x10-kilometer cross-country relay.
The team of Marcus Hellner, Lars Nelson, Johan Olsson and Daniel Richardson joined the women's team, which won gold the day prior, to become the first country in 42 years to win both genders' team events at the same Games.
Sweden was not alone in its history-making ways. As FIS cross country points out on Twitter, France's total time of 1 hour, 29 minutes, 13.9 seconds for bronze marked the first time the country hit the podium in the event:
Historic first ever Olympic podium for France with bronze medal in men's relay. #sochi2014 #fiscc pic.twitter.com/BdMrXIgrrO

— Cross Country (@FISCrossCountry) February 16, 2014
Thanks to a 1:29:09.3 total time, this was the aforementioned lone medal of the day for the host country. Prime Minister Dmitry Medvedev was in attendance to congratulate the team:
Dmitry #Medvedev at the men's 4 x 10km cross-country skiing relay #Sochi2014 pic.twitter.com/WMdO0M9OLE

— Government of Russia (@GovernmentRF) February 16, 2014
With the team sprints and lengthy mass-starts still on the schedule, the action is just getting started in the cross-country realm. Sweden once again figures to be a heavy player in all the remaining events.
Ladies' Snowboard Cross
Ladies' Snowboard Cross Medals

| | | |
| --- | --- | --- |
| Medal | Athlete | Country |
| Gold | Eva Samkova | Czech Republic |
| Silver | Dominique Maltais | Canada |
| Bronze | Chloe Trespeuch | France |
Sochi2014.com
The ladies' snowboard cross was an ugly affair, not because the weather caused the course to be an issue, but because Eva Samkova of the Czech Republic absolutely embarrassed the rest of the field.
Apparently Samkova's good-luck mustache did the trick:
Picture: Eva Samkova paints on a moustache for good luck, then wins snowboard cross gold at #Sochi2014 pic.twitter.com/veHn3DEY2d

— Bleacher Report UK (@br_uk) February 16, 2014
Will Perry of BBC Sport loved the performance and event so much that he had some strong, playful words for viewers:
If you don't love Snowboard Cross, I don't love you! The Czech Eva Samkova wins gold. Britain's @zoegillings finishes 9th at #Sochi2014

— Will Perry (@willperryTV) February 16, 2014
In all seriousness, Samkova won all three heats with relative ease. Her main competition was American Lindsey Jacobellis, who crashed on one of the final turns. She told reporters afterward she was not sure why the race ended in such a manner, per the Associated Press (via ESPN):
There are worse things in life than not winning. A lot worse. And, of course, it's very unfortunate this didn't work out for me. I trained very hard for this moment. It doesn't come together for who knows what reason.
One participant who faltered in Vancouver just like Jacobellis was Canada's Dominique Maltais. She bounced back in a big way with a silver medal on Sunday after being the closest thing to viable competition in the face of Samkova's dominance.
Ladies' 1,500-Meter
Ladies' 1,500-Meter Medals

| | | | | |
| --- | --- | --- | --- | --- |
| Medal | Athlete | Country | Time | Difference |
| Gold | Jorien ter Mors | Netherlands | 1:53.51 | - |
| Silver | Ireen Wust | Netherlands | 1:54.09 | +0.58 |
| Bronze | Charlotte van Beek | Netherlands | 1:54.54 | +1.03 |
Sochi2014.com
It was yet another party at a speedskating podium for the Dutch on Sunday as the Netherlands fielded the top four spots in the standings by the time each participant had skated the full 1,500 meters.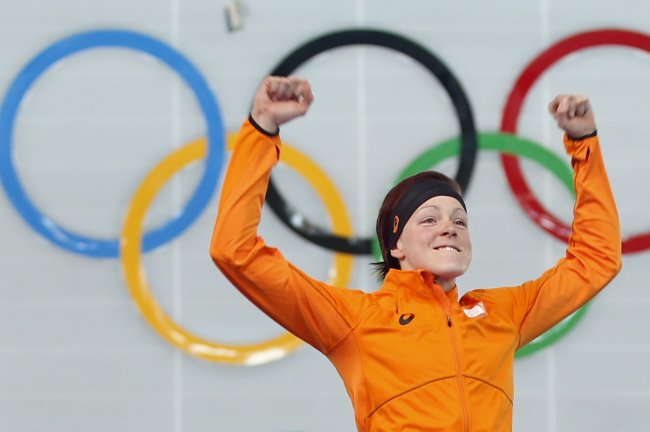 Pavel Golovkin/Associated Press
Jorien ter Mors shocked even Olympic legend and fellow countrywoman Ireen Wust by smashing an Olympic record set by Germany's Anni Friesinger at the 2002 Salt Lake City Games.
Ter Mors' 1:53.51 total time was more than 0.50 seconds better than Wust's, and more than a full second better than Charlotte van Beek's time.
It was not all good news from the event, however, as the U.S. was once again a major letdown. Heather Richardson came in seventh after being knocked out of a bronze medal late in the proceedings, while Brittany Bowe came in 14th.
Bowe said after the race, via Michael C. Lewis of The Salt Lake Tribune, that the problem is not a lack of effort:
The team has done a great job sticking together. There could be a million different factors into the performance. Obviously, it's unfortunate. No one wants to be in the position that we're in, but we're here and we're doing what we can with it. And that is going out there and trying 100 percent every time we get on the ice.
The Americans do not have a lot of time to figure things out. As far as individual competitions go, only the 5,000-meter event remains. The United States does not figure to be a major competitor there, as Martina Sablikova of the Czech Republic is the athlete who typically dominates that particular event and the Dutch should have no issues making a run at the podium, either.
Speaking of the Dutch, the team-pursuit events are still on the horizon, too. They enter as heavy favorites in that regard and will make it tough for the Americans to find the podium.
The pressure is building for Team USA, but the competition is only proving to be stronger and stronger. As a result, the Americans will need to rise above expectations in order to secure any upcoming hardware.