Day 9 of the 2014 Winter Olympics in Sochi, Russia, was nothing short of thrilling.
The action kicked off early in the United States when Team USA knocked off Slovenia 5-1 in ice hockey, but there was even more excitement throughout the day.
While there were no medals awarded in hockey on Sunday—or in two-man bobsledding, men's curling or ice dancing, for that matter—there were several medals awarded in other events.
Here's a recap of all the medal results from Day 9 in Sochi.
Results
Overall, there were four medal events on Day 9.
Men's Super-G
Men's Super-G Medals

| | | | | |
| --- | --- | --- | --- | --- |
| Medal | Athlete | Country | Time | Difference |
| Gold | Kjetil Jansrud | Norway | 1:18.14 | - |
| Silver | Andrew Weibrecht | USA | 1:18.44 | +0.30 |
| Bronze | Bode Miller | USA | 1:18.67 | +0.53 |
| Bronze | Jan Hudec | Canada | 1:18.67 | +0.53 |
Sochi2014.com
Finally, Bode Miller has his medal.
The 36-year-old had been one of the United States' biggest disappointments in Sochi, but his strong performance in men's super-G netted him his first medal of the 2014 Games. He finished third, tied with Jan Hudec of Canada, which was the second medal tie of these Games.
After the fact, he told David Leon Moore of USA Today that is was one of the most important races of his life: "If it's not the most important race of my life, it's right there with it. I had a lot to show today."
Miller was bested only by fellow American Andrew Weibrecht and Norwegian Kjetil Jansrud.
While You Were Sleeping: Americans Andrew Weibrecht, Bode Miller won silver & bronze in Olympic super-G. » pic.twitter.com/A10s1thzmf

— SportsCenter (@SportsCenter) February 16, 2014
The finish was arguably one of the best of the Olympics, as the top five finishers were separated by just 0.55 seconds.
The story of this event was the success of the American skiers, though. Given how poorly nearly all of them have performed up to this event, it was refreshing to see two of them succeed and win medals.
Men's Relay
Men's Relay Medals

| | | | |
| --- | --- | --- | --- |
| Medal | Country | Time | Difference |
| Gold | Sweden | 1:28:42.0 | - |
| Silver | Russia | 1:29:09.3 | +27.3 |
| Bronze | France | 1:29:13.9 | +31.9 |
Sochi2014.com
The top three finishers in the men's cross country 4x10-kilometer relay were head and shoulders ahead of the pack, but gold-medal winner Sweden paced the entire competition.
Sweden took gold for the second straight Olympics on the strength of Marcus Hellner, Lars Nelson, Johan Olsson and Daniel Richardson. Impressively, they led from start to finish.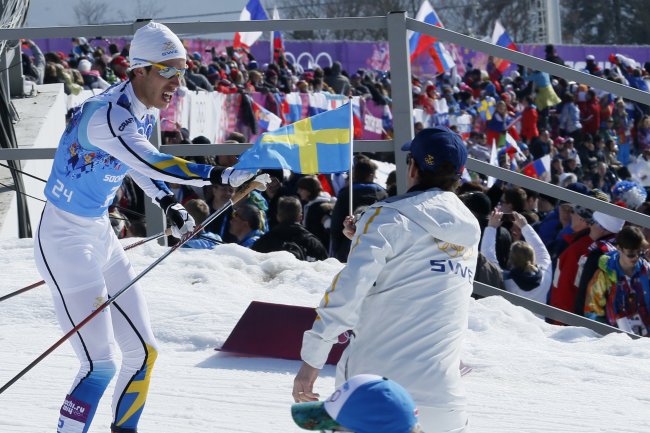 Dmitry Lovetsky/Associated Press
BBC Sport broke down the scene of when Hellner, Sweden's anchor, entered the stadium to complete the final leg:
Sweden's anchor Hellner skied alone for the entire fourth leg and grabbed a Swedish flag to wave as he entered the stadium and proceeded unchallenged down the final straight.
Sweden has dominated this event in recent years. Even the women have joined in on the fun, as they earned the gold medal in the same event on Saturday.
Russia, watched by president Vladimir Putin, won the silver medal ahead of France. The bronze for France was its first ever medal in the event.
Ladies' Snowboard Cross
Ladies' Snowboard Cross Medals

| | | |
| --- | --- | --- |
| Medal | Athlete | Country |
| Gold | Eva Samkova | Czech Republic |
| Silver | Dominique Maltais | Canada |
| Bronze | Chloe Trespeuch | France |
Sochi2014.com
The Rosa Khutor Extreme Park played host to the ladies' snowboard cross event on Day 9, and the threatening course proved to be just that yet again.
Eva Samkova, the event's gold medalist, wore a camera atop her head during the race. Jason Blevins of The Denver Post points out that it probably didn't catch anything more than the snow in front of her due to her in-race dominance:
The camera missed the tangled crashes and the gladiator jostling because the 20-year-old from the Czech Republic led all four of her seeding, semifinals and final races, earning the three-time junior world champion her first Olympic gold medal.

Canada's Dominique Maltais, the silver medalist, provided viewers with one of the better stories of this event. After winning the bronze medal in 2006 in Torino, Maltais faltered in Vancouver and didn't make the podium.
She came back strong in Sochi, earning herself a well-deserved second-place finish.
Ladies' 1,500-Meter
Ladies' 1,500-Meter Medals

| | | | | |
| --- | --- | --- | --- | --- |
| Medal | Athlete | Country | Time | Difference |
| Gold | Jorien ter Mors | Netherlands | 1:53.51 | - |
| Silver | Ireen Wust | Netherlands | 1:54.09 | +0.58 |
| Bronze | Charlotte van Beek | Netherlands | 1:54.54 | +1.03 |
Sochi2014.com
The Dutch really are unstoppable on ice.
The Netherlands had the top four finishers in the ladies' 1,500-meter speedskating event, as Jorien ter Mors, Ireen Wust and Charlotte van Beek finished first through third, respectively, and Marrit Leenstra came in fourth.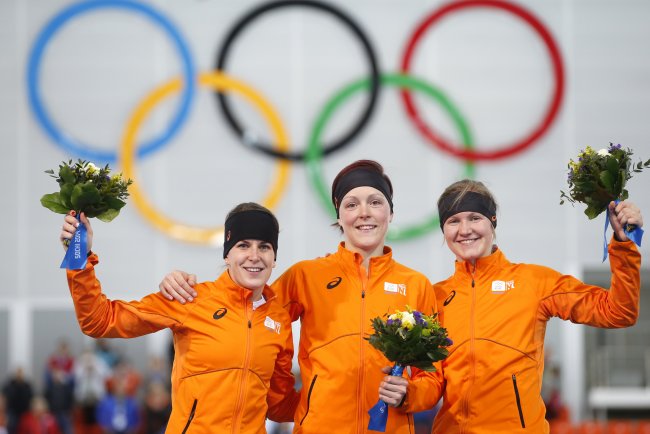 Pavel Golovkin/Associated Press
Dominance in speedskating is nothing new for the Dutch. In fact, this marks the third event in this discipline that the Netherlands has swept the podium. The men's 500-meter and the men's 5,000-meter were the other two events that featured three Dutch athletes on the podium.
Moving forward, it will be very interesting to see if the Netherlands can continue this dominance. If it can, it might conceivably win the entire medal count at the end of the tournament based on its success in this discipline alone.
It will be equally interesting to see if Team USA can turn things around, as this year's Games has largely been a disappointment thus far in speedskating.
With four more medal events in speedskating, look for the Dutch to be the country to beat. There are simply too many quality competitors in its ranks.