Day 9 of the 2014 Winter Olympics has been nothing short of thrilling. A number of gold medals have already been awarded, and a handful more are set to be doled out during the final competitions of the evening.
The races for the most overall medals and, perhaps more importantly, the most gold medals have been intriguing and fun to follow, but no clear favorite has emerged through nearly nine official days of Olympic action in Sochi.
Let's take a look at the latest tallies for each type of medal and highlight some of the marquee events of Day 9 that helped shape this total.
Gold Medalists on Day 9
Day 9 Gold Medalists

| | |
| --- | --- |
| Discipline/Event | Athlete/Nation |
| Alpine Skiing - Men's Super-G | Kjetil Jansrud (Norway) |
| Snowboarding - Women's Snowboard Cross | Eva Samkova (Czech Republic) |
| Cross Country - Men's Relay | Sweden |
| Speedskating - Women's 1,500-Meter | Jorien ter Mors (Netherlands) |
Sochi2014.com
Notable Events
Alpine Skiing—Men's Super-G
Men's Super-G Results

| | | | | |
| --- | --- | --- | --- | --- |
| Rank | Country | Name | Time | Behind |
| 1 | NOR | Kjetil JANSRUD | 1:18.14 | +0.30 |
| 2 | USA | Andrew WEIBRECHT | 1:18.44 | +0.53 |
| =3 | CAN | Jan HUDEC | 1:18.67 | +0.53 |
| =3 | USA | Bode MILLER | 1:18.67 | |
Sochi2014.com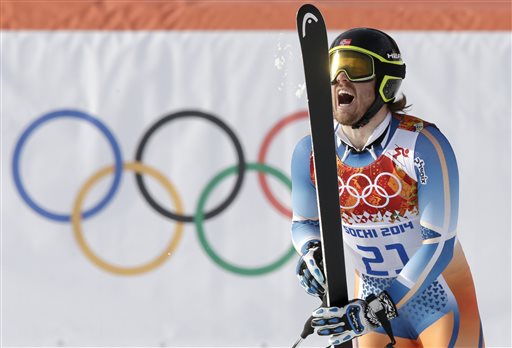 Gero Breloer/Associated Press
The super-G is a rip-roaring skiing event that emphasizes speed, which is exactly what Kjetil Jansrud brought to the mountain Sunday.
The Norwegian star won a fourth straight gold medal for his country in this event, edging out valiant efforts from Americans Bode Miller and Andrew Weibrecht, as well as Canada's Jan Hudec—who tied Miller for the bronze spot.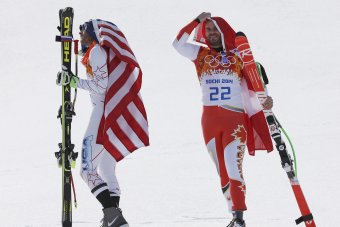 Christophe Ena/Associated Press
Jansrud's time of one minute, 18.14 seconds put him ahead of Miller, who made his valiant medal run early, but the 28-year-old had to sweat out Weibrecht's closing surge in order to claim the top spot on the podium.
Regardless, the American duo has to be proud of their results, as they definitely gave a big boost to their nation's aspirations of leading the overall medal count in Sochi.
The 36-year-old Miller made his last Olympic stand with a respectable bronze performance, completing his nearly out-of-control run in a time of 1:18.67, a mere .53 seconds behind the gold medalist.
ESPN.com caught Miller's sentimental thoughts after he reached the podium: "To be on the podium, it's a really big day for me," said Miller, who placed eighth in downhill and sixth in super-combined. "Emotionally, I had a lot riding on it. I'm super, super happy."
Miller thanked his legion of fans on Twitter as well:
Thanks for all the support, today was one of the most emotional days of my life. I miss my brother.

— Bode Miller (@MillerBode) February 16, 2014
Weibrecht also used the super-G as a platform for a redemptive performance, as the 28-year-old has suffered a variety of injuries and underwent numerous surgeries to even get back to this point. He wasn't expected to reach the podium in Sochi, but he came through in a big way for his country.
He described that feeling to ESPN.com:
It's unbelievable. I came down and knew I skied well. I knew I had a good run. I came through the finish and appreciated my run. Then I took a couple of seconds and looked at the time, I saw two and looked away. I looked again and was like, 'You've got to be kidding me.'
While the U.S. failed to reach the top of the podium and secure a gold, the country earned two valuable medals and remains near the top of the overall count thanks to the performances of these skiing veterans.
Cross-Country—Men's Relay
Men's Relay Results

| | | | | | | | |
| --- | --- | --- | --- | --- | --- | --- | --- |
| Rank | Country | Leg 1 | Leg 2 | Leg 3 | Leg 4 | Time | Behind |
| 1 | SWE | 1 | =1 | 1 | 1 | 1:28:42.0 | 0.0 |
| 2 | RUS | 8 | 5 | 2 | 2 | 1:29:09.3 | +27.3 |
| 3 | FRA | 3 | 4 | 3 | 3 | 1:29:13.9 | +31.9 |
Sochi2014.com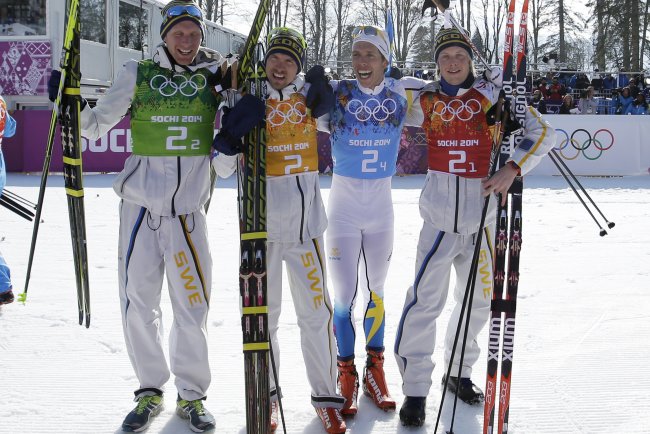 Gregorio Borgia/Associated Press
Sweden has been unstoppable in the cross-country relay events during the 2014 Winter Games. The nation pulled off a stunning come-from-behind victory in the women's race Saturday and left no doubt in the men's competition a day later.
The team, comprised of Marcus Hellner, Lars Nelson, Johan Olsson and Daniel Richardsson, led from start to finish, with Russia coming in second and France rounding out the podium with a bronze medal—the European nation's first-ever in this event.
Douglas Gelevan of the CBC posted a photo of the king and queen of Sweden greeting the winning team:
King & Queen of Sweden congratulate gold medal cross country team @CBCOlympics pic.twitter.com/UrajK7PLpv

— Douglas Gelevan (@DGelevan) February 16, 2014
Sweden had such a long lead in the event that Hellner was able to procure his country's flag and wave it as he coasted to a finishing time of 1:28.42.0.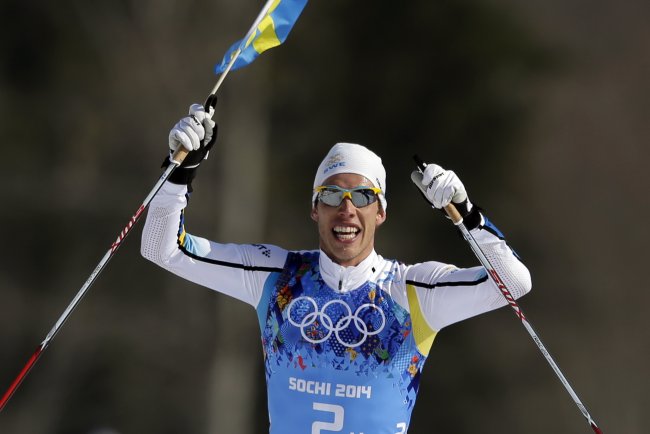 Felipe Dana/Associated Press
It was Hellner's second medal of the Sochi Games, as he took home silver in the men's skiathlon as well. Johan Olsson (silver, men's classical) and Daniel Richardsson (bronze, men's classical) also earned their second medals of the Winter Olympics.
The host nation finished with a time of 1:29.09.3, 27.3 seconds behind the gold medalists. France edged fourth-place Norway, one of the pre-race favorites, and the rest of the competition with a time of 1:29.13.9.
What's Next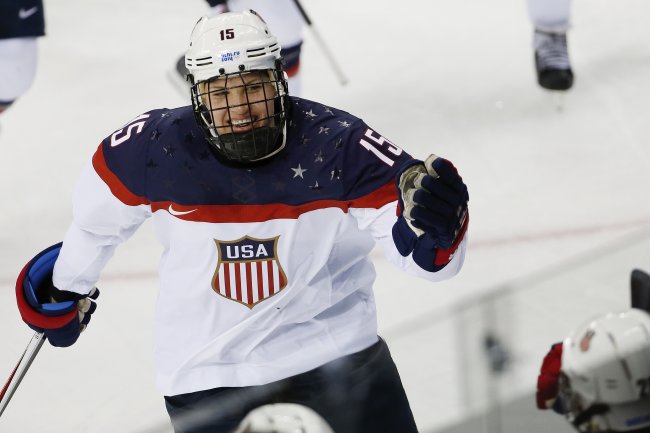 Petr David Josek/Associated Press
Day 10 of the 2014 Winter Olympics is up next, with plenty more medal sets ready to be handed out Monday.
Will you continue to watch the Olympics over the last week?
There will be gold, silver and bronze winners in the biathlon (women's mass start), bobsleigh (two-man), figure skating (ice dancing), freestyle skiing (men's aerials), ski jumping (men's team) and snowboarding (men's snowboard cross), plus a wide variety of round-robin play for other sports.
A complete slate of men's and women's curling is on tap, as well as the semifinals of the women's hockey tournament. These are all can't-miss events, so make sure you tune in and take in as much as possible.
With approximately one week left until the Sochi Games come to an end, make sure you enjoy the remainder of the competitions and keep a close eye on the medal tally, as it promises to be a thrilling race down the stretch.