Virginia Cavaliers Win 9 Straight ACC Games for 1st Time Since 1981-82
Use your ← → (arrow) keys to browse more stories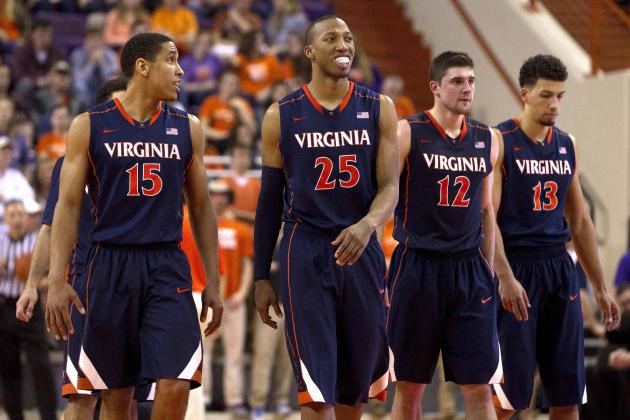 Joshua S. Kelly-USA TODAY Sports

The Virginia Cavaliers men's basketball team beat the Clemson Tigers on Saturday to win a ninth consecutive ACC game for the first time since 1981-82.
Typically a middle-of-the-pack ACC program, Virginia has ridden a top-heavy conference and a friendly schedule to a 12-1 in-conference record. The Cavs only play one game apiece against No. 8 Duke, North Carolina, No. 25 Pittsburgh and No. 1 Syracuse. Meanwhile, they draw a pair of matchups against Maryland, Virginia Tech, Florida State and Notre Dame—all unranked teams.
The Cavs already took care of the matchups versus Pitt and North Carolina, but they took a close home loss against Duke and still have Syracuse looming on the schedule on March 1. As well as the Cavaliers have played this season, their schedule-boosted nine-game winning streak won't impress the 25-0 Syracuse Orange.
Unlike Virginia, the undefeated Orange are viewed as legitimate national championship contenders. In the vast majority of years, a 12-1 ACC record would have any team in the championship conversation, but the Cavaliers still have a ton to prove, given their soft schedule and lack of success in recent seasons.
The last Virginia team to win nine consecutive ACC games, the aforementioned 1981-82 version, ultimately lost in the second round of the NCAA tournament, despite owning a No. 1 seed. Led by legendary center Ralph Sampson, that Cavaliers squad won 11 straight ACC games as part of a larger 15-game winning streak.
Virginia's next three games are against Virginia Tech (9-15, 2-10 ACC), Notre Dame (13-12, 4-8 ACC) and Miami (12-13, 3-9 ACC), meaning that this season's Cavaliers have a good chance to best the 11-game conference winning streak put together by the 1981-82 squad. While the absence of any huge wins hurts their tournament resume, the Cavaliers have mostly taken care of business against lesser opponents this season.