The Baylor Bears finally overcame their erratic play in a double-overtime thriller to beat the Kansas State Wildcats 87-73 in Big 12 play at the Ferrell Center in Waco, Texas.
Remember, this is a Baylor team that started the season ranked No. 25 and climbed as high as No. 7—before Big 12 play, where it was 3-8 entering Saturday's contest. The Bears had also lost four in a row at home and were swept by Kansas State last season.
Give it up for your Baylor Bears. Gutty performance to win tonight in 2 OTs. #SicKSU pic.twitter.com/DIekBsee8C

— Baylor Basketball (@BaylorMBB) February 16, 2014
It was an exorcism of various demons for the Bears, who had not beat the Wildcats in Waco since 2008.
Star point guard Kenny Chery recorded a historic triple-double thanks to his 20 points, 10 rebounds and 12 assists:
Kenny Chery's triple-double was Baylor's first-ever in a conference game. #SicEm

— Baylor Basketball (@BaylorMBB) February 16, 2014
The triple-double by Kenny Chery was also just the 7th in #Big12MBB history in a conference game. @BaylorMBB

— Big 12 Conference (@Big12Conference) February 16, 2014
Isaiah Austin and Cory Jefferson, the bigs down low for Baylor, both scored in double figures and helped to bully the Wildcats on the boards, as the Bears had a 54-39 advantage in that department.
Many thought coming into the contest it would be an ugly game, as Kansas State had previously downed both Texas and Kansas this year, the powerhouses in the conference.
Things started innocently enough. Through about the first 10 minutes of the game, the two sides only scored a combined 22 points, with Kansas State taking a 12-10 lead. Jefferson was the sole reason Baylor was in the game at that point, as he had scored six of the team's 10 points.
John Werner of the Waco Tribune-Herald illustrated Baylor's early struggles best:
Cory Jefferson 3 of 6 for Bears, the rest of the team 1 for 8.

— John Werner (@JohnWernerTrib) February 16, 2014
From there, the Wildcats went on a 6-0 run and ran up another 18 points in the final 10 minutes of the half, fueled by two three-pointers by Marcus Foster. Jefferson disappeared after his brief run and only scored via a free throw near the end of the half to make it a nine-point game.
With their season on the line, the Bears came out of halftime on the wrong side of a 30-21 score and hit on an 8-0 run. Austin hit two at the charity stripe, Brady Heslip found the bottom of the net and Chery finally awoke from his slump to score four and make it 30-29.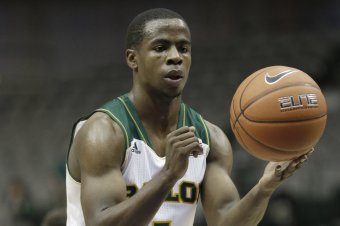 LM Otero/Associated Press
It was all for naught. As their play in the first half showed—which also happens to be a microcosm of their season as a whole—the Bears are a team of streaks.
Kansas State remained strong in the face of the onslaught and proceeded to go on a 9-2 run.
With eight minutes, 54 seconds left in the contest, Foster drilled a three-pointer to make it a 51-41 differential, but it was then time for another Baylor streak.
This time, the Bears clawed back via a 10-0 run, highlighted by four straight points from Chery to tie things up.
The rest is too predictable.
Once again, Baylor cooled off.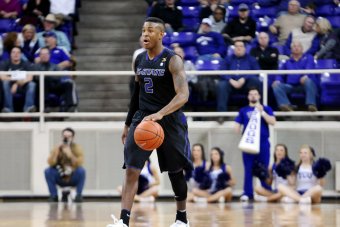 Kevin Jairaj-USA TODAY Sports
Kansas State capitalized with a 6-0 response to take a five-point lead. It was full self-destruct mode for the Bears, as they made it 56-54 with a little more than a minute left, but a Chery turnover near the rim and a traveling call on Jefferson after a defensive rebound turned the game into hack-and-pray mode—which worked.
Foster missed his second free throw to keep the differential at three, and Baylor charged down the court and missed wildly on two shots before Heslip, who had been 0-of-6 on shots from distance to this point, nailed a three-pointer as time expired to force overtime.
ESPN's Andy Katz caught the moment on Twitter:
Baylor's Brady Heslip with a 3-pointer at the buzzer to tie Kansas State and send the game into overtime. Turn to ESPN2 for the highlight.

— Andy Katz (@ESPNAndyKatz) February 16, 2014
Back-to-back hits from long range by Chery and Austin made it 64-61, but a nasty dunk by Foster on the other end, followed up with a free throw after a foul, seemed to signal the end. David Ubben of Fox Sports put it best:
That staredown from Marcus Foster after the dunk was equal parts cold-blooded and earned.

— David Ubben (@davidubben) February 16, 2014
Nope.
To second overtime it was after neither team could pull away.
Readers know what comes next—the Bears were due.
Baylor got hot—this time for good. A 14-2 run made it 82-71 before the Bears simply gloated on their way to the 87-73 outcome.
Key Player Grades
Cory Jefferson, Baylor: A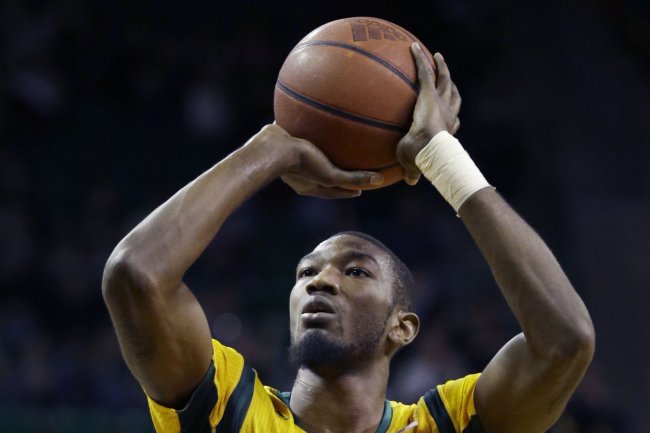 LM Otero/Associated Press
Jefferson is no stranger to big games, but his team-leading 21 points and timely rebounds (he had 11 in total) are what helped perfectly complement Chery on the way to the win.
Jefferson was 6-of-12 shooting but posted a 9-of-13 mark from the charity stripe. Considering the Bears missed 10 on the night, his efficiency from the line played a big part in the win.
Marcus Foster, Kansas State: B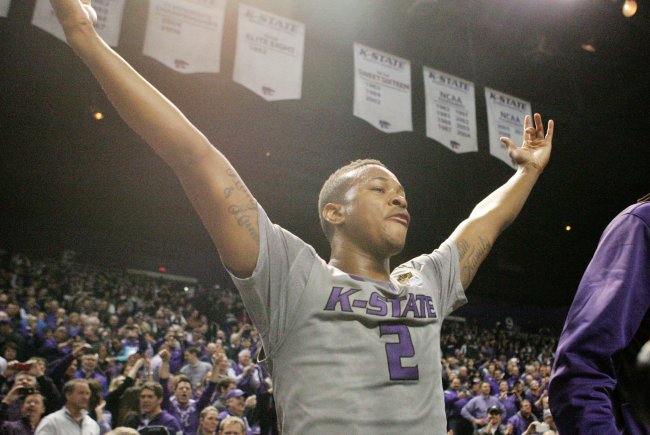 Scott Sewell-USA TODAY Sports
Unheralded as a recruit, Foster showed in the loss once again why he is now one of the biggest names in the Big 12.
Remember, it was not long ago that Foster was a lightly recruited player. He is even a tad surprised about his recent performances, as he told reporters after scoring 34 points against then-No. 15 Texas in early February, per Dave Skretta of The Associated Press:
"My whole life, people didn't think I was good enough to compete with the best guys in the country. And to be honest, I'm in disbelief. I didn't think I'd be making an impact this early."
The shock should be over by now. Foster scored 18 points with a 6-of-18 line in the loss.
Kenny Chery, Baylor: A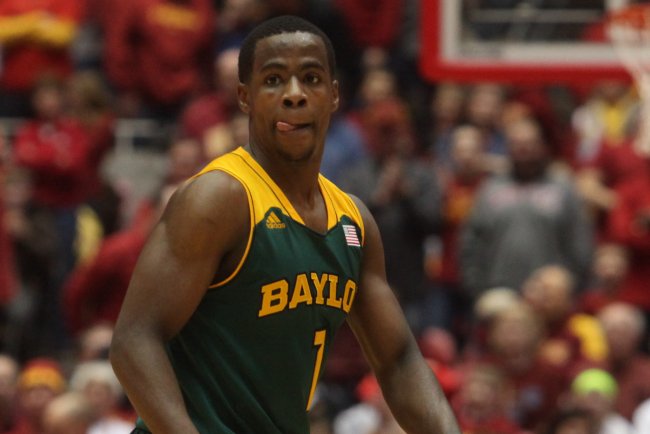 Matthew Holst/Getty Images
Chery was the MVP on Saturday thanks to his triple-double. His timely assists and relentless effort despite a slow personal start are what propelled the Bears to a win.
It was quite the performance, especially considering Chery had just made his way back into the lineup after an injury:
Kenny Chery back in lineup for Bears after turf toe injury.

— John Werner (@JohnWernerTrib) February 13, 2014
When push came to shove with his team down, Chery's court vision to hit his bigs in a position to score was a sight of beauty and a skill that ultimately overcame what was a potent Kansas State defense until the bitter end.