Through eight days of action, speedskating has undoubtedly been one of the highlights of the 2014 Games.
The thrilling action that can see a race narrowly won or lost by hundredths of a second is always a key point of any Winter Games, but the races in Sochi, Russia have been more impressive than iterations of the past.
Stars such as the Netherlands' Sven Kramer (gold in the men's 5,000 meters) and Ireen Wust (gold in the ladies' 3,000 meters) have stolen the show so far.
Day 9 has just one event, but other big names have a chance to etch their names in the record books when all is said and done in the ladies' 1,500-meter race. While it is a bit of an early event for American viewers, it is one they will not want to miss.
Event: Ladies' 1,500-meter race
Date: Sunday, Feb. 16 at 9 a.m. EST (6 p.m. Sochi time)
Live TV: None
TV Highlights: NBC Primetime (8 p.m. ET / 7 p.m. CT)
Live Stream: NBC Live Extra
Note: All info courtesy of Sochi2014.com unless otherwise specified.
Can America Rebound?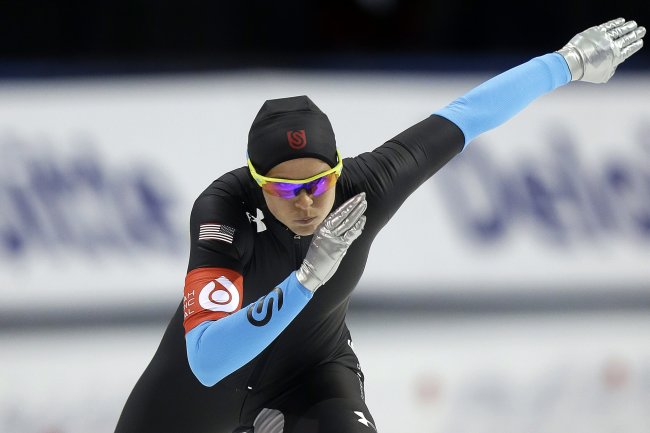 Rick Bowmer/Associated Press
This has to be tiring for readers and fans in general—the United States has been a disappointment so far in the Games in many events.
The description extends to the ladies' speedskating realm, where stars Heather Richardson and Brittany Bowe have succumbed to the pressure of the big stage and not met lofty expectations.
Richardson's struggles can be excused considering it is her first Games. She finished in eighth place in the 500 meters and told reporters afterward, via Julia Bagg of NBC 6, that it was a performance to build on:
"I'm a little disappointed but it's a good start," Heather Richardson #Miami #Sochi2014 @NBC6

— Julia Bagg (@JuliaNBC6) February 11, 2014
She followed that up with a seventh-place finish in the 1,000 meters, which was one of the Games' biggest disappointments. The race was easily Richardson's best event, especially after she took home three World Cup victories in it this year.
As Nick Zaccardi of NBC Sports points out, it was quite the shocking turn of events:
Heather Richardson and Brittany Bowe medaled in all 4 World Cup 1000ms this season so far. Neither medals in Olympic 1000m. Drought extends.

— Nick Zaccardi (@nzaccardi) February 13, 2014
As Zaccardi alludes, favorite Brittany Bowe has also struggled. She placed 13th in the 500 meters and eighth in the 1,000 meters. The latter of the two also happened to be Bowe's best event considering she owns a world record at the distance, as Bleacher Report's Dan Levy points out:
Another US disappointment. World record holder in women's 1,000m Brittany Bowe finished 7th after her heat, with 2 racers to go. No medal.

— Dan Levy (@DanLevyThinks) February 13, 2014
The field will not be easy for either of the U.S. darlings, even with Martina Sablikova (silver medalist in the 3,000 meters) of the Czech Republic pulling out of the race to focus on other events.
Prediction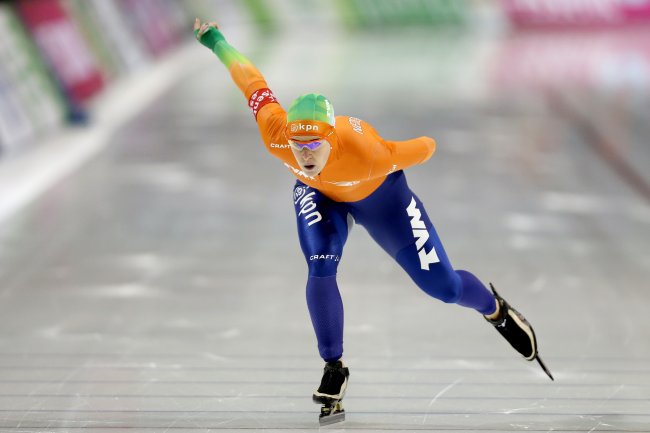 Matthew Stockman/Getty Images
Based on Richardson and Bowe's current form and the wealth of talent in the field, it is hard to see the U.S. grabbing a medal in this particular event on Day 9.
The aforementioned Wust will be on the hunt for her second gold medal of the Games and third overall, and the host country's Olga Fatkulina, who scored a silver in the 500 meters, figures to play a large role in the podium proceedings, too.
Gold: Ireen Wust (NED)
Silver: Olga Fatkulina (RUS)
Bronze: Lotte van Beek (NED)