Switzerland has been no stranger to close games in Group C action in men's ice hockey, as its 1-0 over the Czech Republic on Feb. 15 was its third straight 1-0 result and second win.
Of its two close victories, this one was by far the best. In fact, many will view it as the most exciting upset of group play. Switzerland was picked by some analysts to finish behind Sweden and the Czech Republic in Group C.
Well, not many expected this to happen.
It was an exciting all-around match between these two squads, but Switzerland was the better team. Let's take a look at the updated group standings, as well as how it all unfolded.
Result and Group Standings
Group C - Switzerland vs. Czech Republic

| | | | | |
| --- | --- | --- | --- | --- |
| Team | First Period | Second Period | Third Period | Score |
| Switzerland | 1 | 0 | 0 | 1 |
| Czech Republic | 0 | 0 | 0 | 0 |
Sochi2014.com
Group C Standings

| | | | | | | |
| --- | --- | --- | --- | --- | --- | --- |
| Team | W | L | OTW | OTL | GD | PTS |
| Sweden | 3 | 0 | 0 | 0 | +5 | 9 |
| Switzerland | 2 | 1 | 0 | 0 | +1 | 6 |
| Czech Republic | 1 | 2 | 0 | 0 | -1 | 3 |
| Latvia | 0 | 3 | 0 | 0 | -5 | 0 |
Sochi2014.com
Recap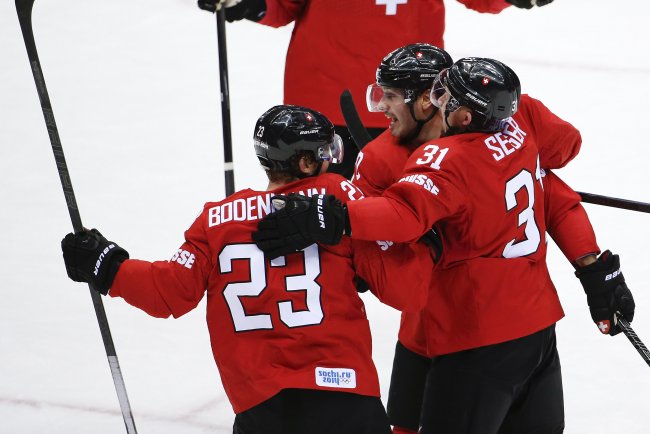 Petr David Josek/Associated Press
The scoring in this one got under way early. Simon Bodenmann was assisted by Denis Hollenstein and Kevin Romy at the 14:10 mark in the first period, netting what would end up being the game's only goal.
The goal marked just the second of the tournament for Switzerland. That being said, the Swiss have allowed just one. That is good enough for six points and a second-place finish in Group C.
Switzerland's men's hockey team squeaked past the Czech Republic, 1-0, on Saturday. http://t.co/u9NdJsQn4s

— NBC Sports (@NBCSports) February 15, 2014
The quickness of that score, though, led many to believe that the fans would be in for a much more offensive performance than was originally expected. Alas, the initial expectations of a close match won out.
The real story in this contest was the inability to convert on power plays. Each team was called for numerous penalties, but neither could convert and get the puck in the net.
Give credit to goalies Jonas Hiller (Switzerland) and Ondrej Pavelec (Czech Republic) in this regard. Shockingly, the Czechs didn't allow more into the net. While considered one of the stronger teams in Group C, goaltending was considered a major weakness for them heading into Sochi, according to Eyes On Isles' Michael Willhoft.

Swiss goalie Jonas Hiller's shutout spoils Czech forward Jaromir @68Jagr's 42nd birthday in 1-0 win. http://t.co/fEyw8lGt6F #Sochi2014

— IIHF (@IIHFHockey) February 15, 2014
The defenses were aggressive and critical in limiting quality chances. While the inefficiencies on offense dictated the offense aspect of this game, it was really the defenders who impacted the final outcome.
Because of the loss, the Czechs may find themselves as a low seed for the classification round, according to Corey Masisak of NHL.com:
Meanwhile, this tournament has not gone as planned for the Czech Republic. A slow start crippled their chances against Sweden in a 4-2 loss in the opener, and Latvia kept the game closer than expected in a 4-2 victory. With this loss, the Czechs are likely going to be seeded seventh or eighth for the classification round, which takes place Monday.
Switzerland has now established itself as a threat in the international hockey world as a result of the victory.
Despite its lack of a potent offense, Switzerland's defense and goaltending make it a threat to stick around longer than most would have predicted. Preventing the most potent offensive teams from scoring is the way to the top in the Winter Olympics, as the tournament's best squads—arguably Russia, Canada and the United States—all boast offenses that can score at will.
A good defense can silence them.
Moving forward, look out for Switzerland, which is the type of squad that can surprise a top team. For the Czech Republic, it will need to regroup and come back strong in the following round. The Czechs certainly have the talent to do so.