The USA and Russia are two of the more physical, talented hockey teams in the field for the 2014 Winter Olympics, and they delivered with an excellent match in round-robin play.
The Americans might've won 3-2 in a shootout, but the intensity of the game proved that both of these teams will be serious medal contenders as the Olympics continue.
The match ultimately isn't that meaningful, as the USA gets two points and Russia gets one for advancing to a shootout, but it does give the Americans a bye in their group and puts the Russians in danger of going without a bye.
The match had 11 penalties in all, making it perfectly clear that these two teams are willing to play aggressively, but the difference came in which team killed those penalties more effectively.
The Americans were able to both end the frequent threat of the Russian power plays and efficiently contain Russia's dominant top six.
There were some odd calls throughout the game, but that doesn't detract from the skill the Americans showcased in stopping Russia's offense and the excellent play of goalie Jonathan Quick.
Penalty Kills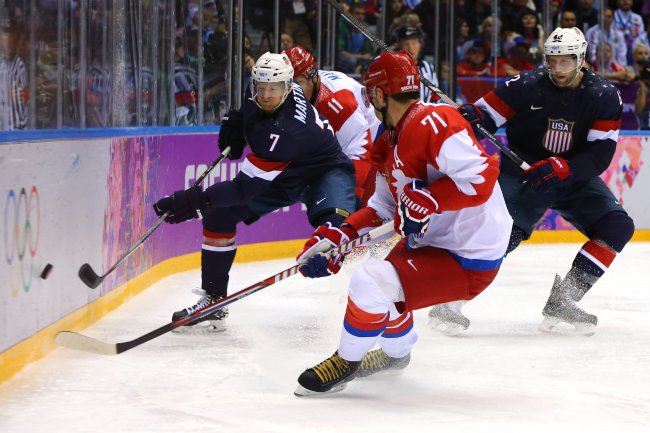 Al Bello/Getty Images
The strength of this American team has always seemed to be its defense, and that became particularly clear against the Russians.
Team USA was faced with five different penalties and only allowed Russia to convert one into a goal, an absolutely crucial factor in its ability to take the game to overtime.
Pavel Datsyuk scored both of Russia's goals and played an incredible game all around, but the Americans pretty effectively contained the rest of Russia's excellent power-play unit.
Ilya Kovalchuk could only muster one shot for the whole game, while Evgeni Malkin seemed frustrated by the unrelenting pressure of USA defenders—and his Pittsburgh teammates—Paul Martin and Brooks Orpik.
By contrast, Russia couldn't hold off the American power play quite as well.
Cam Fowler and Joe Pavelski each scored with the man advantage. Had the Russians been able to contain one of those power plays, the game would've been very different, as ESPN's Pierre LeBrun asserts.
Special teams the story of this game if score holds up, U.S. killing every Russian PP and coming back with two PP goals of their own

— Pierre LeBrun (@Real_ESPNLeBrun) February 15, 2014
Team Russia might have plenty of offensive skill up front, but the Americans loaded their team with veteran defenders and defensive minded forwards, and it paid off in their first game.
While the Americans might be hesitant to have to face Datsyuk again, they got the better of his teammates today.
If they can keep up this gritty style of play, it'll be hard for even the most skilled teams to get the better of them down the line.
Quick Impresses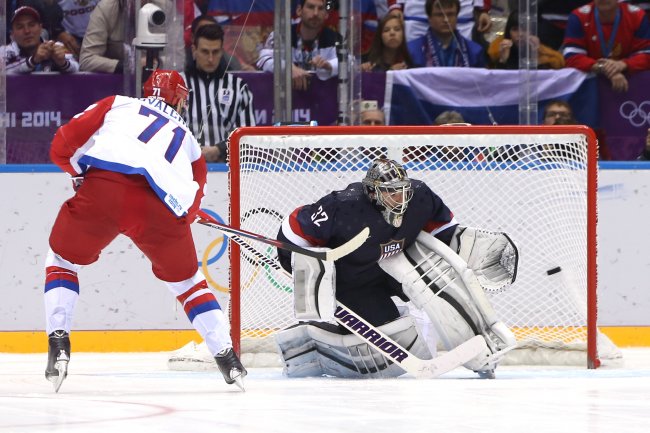 Bruce Bennett/Getty Images
Team USA might've been a bit unsure about Jonathan Quick heading into the Olympics, but this game did a lot to build confidence in the goalie.
He didn't have to do much in the team's opening match against Slovakia, but he was tested in a big way by the Russians and looked dominant.
Quick played well during regulation, even with Datsyuk playing so well and the Russian forwards screening him pretty effectively. There will certainly be some grumbling in Russian circles about the high sticking call and the net unmooring that negated Russian scores, but Quick still ably blocked some hard shots.
But where he really impressed was the shootout.
He saved two different attempts from the red-hot Datsyuk, in addition to two by Kovalchuk.
"He's one of those guys who's all business," Dustin Brown told ESPN's Scott Burnside. "He's not one of these goalies who gets really excited when he makes a big save, and I think that translates to him off the ice as well."
T.J. Oshie came up big for the Americans with his four goals in the shootout, ensuring that Quick got his second victory of the winter games.
While Ryan Miller is a perfectly able backup should things go awry for Quick, the Los Angeles goalie sure seems like the man for Team USA after this game.
If the Americans can keep up this combination of excellent defense and goaltending, they'll be a dangerous team going forward.
The Russians fought tooth and nail in this one, and despite their reduced chances at earning a bye, they'll still be a threat later on.
But for now, the Americans look like a team that no one wants to play.