It's probably better that the United States don't count on men's team ski jumping at the 2014 Winter Olympics to pad the medal count.
Team USA doesn't have the best record when it comes to the event. Since the team competition was devised in 1988, the U.S. has never medaled. The same goes for normal hill individual. Since the large hill was created in 1924, only one American—Anders Haugen—has won a medal, and he was born in Norway, so that counts as, like, half.
Needless to say, the American skiers are in a battle against history when they take the jump on Monday.
The good news is that they don't have to do much in order to better their success at Vancouver in 2010. The United States failed to qualify for the final round, finishing 11th out of 12 teams in qualifying.
Nick Fairall, Peter Frenette, Anders Johnson and Nick Alexander make up the U.S. team.
During qualification for the individual large hill, the best finish from any American was 30th (Alexander). Fairall was 31st, Johnson came in 36th and Frenette rounded out the group at 43rd, which wasn't even good enough to advance to the first round.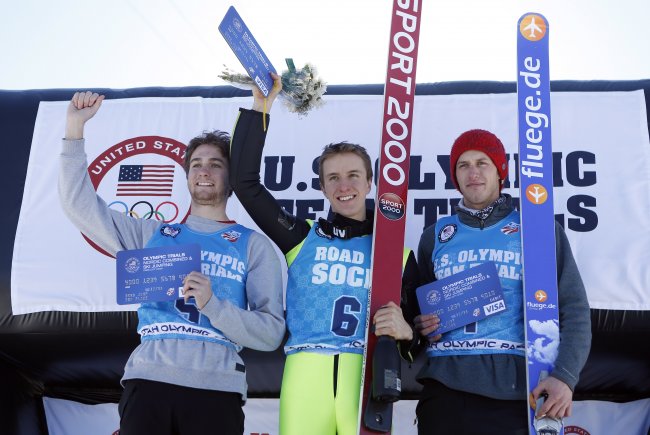 Jim Urquhart/Associated Press
It's one thing to need the perfect run in order to win. It's also another thing to need the perfect run and some help from the teams above you.
But the U.S. team is in a position where it needs to perform miles above what it has in the past, and then have five-plus teams above it falter and open the door.
Earning a medal in the team large hill isn't impossible for the United States, but it's highly improbable. Should it happen, it would be one of the biggest shocks in American Olympic history.
Of course, getting to Sochi, Russia, is reward enough for the four members. Johnson admitted as much following his failure to qualify for the final round of the men's individual normal hill event, per USASkiJumping.org:
My jumping is a little inconsistent right now, and I was just a little off on that jump. It definitely wasn't the best jump I've had so far, but it's alright. It's still fun. Being in the final was what I was hoping for to start off the Games. I didn't have a very good prep into the Games. I kind of was hurt a little bit the week leading in, so I was pretty happy just to be able to come and jump. Everything else was pretty much a bonus.
Alexander was also more than happy to have just accomplished his personal goals.
"I've been jumping for 95 meters the whole week and I finally pulled it off," he said. "That was a goal and I accomplished that so I'm pretty happy. The landing could have definitely been better, though."
At least the U.S. team strengthened diplomatic relations with Canada while in Sochi. Canadian Trevor Morrice and Frenette snapped photos of how the two teams quite literally broke down barriers between the two countries:
Ripped the change room wall out between #TeamNorthAmerica @CDNOlympicTeam @USOlympic pic.twitter.com/PsOcTzIssl

— Trevor Morrice (@Morriceosaurus) February 13, 2014
Breaking down barriers between US and Canadian changing rooms. #oneworld #peace # equality #blamedusty pic.twitter.com/FmcdURRtr7

— Peter Frenette (@pfSKIJUMPING) February 13, 2014
There's no doubt that Alexander, Frenette, Johnson and Fairall have made great memories taking part in the 2014 Olympics. They've met athletes from all over the globe and performed against the best ski jumpers in the world.
That's pretty much like winning a medal, right? It's more than most of us will ever do.