16 Bold Predictions for Champions League Last 16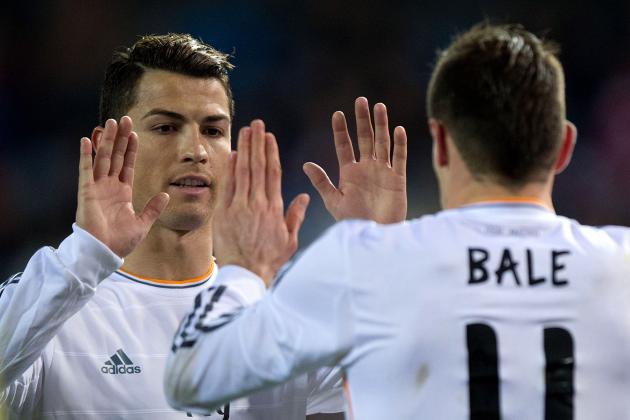 Gonzalo Arroyo Moreno/Getty Images

The Champions League returns this week, with a host of mouth-watering fixtures in the final 16.
Only eight teams will emerge victorious from the next month of two-legged match ups, which include Manchester City vs. Barcelona, AC Milan against Atletico Madrid and Arsenal vs. Bayern Munich.
But which sides will continue on to the quarter-finals and whose European dreams will be over for the 2013/14 campaign?
Over the following slides we attempt to predict the outcome of these tasty ties, with two bold predictions made for each game.
Have any bold Champions League final 16 guesses of your own? Let us know in the space below!
All stats from UEFA.com, unless indicated otherwise.
Begin Slideshow

»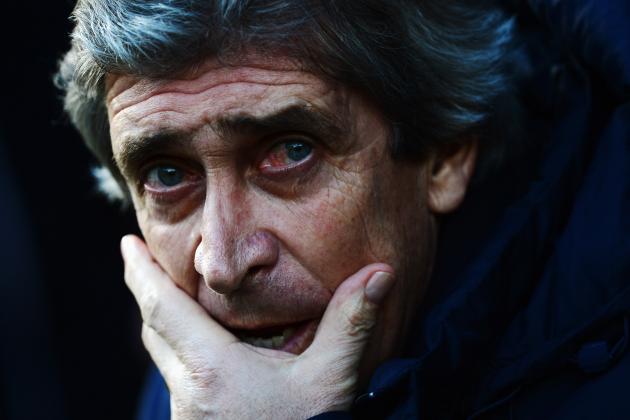 Jamie McDonald/Getty Images

Manchester City host Barcelona at the Etihad on February 18. It looks like Manuel Pellegrini's side will be without Sergio Aguero and Fernandinho for this tie but expect them to be strong on home turf.
With just two domestic defeats, Barca have struggled on the road in Europe this season. Earlier in the 2013/14 campaign, Tata Martino's side could only beat Celtic 1-0 at Parkhead, they drew 1-1 with a shaky AC Milan side in October and were beaten 2-1 by Ajax at the Amsterdam Arena.
Manchester City, conversely, have been beaten just once at home this season in the Champions League, by Bayern Munich. The Citizens' Achilles' heel is in defence and they have conceded goals in every home encounter—including two from CSKA Moscow and two from Viktoria Plzen.
Prediction: Barcelona will score but City will win the first leg 2-1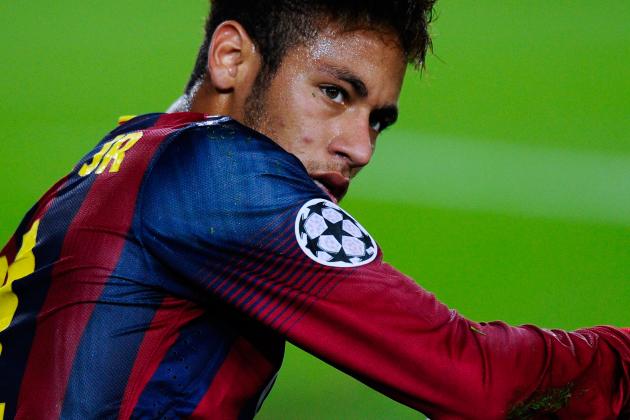 David Ramos/Getty Images

Barcelona will be prevented from making their seventh successive appearance in the quarter-finals by Manchester City.
Manuel Pellegrini has been here before—the Chilean manager guiding Villarreal to the final eight on two occasions (2006, 2009) and last term, against the odds, he took Malaga to within a whisker of booking a place in the semi-finals only to fall to eventual finalists Borussia Dortmund.
Prediction: City, who are in the final 16 for the first time in their history, will advance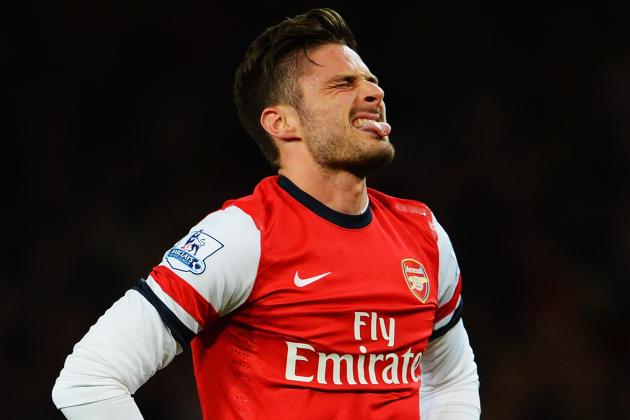 Michael Regan/Getty Images

Arsenal may rue not bringing in a new striker during the last two transfer windows when they fail to score a single goal against Bayern Munich, both home and away.
Earlier in this season's competition, the Gunners made light work of Fenerbahce and Marseille and recorded impressive wins against Borussia Dortmund and Napoli.
However, a 2-0 away loss to Napoli in December saw Arsenal finish second in their group, only to be drawn against holders Bayern Munich.
Arsene Wenger's side are suffering through injuries at the moment, Olivier Giroud looks fatigued and Mesut Ozil needs to find his form with the London club.
Goals are proving difficult to come by and a 5-1 trouncing by Liverpool, added to an uninspiring 0-0 draw with Manchester United, in the Premier League seems to have affected Arsenal's confidence.
So much so, it doesn't look like they'll find the back of the net against Bayern.
Prediction: Arsenal will not score against Bayern Munich
Lars Baron/Getty Images

Bayern Munich's Franck Ribery will miss out on his side's first-leg Champions League tie against Arsenal, after undergoing surgery to repair a burst blood vessel in his buttock, as seen on BBC Sport.
Although Pep Guardiola has a wealth of talent to choose from, Ribery's absence cannot be underestimated—on the three-man shortlist for the 2013 Ballon d'Or, the Frenchman provides a large focal point for Bayern's attacking play.
He also currently leads the assist charts in the Bundesliga and has put away seven goals.
Arsenal faced a Ribery-less Bayern side last term and they won 2-0 away from home but don't expect this to be the case under Guardiola.
Prediction: Bayern will win the first leg but don't expect the margins to be big. We're predicting a 1-0 Bayern win.
(However, for the second leg in Germany that will be a different story. Especially if Ribery is back in action).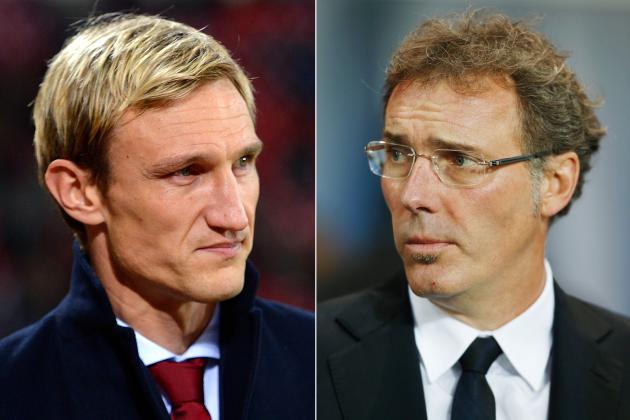 Getty Images/Getty Images

Paris Saint-Germain may have breathed a sigh of relief when they drew Bayer Leverkusen in the final 16 of this season's Champions League.
But, unlike the 5-0 mauling by Manchester United suggests, Leverkusen are not complete pushovers.
Sami Hyypia's side are currently second in the Bundesliga, where they have been beaten at home just three times all season (in all competitions). They are one of only two sides to hold Bayern Munich to a draw this term.
Defensively, from a domestic perspective, Leverkusen are pretty sound—which admittedly doesn't account for much when you face PSG's assortment of top-level stars. However, the absence of an injured Edinson Cavani will give the side a boost.
They won't go through but expect Leverkusen to make things tough and hold out for a draw when PSG visit the BayArena on Tuesday evening.
Prediction: 1-1 draw in the first leg
Jacques Brinon/Associated Press

Zlatan Ibrahimovic did not feature in Paris Saint-Germain's final Group C game against Benfica. If he had, the scoreline may have read quite differently than a 2-1 PSG loss.
The Swede is unstoppable this season, with eight goals registered in the Champions League so far and 19 notched in 24 Ligue 1 games.
Missing out on the World Cup will probably increase Zlatan's desire to win a big piece of silverware this season and what better way than in the Champions League?
Prediction: After a 1-1 draw in the first leg, we think it will be the "Zlatan show" in the second, with the 32-year-old scoring three goals in a 3-0 win for the hosts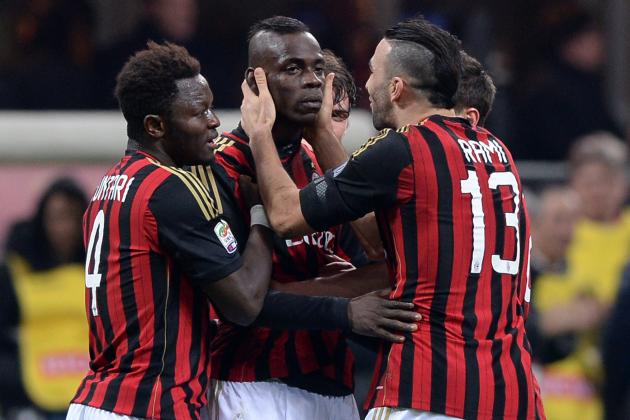 Claudio Villa/Getty Images

AC Milan and Atletico Madrid seem to be heading in different directions—as the Italian club lag in Serie A, the Spanish side are reaching dizzying heights in La Liga.
Unbeaten during the group stage of the Champions League, this fixture should have Atletico win written all over it.
But we predict that it's going to be a Rossoneri, rather than Rojiblanco win in the first leg.
The worst Italian side to qualify from the group stages, Milan know how to knuckle down and get results when it counts. European football is in the side's genetic makeup and a victory would provide a welcome respite from domestic duty.
Atletico Madrid, perhaps fatigued, have just had three defeats in their last four outings in both the league and the Copa del Rey.
This time last year, the Italian side beat Spanish opposition (Barcelona) 2-0 at the San Siro and we reckon they'll do it again.
Prediction: 2-0 to AC Milan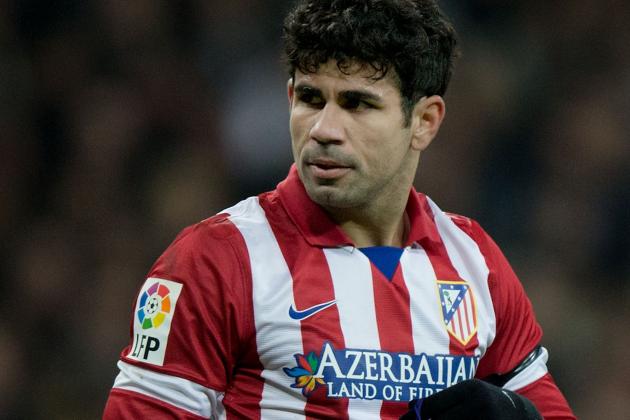 Gonzalo Arroyo Moreno/Getty Images

Based on the two sides' current standings in their respective domestic leagues, it seems crazy to suggest that AC Milan will be the team that continues into the quarter-finals of the 2013/14 Champions League.
But what else are "bold predictions" for?
Lack of squad depth and an all-out assault in too many cup competitions has left Atletico Madrid looking fragile and, for the first time this season, capable of faltering on all fronts.
We think that Diego Simeone's side will win their home leg 1-0, thanks to a Diego Costa goal, but it will not be enough to advance to the next round.
Prediction: AC Milan to progress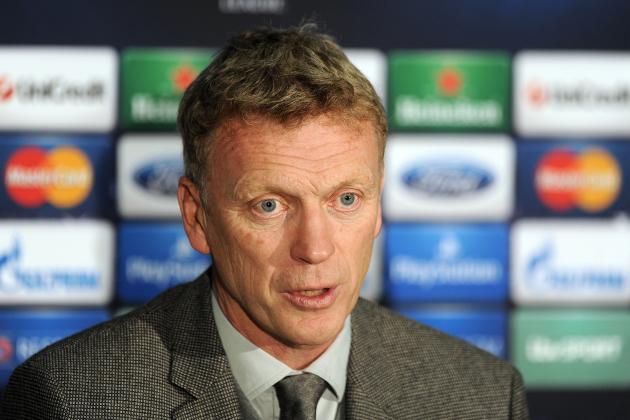 Chris Brunskill/Getty Images

Manchester United's patchy Premier League form sees them occupying seventh spot in the table. Losses to the likes of West Bromwich Albion, Newcastle United and Stoke City suggest that times really have changed at Old Trafford.
However, under new boss David Moyes, United have enjoyed somewhat brighter fortunes in Europe.
Unbeaten in the group stage, United scored 12 goals and conceded three en route to the final 16. Olympiacos, conceded eight and scored 10.
Manchester United have never lost to a Greek team and don't expect that to change this month.
Prediction: Manchester United to win both legs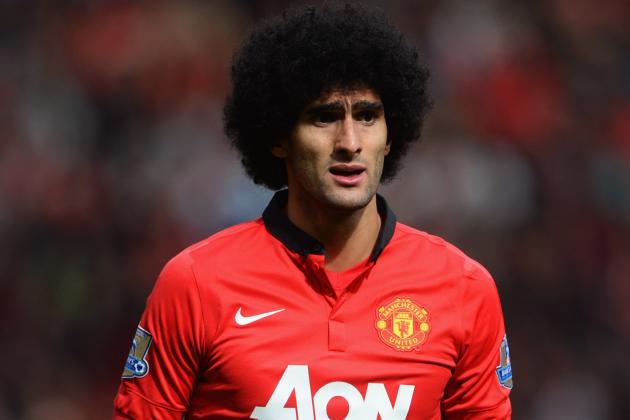 Michael Regan/Getty Images

Marouane Fellaini has not played for Manchester United since December 4.
Injuries have kept the Belgian midfielder out of the side for large parts of the season, however, he has still made three Champions League appearances this term.
In one, he bagged an assist against Shakhtar Donetsk—receiving a yellow card in the same game. Against Real Sociedad, he completed 90 minutes and received another yellow card.
This meant that he was suspended for United's 5-0 win against Bayer Leverkusen and he had to sit out his side's 1-0 home win against Shakhtar Donetsk with a back injury.
Hardly a rousing success.
However, why not predict that Fellaini will find the back of the net against Olympiacos? We think this could be Fellaini's game.
Prediction: Marouane Fellaini to score against Olympiacos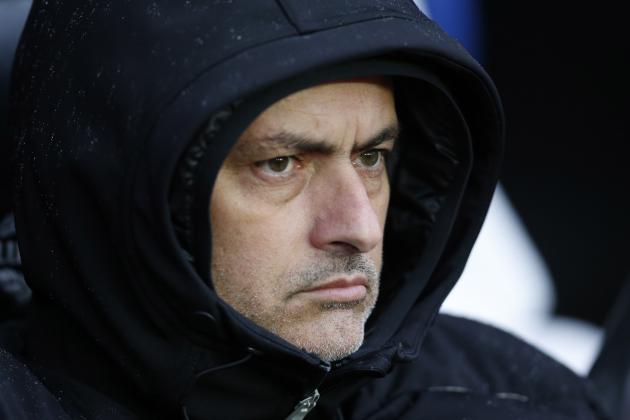 Sang Tan/Associated Press

Chelsea travel to the Ali Sami Yen Stadium on February 25 to take on Roberto Mancini's Galatasaray.
The Turkish side have suffered two hefty defeats this season in Europe, against Jose Mourinho's old side Real Madrid—where they conceded 10 goals and scored two over two games.
However, Galatasaray are a side in good form right now. Without a defeat in the Turkish Super Lig since November 27, Mancini's team also beat Juventus 1-0 at the last time of asking in the Champions League.
The Blues, on the other hand, lost to Manchester City in the FA Cup on Saturday and could only draw with West Bromwich Albion in the Premier League during the week. Last time playing away in the Champions League, Mourinho also experienced defeat at the hands of FC Basel.
There are added subplots to this tie—with Didier Drogba (former Chelsea) and Wesley Sneijder (former Inter Milan) lining up against their old manager's side.
Chelsea's strike options are already limited and they could be without Fernando Torres (injury) and new signings Mohamed Salah and Nemanja Matic, who are not eligible to play.
It looks like it is going to be a tight affair and we can't see the first leg producing much in the way of goals.
Prediction: 0-0 (first leg)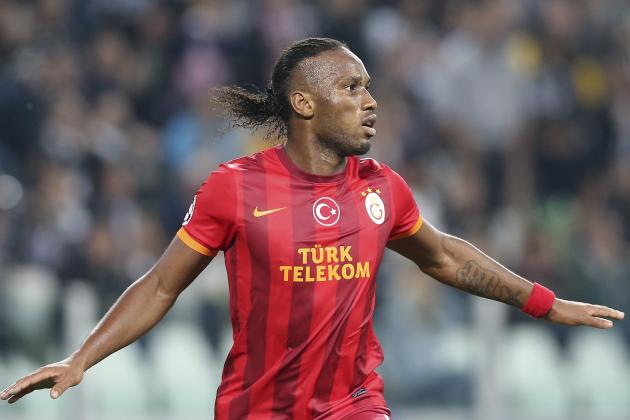 Antonio Calanni/Associated Press

When Galatasaray visit Stamford Bridge for the second leg of their 2013/14 matchup with Chelsea, we predict that the old guard will make the difference.
We're talking Didier Drogba, who scored 157 goals in his 341 games in a Chelsea shirt and now plays for Gala. And Samuel Eto'o, who has won the Champions League three times in his career, with Barcelona (twice) and Inter Milan (once), who is now a Blue.
I think most of us expect Drogba to put one goal past his old club at Stamford Bridge but it's not impossible to rule out Eto'o getting on the scoresheet too.
Prediction: 2-1 to Chelsea (second leg: Goalscorers, Drogba and two from Eto'o)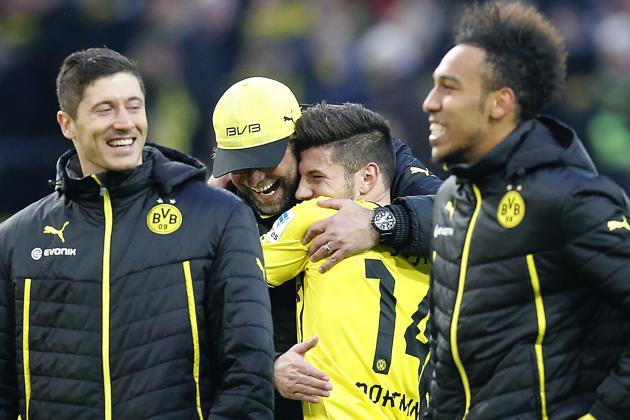 Frank Augstein/Associated Press

Borussia Dortmund's injury list makes for lengthy reading—currently without Jakub Blaszczykowski, Mats Hummels, Neven Subotic, Marco Reus, Sven Bender and Ilkay Gundogan, the squad has been noticeably fragile this season.
Zenit St. Petersburg have no such worries, with Luciano Spalletti's side boasting a full bill of health ahead of their first-leg tie on February 25.
With that being said, expect Dortmund to advance.
It's going to be a tricky game for Jurgen Klopp's side when they travel to the Stadion Petrovsky, where freezing temperatures and the double goal threat from Hulk and midfielder Danny will test their patched-up defence.
However, Dortmund have great attacking players of their own, in the likes of Robert Lewandowski, Henrikh Mkhitaryan and Pierre-Emerick Aubameyang.
Prediction: There will be goals from either side, resulting in a 3-1 win for Dortmund (first leg)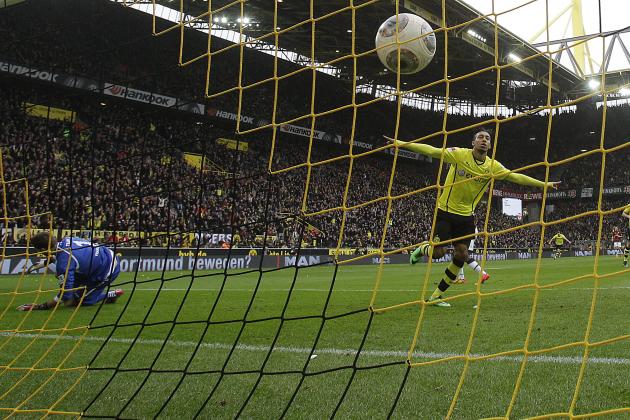 Frank Augstein/Associated Press

Pierre Emerick-Aubameyang was bought by Borussia Dortmund last summer from Saint-Etienne.
Brought in during the same week as Henrikh Mkhitaryan, the pair softened the blow that came when the club lost Mario Goetze, who joined rivals Bayern Munich.
Aubameyang has enjoyed an excellent first season with Jurgen Klopp's side, scoring 13 times in 20 Bundesliga appearances so far.
The 24-year-old has scored just once in Europe this season, in Dortmund's 3-1 win against Napoli on November 26.
But, against Zenit, we think his time will come.
Prediction: Dortmund to advance after beating Zenit 2-0 at the Westfalenstadion (5-1 on aggregate) with Aubameyang responsible for both goals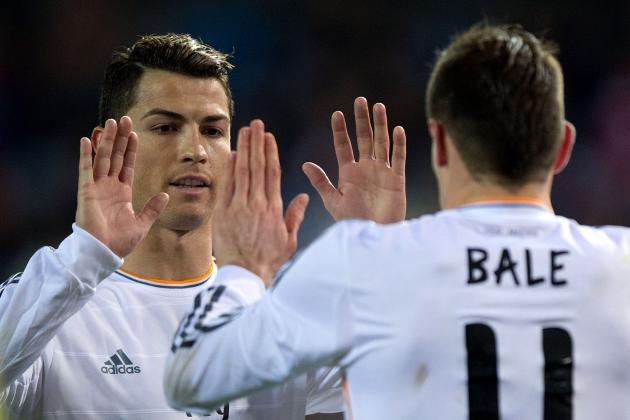 Gonzalo Arroyo Moreno/Getty Images

Real Madrid emerged from the 2013/14 Champions League group stage with 20 goals to their name and a new individual record for Cristiano Ronaldo, who was responsible for nine of those strikes.
In the La Liga side's two-legged fixture with Schalke, we expect them to rack up the highest aggregate score of the round.
Schalke were beaten 3-0 twice by Chelsea in the group stage and Madrid can boast much more firepower than Jose Mourinho's side.
The German side have many players missing, including Jan Kirchhoff who is cup-tied and Benedikt Howedes, Dennis Aogo, Christian Fuchs, Atsuto Uchida, Roman Neustadter and Christian Clemens all injured (h/t Goal.com).
Real Madrid will be missing the suspended Sergio Ramos and Sami Khedira, who is injured.
Prediction: Madrid to win with the highest aggregate score of the round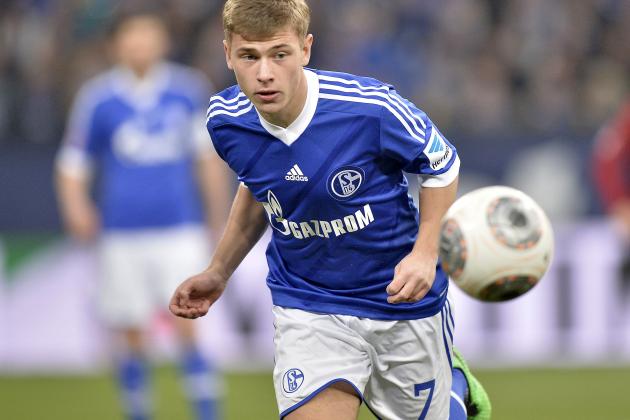 Martin Meissner/Associated Press

With his impressive Bundesliga performances for Schalke, Max Meyer is proving that Julian Draxler is not the only bright young talent at the Veltins Arena.
The 18-year old has already piqued the interest of Chelsea and Arsenal, according to this article by James Dickenson in the Express.
As written on Bundesliga.com:
The 18-year-old renders Draxler a relative veteran at 20 and has already become the youngest player to score in three consecutive Bundesliga matches, following in the footsteps of VfL Wolfsburg's Maximilian Arnold (last season) and former 1. FC Koln striker Lukas Podolski in 2003/04.
Now 18, the attacking midfielder has scored twice in his last five Bundesliga appearances and has played a part in all but one of Schalke's European games this term.
Real Madrid may win the tie by a large number of goals, but maybe Meyer will bag his first strike in the Champions League.
Prediction: Meyer to score his first European goal for Schalke