Olympic 2014 Medal Count: Latest Nation Rankings and Standings for Day 7
Use your ← → (arrow) keys to browse more stories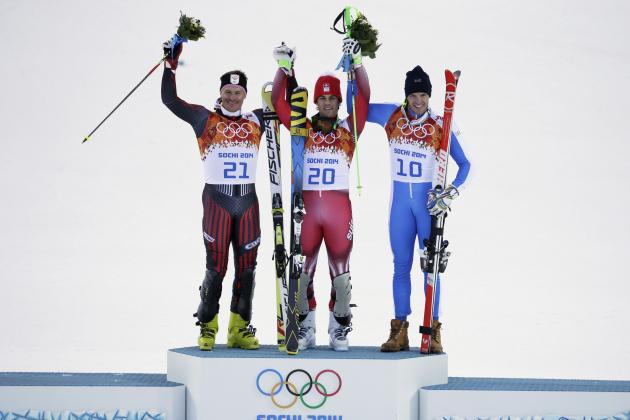 Gero Breloer/Associated Press

Each country continues to showcase its strength at the 2014 Winter Olympics with a number of medals handed out on Day 7.
Switzerland started things off with two gold medals, giving the country five so far in the Games. Almost halfway through the Olympics, only Germany has more with seven. Meanwhile, a few other countries added to their overall medal count with strong performances on Friday.
With men's figure skating, ladies' aerials and women's skeleton still to conclude, there is a good chance for many of the teams at the top to make up ground.
Until then, here is a look at the updated medal count for all competitors in Sochi:
Cross-Country Skiing - Men's 15-Kilometer Classical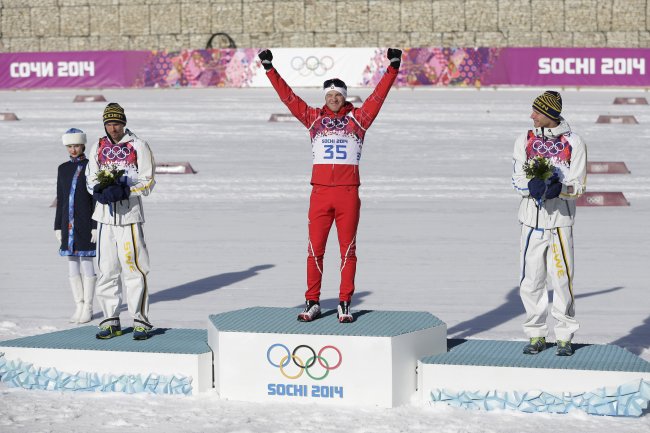 Matthias Schrader/Associated Press
Dario Cologna continued his domination in cross-country skiing after earning yet another gold medal for Switzerland in the 15-kilometer classical. Four years ago, he earned a gold medal in the 15-kilometer freestyle, and he proved that he was once again capable of winning this distance.
This comes after Cologna won the 30-kilometer skiathlon earlier in the week.
While this race is among the shortest in cross-country skiing, the difficultly comes from the conditions. With softer snow, the athletes are forced to stay active the entire time rather than gliding on ice. By the time a competitor crosses the finish line, he cannot help but collapse on the spot.
However, Cologna was able to manage the conditions with some motivation, via Douglas Gelevan of CBC:
Cologna "conditions were tough for me too. But I found a way to manager them. Chasing Olsson really helped" - after gold in 15k @CBCOlympics

— Douglas Gelevan (@DGelevan) February 14, 2014
He finished ahead of silver medalist Johan Olsson by 28.5 seconds. Daniel Richardsson ended with a bronze thanks to a 0.2-second advantage over fourth-place Iivo Niskanen. The Swedish teammates were then greeted by royalty after medaling:
King of Sweden onsite to congratulate Olsson (silver) & Richardsson (bronze) Gold went to Cologna. #sochi2014 #fiscc pic.twitter.com/Pli3RoOMcR

— Cross Country (@FISCrossCountry) February 14, 2014
Still, Cologna was by far the best on the course during the event and proved that no one is a worthy challenger.
Alpine Skiing - Men's Super Combined
This event combines the times from a downhill ski with a slalom, and it takes a great effort in both of them to come out on top.
While Sandro Viletta only managed to finish with the 14th-best time in the downhill, he came back with an excellent showing on the slalom to ensure a gold medal in a surprising upset over a number of big names in the competition.
Obviously, the Swiss skier was all smiles when the last finisher crossed and he saw that he was an Olympic champion:
Sandro Viletta of Switzerland stuns favorites to win gold in super-combined: http://t.co/AnNefGKghx pic.twitter.com/9MLh4b72Pd

— Denver Post Olympics (@DPOlympics) February 14, 2014
Ivica Kostelic of Croatia and Christof Innerhofer of Italy posted identical marks in the slalom, but Kostelic took the silver thanks to his impressive work in the downhill. Innerhofer will leave with a bronze.
On the other end of the spectrum was Team USA, which entered with two gold medal hopefuls in Bode Miller and Ted Ligety but left with nothing. Miller finished in sixth after winning the event in 2010, and he was clearly disappointed.
After the race he explained, via Barry Svrluga of The Washington Post:
Obviously, I should've skied better in the downhill. If I had skied well, I would've been a second faster probably, and that puts me on the podium. But I should've skied a second-and-a-half faster in the slalom, at least, and that would've put me on the podium. Either one. These days, with these conditions, you can't make mistakes.
With just the super-G remaining, Miller's chances of winning another medal are looking slim.
Biathlon - Women's 15-Kilometer Individual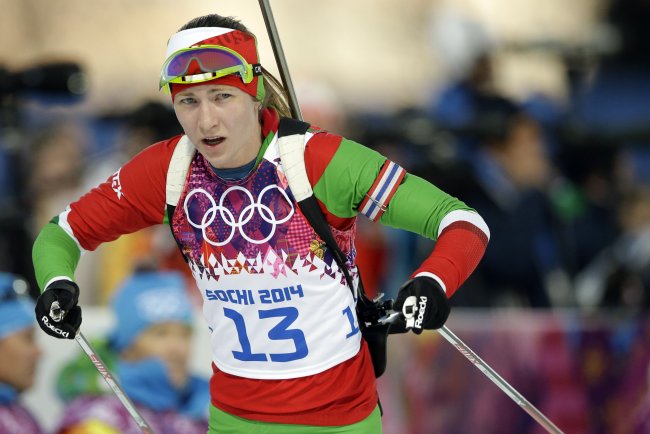 Lee Jin-man/Associated Press
Darya Domracheva won her second gold medal in Sochi with a dominant showing in the 15-kilometer individual race. While she did miss one of her 20 shots, her cross-country skiing was outstanding to help her finish one minute and 15.7 seconds ahead of the next-closest competitor.
Domracheva also won the biathlon pursuit earlier in the Games despite a low starting position, once again proving her speed.
While this is a time-based event, the Belarusian knew that she had gold by the time she crossed the finish line with her country's flag:
A primal roar from women's biathlon pursuit champion Darya Domracheva @CBCOlympics pic.twitter.com/KF7ka8EcQ3

— Douglas Gelevan (@DGelevan) February 11, 2014
Selina Gasparin of Switzerland should also be proud of her performance to take silver with a time of 44 minutes and 35.3 seconds. She hit every single shot, which helped her make up plenty of ground on her competitors who were forced to take extra laps.
Belarus also added another medal when Nadezhda Skardino earned a bronze medal with her flawless run.
Things did not go as well for Anastasiya Kuzmina, the sprint champion who was hoping to earn another medal in the individual competition. Unfortunately, three missed shots at the last station ruined that chance.
Still, there was no one in the world capable of beating Domracheva, who was simply too quick to beat at the Laura Cross-Country Ski and Biathlon Center.
Follow Rob Goldberg on Twitter for the latest breaking news and analysis.