Both the men's and women's curling competitions are well under way at the 2014 Winter Olympics in Sochi, and teams are fighting for position in the round-robin matches.
One team that was desperate for a victory heading into Day 7 of the Games was the United States' male squad, which was off to a disappointing 1-3 start through four matches. Fortunately for the Americans, the 0-4 German squad was next on the docket.
U.S. coach Al Hackner told Brian Murphy of the Pioneer Press that his team isn't far off from racking together some victories: "It's not like we're playing badly. It's just one shot here and there that is getting us in trouble."
So, what happened in the match between the United States and Germany, as well as the other round-robin curling matches, in Day 7 in Sochi?
Here's a look at the results from the three matches in Session 7 for the men's competition:
Men's Session 7 Curling Results

| | | |
| --- | --- | --- |
| Winner | Score | Loser |
| United States | 8-5 | Germany |
| Canada | 10-4 | Norway |
| Sweden | 6-5 | China |
| Great Britain | 8-6 | Denmark |
| Russia | 7-6 | United States |
| China | 7-5 | Norway |
| Germany | 8-7 | Sweden |
NBCOlympics.com
Results
Men's curling: USA vs. Germany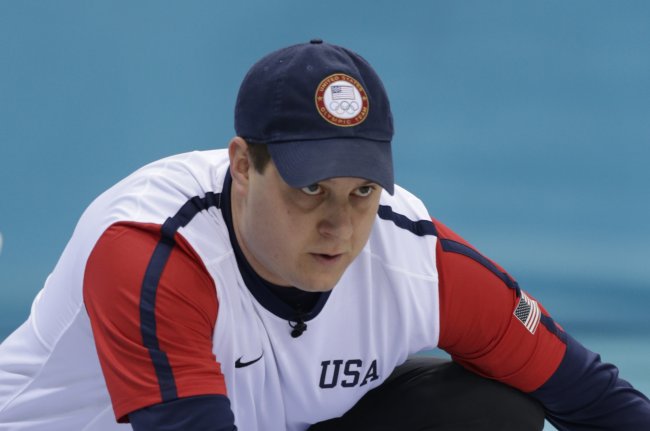 Robert F. Bukaty/Associated Press
This was billed as a match between two squads that desperately needed a victory, with the Americans entering at 1-3 and the Germans at 0-4.
Germany got off to the important fast start and seized the lead through two ends, but a monumental third end completely altered the momentum.
Terry Kolesar, the Director of Communications for USA Curling, recognized the importance of that third end:
Big end for Team USA!!! Shuster with the draw for 4 points!!! Woo hoo! USA 4, GER 1 #keepitgoing #USAUSAUSA

— Terry Kolesar (@terry_usacurl) February 14, 2014
While the third end was certainly important in terms of setting the tone of the match, the eighth end is where the Americans clinched the victory. Skip John Shuster had a brilliant end which, when combined with a German mistake, was enough for a decisive four points. It stretched the lead to 8-3.
The Germans battled back to make it somewhat interesting by the end, but ultimately fell 8-5.
The United States were able to secure the victory despite a bit of controversy, as Curling Zone pointed out:
Controversy in USA/Germany game as Jared Zezel called for double touch of stone. Video showed he touched back of stone. #Olympics #curling

— CurlingZone (@CurlingZone) February 14, 2014
Had the Americans lost, it would have been a bigger story. Ultimately, they picked up a much-needed second victory in Sochi. Germany's rough Olympics continued as it dropped to 0-5 in round-robin play.
Men's curling: Canada vs. Norway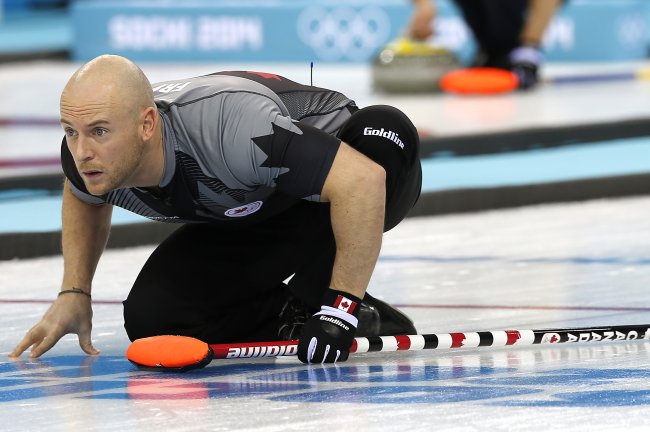 Wong Maye-E/Associated Press
If there is a dynasty for Olympic curling, it is Canada.
The Canadians count the most ever medals in Olympic competition with eight to their collective resume, a total that includes three golds, three silvers and two bronzes.
They showed their dominance in an important 10-4 victory over Norway that was closer for much of the match than the final score indicates.
Norway held the early 2-1 lead, but the momentum began to turn after an impressive fourth end, as the Canadian Curling Association pointed out:
Sweeeet! @bradjacobs15 taps for deuce, set up nicely by 2 great shots from @ryanfry79. Canada leads Norway 3-2 after 4 #wearewinter #curling

— Canadian Curling (@CCACurling) February 14, 2014
Despite the early Canadian momentum, Norway battled back to tie the match at three heading into the seventh end. That was where skip Brad Jacobs took matters into his own hands:
FIST PUMPS!!!!! Huge HUGE shot from @bradjacobs to score the big four-ball in 8th!!!! 7-3 lead on Norway #curling #wearewinter #weareJACKED!

— Canadian Curling (@CCACurling) February 14, 2014
The dominant performance in the eighth end was enough to carry Canada to its fourth victory in six tries in Sochi. Norway fell to 3-2.
While the result was one thing, it would almost be irresponsible not to mention the game within the game that is Norway's pants. Sporting News and SB Nation have both been keeping tabs on the various fashion statements:
Norwegian Curling Pants Game 5 Update: LET'S GET TROPICAL! http://t.co/ZW3KbkHgsj / pic.twitter.com/Yfyqeuwvxs

— Sporting News (@sportingnews) February 14, 2014
After four days, Norway's curling team is 4/4 on PANTS. http://t.co/BNSJFL3xa2 pic.twitter.com/1iuNH2P4OF

— SB Nation (@sbnation) February 13, 2014
Men's curling: Sweden vs. China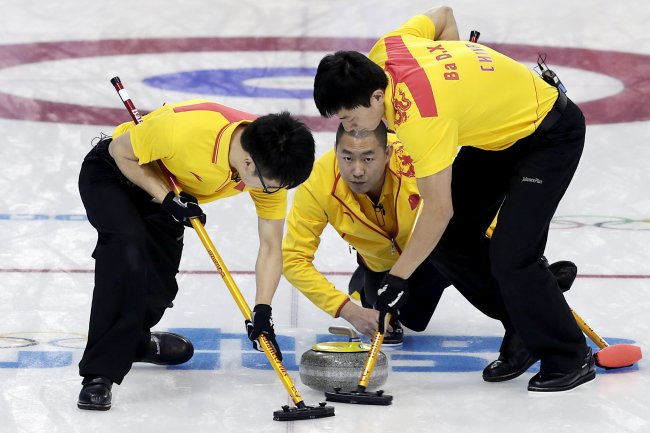 Wong Maye-E/Associated Press
In terms of the early round-robin standings, the matchup between China, which was a perfect 4-0 heading into Session 13, and Sweden, which was right off pace at 4-1, was a showdown.
Appropriately so, it was the closest match in Session 7 of the men's competition and extended past the regulation 10 ends.
China set the tone early and seized a 2-0 lead in the second end. Sweden gradually battled back, but the Chinese held a solid 4-2 lead after six ends.
That is when things began to fall apart.
Sweden picked up a point in the seventh end, but one of the most important moments in the entire match happened when it was able to steal two points when China had control of the hammer in the eighth end. China's last throw missed the guard entirely, setting up the disastrous result.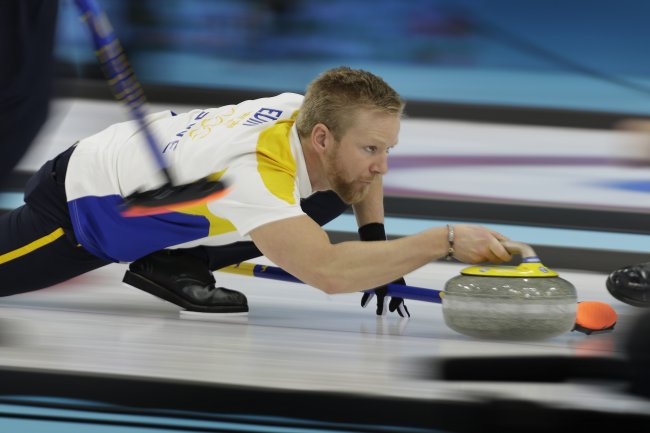 Robert F. Bukaty/Associated Press
To China's credit, it bounced back admirably and picked up a clutch point in the 10th end to tie the match at five.
Sweden won the match in the extra frame 6-5 behind a perfect final throw from skip Niklas Edin to draw even with China in the loss column.
Despite the loss, there has not been a bigger surprise in the curling competition thus far than the success of China, which could be because of the hiring of Canadian Marcel Rocque. Rocque wouldn't reveal the team's secret behind the early success in an Associated Press article in the Washington Post:
I'm not telling you that. I'll keep that close. My old teams will watch this and they'll know what's going on.

It's the first time they have a coach with this level of experience. What I got them to do is trust me and believe in what I was saying.
What's Next?
Have you watched any live curling during the 2014 Winter Olympics?
The United States was not able to capitalize on its early win against Germany, falling to Russia in a tightly contested battle. The host nation prevailed, 7-6, with a raucous home crowd behind it. The American men have the day off on Saturday, but will get back to the ice on Sunday for crucial matchups with Canada at 12 a.m. ET and Sweden at 10 a.m. ET.
Saturday's reduced slate will include Sweden vs. Germany, Denmark vs. Switzerland, Canada vs. Great Britain and Russia vs. China.
Each of these matchups are of immense importance, as round robin play is set to reach a conclusion on Feb. 17 and only the top four teams will advance to the playoffs with a chance for a medal.
Women's Curling
Women's Session 7 Curling Results

| | | |
| --- | --- | --- |
| Winner | Score | Loser |
| Russia | 6-3 | Switzerland |
| China | 11-3 | South Korea |
| Great Britain | 12-3 | Japan |
| Denmark | 9-3 | USA |
NBColympics.com
Denmark vs. USA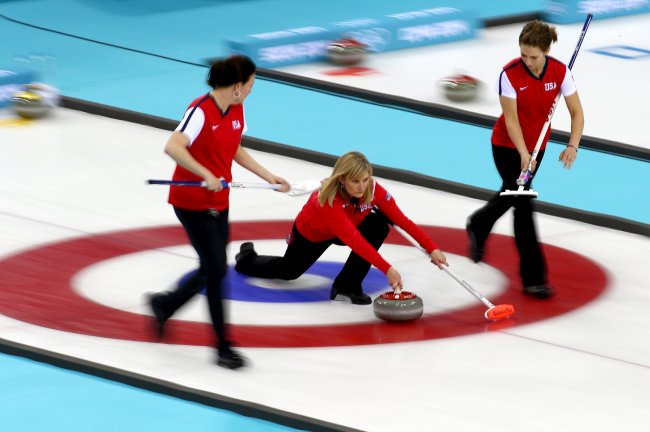 Streeter Lecka/Getty Images
The United States women may have hoped for a turnaround in fortunes after capturing their first victory of the Games against Japan, but the 9-2 defeat to Denmark sucked the team back down to earth.
Denmark took the lead during end two, notching a double score to deflate USA's momentum after their recent comeback win. Although the Americans pulled one back on the next end, Denmark quickly planted another brace home to give themselves a 4-1 advantage.
USA could only manage the single score in reply, providing their Danish opponents with the initiative. By the conclusion of end seven, a failed final stone saw an 8-2 lead established, per Tony Kolesar:
Huge steal by Denmark as our final stone comes up short of the rings. DEN 8, USA 2 after 7 ends of #curling #Sochi2014

— Terry Kolesar (@terry_usacurl) February 14, 2014
Denmark added one more in the ninth end to put the match beyond USA's reach.