Day 6 of the 2014 Winter Olympics saw Germany continue its luge domination, America continue to hoard slopestyle medals and also a premature end to the career of a figure skating legend.
Let's start with the American perspective.
If it wasn't for the new Olympic events at the 2014 Sochi Games, Team USA would be battling severe disappointment. Thursday's action of the winter extravaganza continued this trend, as Team USA swept the podium in men's ski slopestyle medals.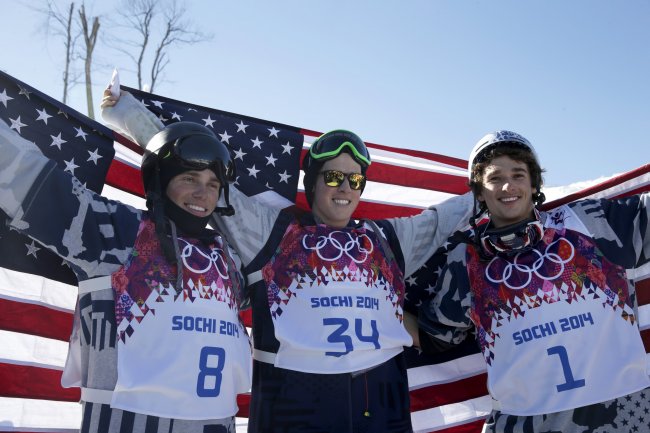 Gero Breloer/Associated Press
American skiers Joss Christensen (gold), Gus Kenworthy (silver) and Nicholas Goepper (bronze) took the honors.
SKIING #SLOPESTYLE SWEEP! #TeamUSA wins Gold, Silver, and Bronze with @josschristensen, @guskenworthy, @NickGoepper winning respectively

— NBC Olympics (@NBCOlympics) February 13, 2014
Christensen was the clear class of the skiers. He posted a practically flawless first run that was good for a score of 95.80. With each rider getting two runs, that score held up throughout the competition.
In fact, Christensen was the only skier to come relatively close to it as he posted a 93.80 on his second run.
American Bobby Brown was also in the competition, but he was unable to medal.
Still, it was a banner day for the U.S. and the sport. Silver medalist Kenworthy touched on this in a quote provided by Lindsay H. Jones of USA Today:
I mean it's been incredible to showcase our sport to the world. We have an awesome course, beautiful weather and it was one of the best slopestyle competitions we've ever had. I really couldn't be prouder.
With the gold in this event, the Americans have now taken three of the four golds from the slopestyle events at these games. That is 75 percent of the Americans' gold medals for these games.
Take a look:
The non-slopestyle gold came from Kaitlyn Farrington in the women's halfpipe, which is certainly a newer Olympic sport. It is in the more traditional sports where the Americans have struggled. That theme continued on Day 6.
For instance, the American women's speedskating group is stacked, and the 1,000-meter figured to be their strongest event, as NBCSports.com's Nick Zaccardi pointed out:
Heather Richardson and Brittany Bowe medaled in all 4 World Cup 1000ms this season so far. Neither medals in Olympic 1000m. Drought extends.

— Nick Zaccardi (@nzaccardi) February 13, 2014
Friends and rivals Heather Richardson and Brittany Bowe were expected to be battling it out for the gold medal. Although that rivalry did materialize, the two ultimately competed for seventh as Richardson won that battle and Bowe came in eighth. They were over a second off the winning time of China's Hong Zhang.
Meanwhile, the Dutch continued their mastery of speedskating by taking the bronze and silver in that event.
Thanks to luge domination, Germany is beginning to run away with the race for the most medals. The Germans pushed their gold haul to an impressive seven.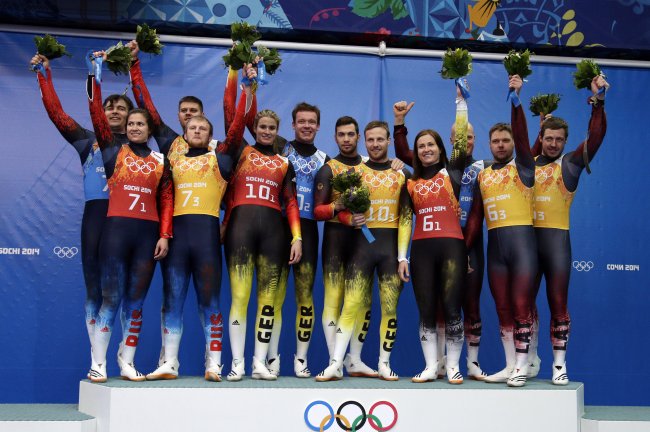 Michael Sohn/Associated Press
Germany prevailed for gold over host Russia by 0.030 seconds in the team luge competition.
The only surprise there was that it was that close. The German team featured the gold-medal winners from the men's, women's and pairs competition with Felix Loch, Natalie Geisenberger and Tobias Arlt and Tobias Wendl.
Meanwhile, in what may have been the day's most anticipated event, the men's figure skating competition got underway with the short program.
While warming up for his routine, 31-year-old Russian star Evgeni Plushenko tweaked his troublesome back and decided, as the Chicago Sun-Times tweeted, it was time to call it a career:
Russian champion Evgeni Plushenko abruptly retires after withdrawing from Olympics. http://t.co/jtD220S02h #Sochi2014

— Chicago Sun-Times (@Suntimes) February 13, 2014
This opened the door for Japan's Yuzuru Hanyu, 19, to steal the show. CBSSports.com's Will Brinson is convinced Hanyu is one to watch for years to come:
Yuzuru Hanyu first man to ever bust 100 points in a short program. Dude's winning every gold medal for the next 12 years

— Will Brinson (@WillBrinson) February 13, 2014
He was spectacular while setting a world record of 101.45 points, and is now in a strong position to become the first ever men's Olympic figure skating gold medalist from Japan.
Here are all the results for Day 6 of the 2014 Winter Olympics.
Men's Biathlon Individual 20-Kilometer Race
Final Results

| | | | | | |
| --- | --- | --- | --- | --- | --- |
| Place | Country | Name | Shooting | Total | Time |
| 1 | FRA | Martin Fourcade | 0-1-0-0 | 1 | 49.31.7 |
| 2 | GER | Erik Lesser | 0-0-0-0 | 0 | 49:43.9 |
| 3 | RUS | Evegeniy Garanichev | 0-1-0-0 | 1 | 50:06.2 |
| 4 | AUT | Simon Eder | 0-1-0-0 | 1 | 50:09.5 |
| 5 | AUT | Dominik Landertinger | 0-0-0-0 | 0 | 50:14.2 |
| 6 | FRA | Jean Guillaume Beatrix | 0-0-0-1 | 1 | 50:15.5 |
| 7 | NOR | Emil Hegle Svendsen | 0-0-1-0 | 1 | 50:30.3 |
| 8 | USA | Lowell Bailey | 0-1-0-0 | 1 | 50:57.4 |
| 9 | UKR | Serhiy Semenov | 1-0-0-0 | 1 | 51:07.9 |
| 10 | GER | Daniel Boehm | 0-1-0-0 | 1 | 51:09.4 |
Source: Sochi2014.com
Women's Cross-Country 10-Kilometer Race
Final Results

| | | | |
| --- | --- | --- | --- |
| Place | Country | Name | Time |
| 1 | POL | Justyna Kowalczyk | 28:17.8 |
| 2 | SWE | Charlotte Kalla | 28:36.2 |
| 3 | NOR | Therese Johaug | 28:46.1 |
| 4 | FIN | Aino-Kaisa Saarinen | 28:48.1 |
| 5 | NOR | Marit Bjoergen | 28:51.2 |
| 6 | GER | Stefanie Boehler | 29:04.3 |
| 7 | RUS | Natalia Zhukova | 29:15.5 |
| 8 | FIN | Kerttu Niskanen | 29:16.7 |
| 9 | NOR | Heidi Weng | 29:28.2 |
| 10 | FIN | Krista Lahteenmaki | 29:36.0 |
Source: Sochi2014.com
Men's Curling
Round-Robin Results

| | | |
| --- | --- | --- |
| Winner | Score | Loser |
| Great Britain (4-1) | 5 - 3 | United States (1-3) |
| Russia (1-4) | 7 - 6 | Switzerland (1-4) |
| Sweden (4-1) | 5 - 4 | Norway (3-1) |
| Canada (3-2) | 7 - 6 | Denmark (2-3) |
Source: Sochi2014.com
Women's Curling
Round-Robin Results

| | | |
| --- | --- | --- |
| Winner | Score | Loser |
| Great Britain (2-2) | 8 - 7 | China (2-2) |
| Canada (4-0) | 8 - 5 | Denmark (0-5) |
| Sweden (3-1) | 9 - 8 | Switzerland (3-1) |
| Canada (5-0) | 8 - 5 | Switzerland (3-2) |
| United States (1-4) | 8 - 6 | Japan (2-2) |
| Korea (2-2) | 8 - 4 | Russia (2-3) |
Source: Sochi2014.com
Men's Figure Skating
Short Program Results

| | | | |
| --- | --- | --- | --- |
| Place | Country | Name | Score |
| 1 | JPN | Yuzuru Hanyu | 101.45 |
| 2 | CAN | Patrick Chan | 97.52 |
| 3 | ESP | Javier Fernandez | 86.98 |
| 4 | JPN | Daisuke Takahashi | 86.40 |
| 5 | GER | Peter Liebers | 86.04 |
| 6 | USA | Jason Brown | 86.00 |
| 7 | FRA | Brian Joubert | 85.84 |
| 8 | CHN | Han Yan | 85.66 |
| 9 | KAZ | Denis Ten | 84.06 |
| 10 | SWE | Alexander Majorov | 83.81 |
Source: Sochi2014.com
Men's Freestyle Skiing Slopestyle
Final Results

| | | | |
| --- | --- | --- | --- |
| Place | Country | Name | Top Score |
| 1 | USA | Joss Christensen | 95.80 |
| 2 | USA | Gus Kenworthy | 93.60 |
| 3 | USA | Nick Goepper | 92.40 |
| 4 | NOR | Andreas Haatveit | 91.80 |
| 5 | GBR | James Woods | 86.60 |
| 6 | SWE | Henrik Harlaut | 84.40 |
| 7 | NOR | Aleksander Aurdal | 81.80 |
| 8 | AUS | Russell Henshaw | 80.40 |
| 9 | USA | Bobby Brown | 78.40 |
| 10 | NOR | Oystein Braaten | 66.40 |
Source: Sochi2014.com
Men's Hockey
Group Stage Results

| | | |
| --- | --- | --- |
| Winner | Score | Loser |
| Finland (1-0) | 8 - 4 | Austria (0-1) |
| United States (1-0) | 7 - 1 | Slovakia (0-1) |
| Canada (1-0) | 3 - 1 | Norway (0-1) |
| Russia (1-0) | 5 - 2 | Slovenia (0-1) |
Source: Sochi.com
Women's Hockey
Group Stage Results

| | | |
| --- | --- | --- |
| Winner | Score | Loser |
| Germany (1-2) | 4 - 0 | Japan (0-3) |
| Russia (3-0) | 3 -1 | Sweden (2-1) |
Source: Sochi.com
Luge Team Relay
Final Results

| | | |
| --- | --- | --- |
| Place | Country | Time |
| 1 | Germany | 2:45.649 |
| 2 | Russia | 2:46.679 |
| 3 | Latvia | 2:47.295 |
| 4 | Canada | 2:47.395 |
| 5 | Italy | 2:47.420 |
| 6 | United States | 2:47.555 |
| 7 | Miriam Kastlunger | 2:48.477 |
| 8 | Natalia Wojtusciszyn | 2:49.753 |
| 9 | Vendula Kotenova | 2:49.805 |
| 10 | Slovakia | 2:50:165 |
Source: Sochi.com
Women's Short Track 500-Meter Race
Final Results

| | | | |
| --- | --- | --- | --- |
| Place | Country | Name | Top Time |
| 1 | CHN | Jianrou Li | 43.486 |
| 2 | ITA | Arianna Fontana | 43.405 |
| 3 | KOR | Seung-Hi Park | 43.392 |
| 4 | CHN | Qiuhong Liu | 43.478 |
| 5 | CHN | Kexin Fan | 43.288 |
| 6 | NED | Jorien Ter Mors | 43.572 |
| 7 | CAN | Marianne St. Gelais | 43.595 |
| 8 | GBR | Elise Christie | 43.402 |
| 9 | CAN | Valerie Maltais | 43.550 |
| 10 | KOR | Alang Kim | 43.673 |
Source: Sochi2014.com
Women's Skeleton
Final Results

| | | | |
| --- | --- | --- | --- |
| Rank | Country | Name | Total Time |
| 1 | GBR | Elizabeth Yarnold | 1:56.89 |
| 2 | USA | Noelle Pikus-Pace | 1:57.33 |
| 3 | RUS | Elena Nikitina | 1:57.44 |
| 4 | USA | Katie Uhlaender | 1:57.58 |
| 5 | RUS | Olga Potylitsina | 1:57.75 |
| 6 | RUS | Maria Orlova | 1:57.99 |
| 7 | GER | Anja Huber | 1:58.30 |
| 8 | CAN | Sarah Reid | 1:58.31 |
| 9 | GER | Sophia Griebel | 1:58.63 |
| 10 | GER | Marion Thees | 1:58.67 |
Source: Sochi2014.com
Women's Speedskating 1,000-Meter Race
Final Results

| | | | |
| --- | --- | --- | --- |
| Place | Country | Name | Time |
| 1 | CHN | Hong Zhang | 1:14.02 |
| 2 | NED | Irene Wust | 1:14.69 |
| 3 | NED | Margot Boer | 1:14.90 |
| 4 | RUS | Olga Fatkulina | 1:15.08 |
| 5 | NED | Lotee Van Beek | 1:15:10 |
| 6 | NED | Marrit Leenstra | 1:15.15 |
| 7 | USA | Heather Richardson | 1:15.23 |
| 8 | USA | Brittany Bowe | 1:15.47 |
| 9 | CAN | Christine Nesbitt | 1:15.62 |
| 10 | CZE | Karolina Erbanova | 1:15.74 |
Source: Sochi2014.com