10 Takeaways from Wednesday's NBA Action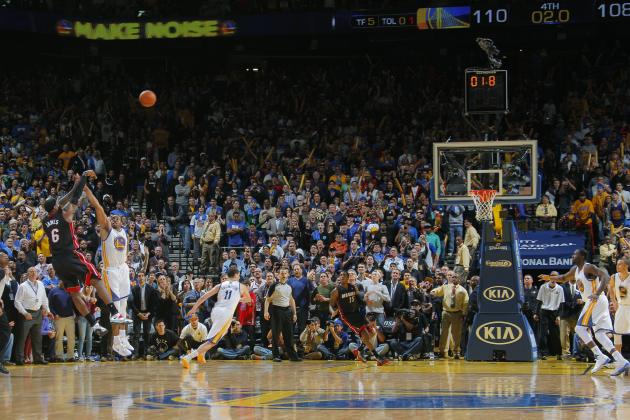 Rocky Widner/Getty Images

The evening of Wednesday, Feb. 13, was the last full slate of games before the All-Star break. And, boy, it did not disappoint.
A pair of All-Stars, LeBron James of the Miami Heat and James Harden of the Houston Rockets, willed their teams to victory at the buzzer. Another All-Star, Carmelo Anthony of the New York Knicks, came up just short, as his Knicks stumbled yet again.
The Dallas Mavericks bounced back from a humiliating loss to take out the powerhouse Indiana Pacers, while the Portland Trail Blazers continued their midseason swoon.
Begin Slideshow

»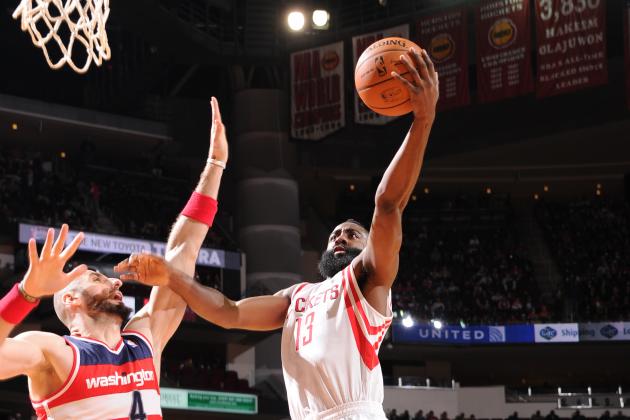 Bill Baptist/Getty Images

Houston Rockets guard James Harden made a few defensive miscues to allow the Washington Wizards to come back from an 18-point deficit to take a one-point lead. As he drove to the basket with 0.7 seconds left, he was ready to make amends, per NBA.com's Kristie Riekin: "I had to figure a way to make it even...[I wanted to] Get to the rim and make the play. It's simple."

It's simple when you are as gifted a scorer as Harden. He hit that layup to give the Rockets a 113-112 win.
Harden led all scorers with 35 points on 8-of-14 shooting.
Yes, he had his share of defensive miscues. He clearly still needs to develop on that side of the ball. But his offense is elite enough to make up for his lax defense on most nights.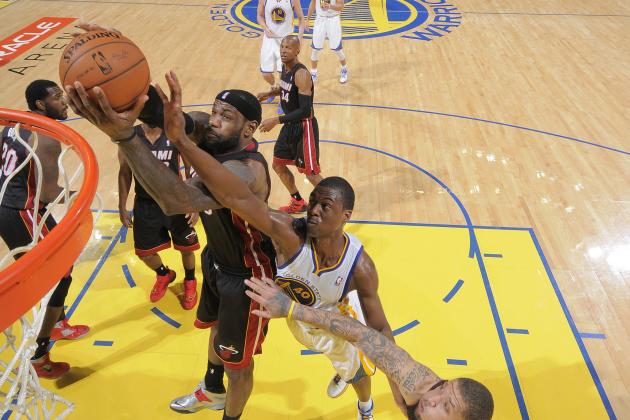 Rocky Widner/Getty Images

Basketball might be the most difficult sport in the world to play at an elite level. You need to have height, speed and agility beyond mere mortals. Athletically, NBA players are in a class by themselves.
And Miami Heat forward LeBron James is in a class above that class.
James willed his Heat to a 111-110 victory over a game Golden State Warriors team. The Warriors had ice water in their veins, with Andre Iguodala and Stephen Curry hitting ridiculously clutch shots down the stretch. But LeBron had the final answer, hitting a three over Iguodala with 0.1 left on the clock.
James' line on the night was superhuman: 36 points, 13 rebounds, nine assists, two steals.
According to Yahoo! Sports' Marc J. Spears, Warriors owner Joe Lacob was heard after the loss muttering, "He's unreal."
Don't feel bad, Mr. Lacob. James does that to just about everybody.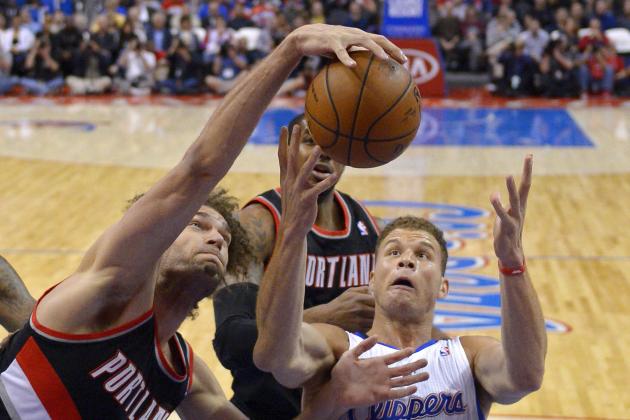 Mark J. Terrill/Associated Press

Before Wednesday's highly anticipated matchup between the Los Angeles Clippers and Portland Trail Blazers, Yahoo! Sports' Dan Devine tweeted that Portland "has been outscored by 5 points-per-100 over the last 12 games, the sixth-worst net rating in the NBA during that stretch."
The Blazers didn't do much to improve that rating on Wednesday, losing 122-117 to the Clippers. Portland was done in by a poor fourth quarter, as the Clippers pulled ahead with a 30-22 advantage in the final period.
Portland allowed three players to score at least 20 points: Blake Griffin (36 points), Jamal Crawford (25) and Chris Paul (20).
The All-Star break couldn't come at a better time for the Blazers, who are now 5-8 in their last 13 games. They need to regroup.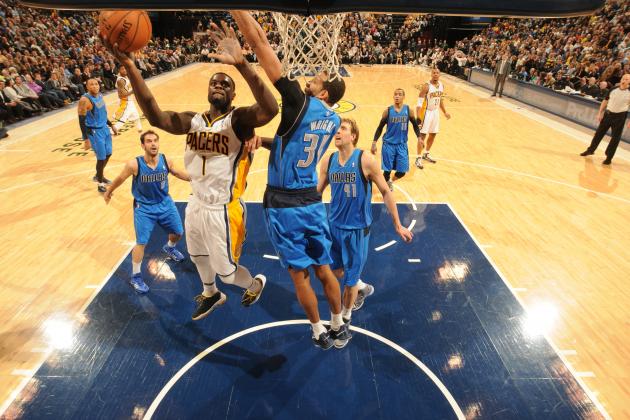 Ron Hoskins/Getty Images

Things looked bleak for the Dallas Mavericks after their blowout 114-89 loss to the Charlotte Bobcats on Tuesday night. They had to travel to Indianapolis to take on the powerhouse Indiana Pacers the very next night.
Well a different Dallas team showed up on Wednesday. The Mavericks held the Pacers to season lows in both points and field-goal percentage in a stunning 81-73 win.
Mavericks coach Rick Carlisle praised his team's fighting spirit after the win, per NBA.com's Conrad Brunner:
It was just a very competitive game from start to finish. There was a lot of attitude in the game, which is great. We were able to get out of here alive. It's a great win for us after a very disappointing night last night.
The ability to rebound quickly from a tough loss is important for any team during the long NBA regular season. The Mavericks showed real spirit in claiming one of their best wins of the season less than 24 hours after one of their worst losses.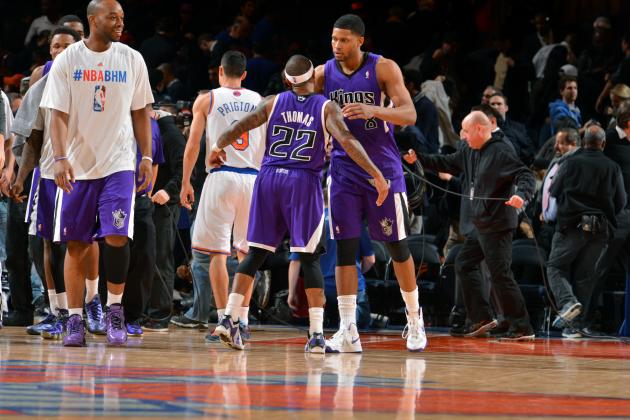 Jesse D. Garrabrant/Getty Images

The New York Knicks had a chance to gain a game on the two teams immediately ahead of them in the Eastern Conference playoff race, both of which lost on Wednesday. All they had to do was beat the lowly Sacramento Kings, losers of seven-straight road games, at Madison Square Garden.
Nope.
Instead, the Knicks sunk even lower in Wednesday's 106-101 overtime loss to the Kings. Sacramento lost star center DeMarcus Cousins to an injury in the fourth quarter, yet the Kings were still able to overcome New York.
Reserve guard Jimmer Fredette torched the Knicks for a career-high 24 points. Per The Wall Street Journal's Chris Herring, Fredette became the fifth player to reach a career high in points against New York this season, joining Marco Belinelli, Lance Stephenson, Evan Turner and Brandon Knight.
If allowing career nights from opponents were equal to wins, the Knicks would be the best team in the NBA.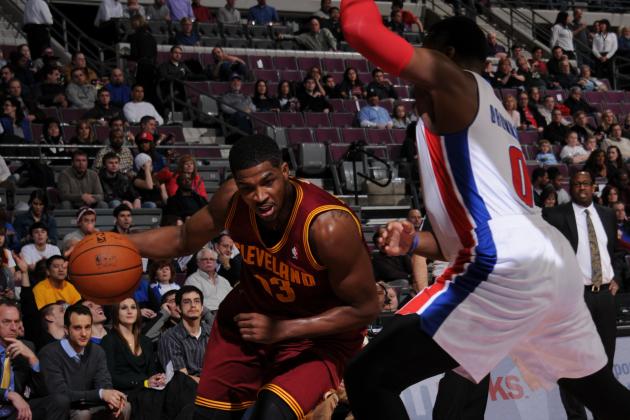 Allen Einstein/Getty Images

In the span of six days, the Cleveland Cavaliers have transformed from the NBA's laughingstock into one of the hottest teams in basketball.
The Cavaliers made a bit of (recent) team history with their 93-89 win over the Detroit Pistons. Per NBA.com's Dana Gauruder, this is the first time they have won four consecutive games in the post-LeBron era. The win also snapped a seven-game losing streak to Cleveland's division rival.
Forward Tristan Thompson was the hero for the Cavs, scoring 25 points on 12-of-16 shooting and grabbing 15 rebounds.
The winning streak has brought Cleveland to within a half-game of the free-falling Knicks for 10th place in the Atlantic Division. The Cavs are still three games behind Charlotte for eighth place, but they have plenty of time to make that up. All they need to do is keep the momentum from this winning streak.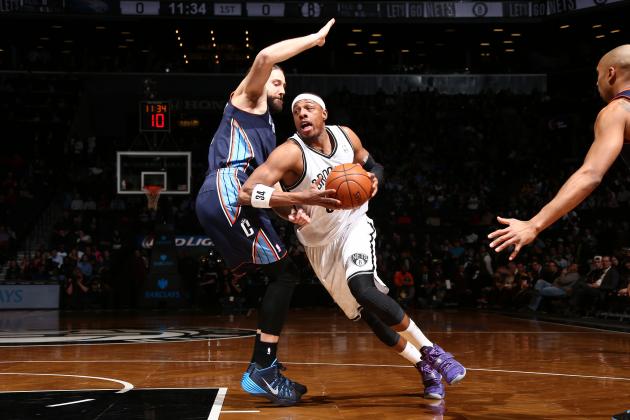 Nathaniel S. Butler/Getty Images

The Brooklyn Nets have now won 11 of their last 13 home games after defeating the Charlotte Bobcats, 105-89, on Wednesday night.
Paul Pierce led the Nets with 25 points on a very efficient 9-of-11 shooting, including a perfect 5-of-5 from beyond the arc.
Pierce and the Nets will need to carry that inspired play on the road, because they won't see Brooklyn again until March.
Starting Thursday in Chicago, the Nets will play seven consecutive road games. After the All-Star break, Brooklyn will head out west to face the Utah Jazz, Golden State Warriors, Los Angeles Lakers, Portland Trail Blazers and Denver Nuggets, before finishing off the trip in Milwaukee.
There are certainly quite a few winnable games in that stretch, but a West Coast swing is never easy.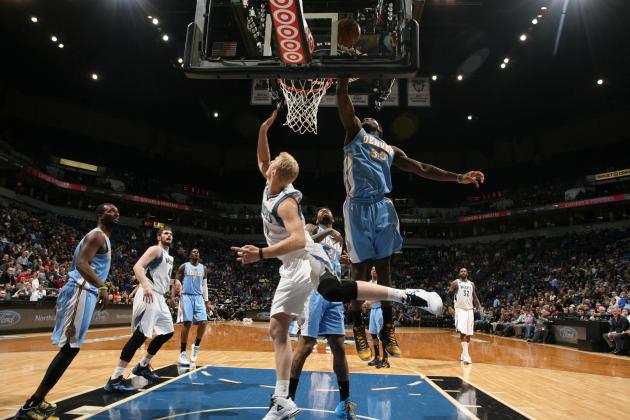 David Sherman/Getty Images

The Minnesota Timberwolves tied the Denver Nuggets in the standings, thanks to Wednesday's 117-90 win. Both teams are six games behind the Golden State Warriors for the final playoff spot in the Western Conference.
But the way the Nuggets are playing, they won't be even with Minnesota for very long.
Not only have the Nuggets lost four games in a row, but they also haven't even been remotely competitive in doing it. Wednesday's 27-point loss was only the second-worst defeat in the past week; they lost to the Knicks and Pistons by 17 each, and the Pacers annihilated them by 39.
Yes, all four of those games came on the road, but the next home game won't be a cake walk: Feb. 18, vs. the Phoenix Suns.
The Nuggets need to get their act together.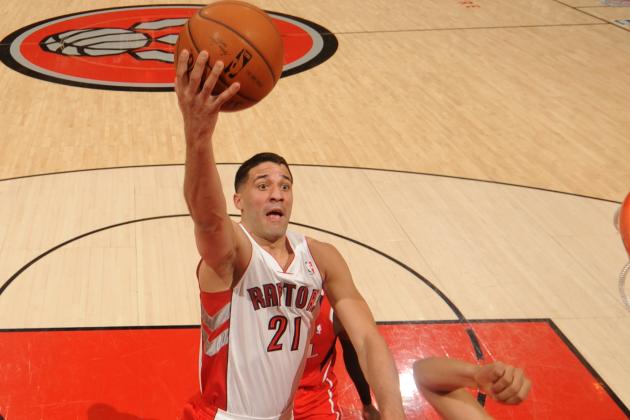 Ron Turenne/Getty Images

On Wednesday, Yahoo! Sports' Adrian Wojnarowski reported that the Toronto Raptors were likely to keep point guard Kyle Lowry and push for a playoff berth this season.
Lowry and his teammates did nothing to make the front office change their minds during Wednesday night's 104-83 win over the Atlanta Hawks. Lowry scored 16 points and dished 13 assists, while DeMar DeRozan scored a game-high 31.
The Raptors will go into the All-Star break at 28-24, safely ensconced in third place in the Eastern Conference.
Toronto does not have a great history of success; they might as well ride with the players who have taken them this far.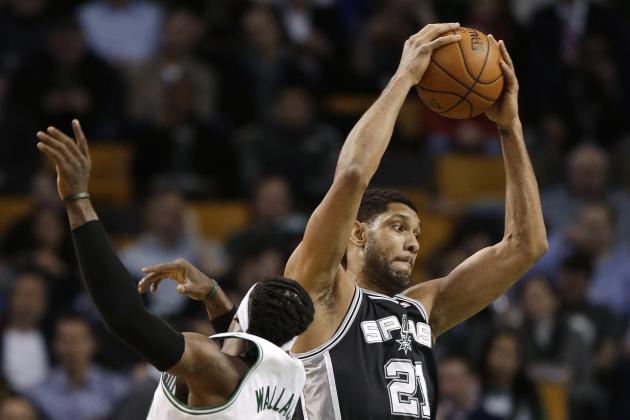 Stephan Savoia/Associated Press

The San Antonio Spurs legend, though not as spry as he used to be, when he takes the court, he always gives his team a chance to win.
The Spurs have needed to lean heavily on Tim Duncan with Tony Parker, Manu Ginobili and Kawhi Leonard all sidelined with various injuries. On Wednesday, Duncan carried the Spurs with a vintage performance in a 104-92 win over the Boston Celtics.
Duncan led all scorers with 25 points, on 9-of 15 shooting, while also pulling down nine rebounds.
Duncan will not be an All-Star this season, meaning he will get a chance to rest his old bones. That's good news for the Spurs, who will likely need their trusty big man to carry the team often throughout the rest of the season.