Johnny Manziel will likely go very early in the 2014 NFL draft due to his on-field pedigree at Texas A&M and his ability to become the new face of a franchise.
There are several teams in need of a new signal-caller on draft day. The Houston Texans certainly need a new leader, as do the Cleveland Browns, Jacksonville Jaguars and Minnesota Vikings. I was inclined to believe that Minnesota would be Manziel's new home prior to news a few weeks ago that Cleveland would be willing to trade up to select him.
But with Cleveland's latest front office shakeup, all bets might be off.
New Cleveland Browns GM Ray Farmer graduated from Duke. He was at Duke/Texas A&M. That's when Manziel did this http://t.co/YOxKTF9Wqc

— Jason McIntyre (@jasonrmcintyre) February 11, 2014
Obviously, whichever team drafts Manziel early in the first round will be expecting a huge—and an immediate—payoff from their selection. The last thing a team wants to do is draft a name like Manziel and have him sit for an extended period of time. That's a great way to alienate a fanbase.
There are several people out there that think Manziel will shine in the NFL. Texans wide receiver Andre Johnson believes so. He told Brian T. Smith of the Houston Chronicle that Manziel will be something special: "He's exciting. He's an exciting player to watch. I enjoyed watching him in college. He doesn't have the name Johnny Football for nothing. I think he's a great player."
Houston Texans now following @JManziel2 on Twitter. http://t.co/NxK2RGa3s3

— CollegeFootball 24/7 (@NFL_CFB) February 12, 2014
Okay, so that whole bit about being an "exciting" player is fair. Manziel has always been exciting to watch, mostly because of how he repeatedly gets himself out of trouble in the pocket.
As far as skill set goes, Daniel Jeremiah of NFL.com has likened him to Dallas Cowboys star Tony Romo:
As passers, neither Manziel nor Romo have elite arm strength, but both can generate enough velocity to make every throw on the passing tree. Also, they can deliver the ball accurately from a variety of platforms and arm angles. They both have outstanding pocket awareness and the ability to escape the free rusher. They excel at extending plays and delivering accurate throws while on the move, to both the right and left sides of the field.

The biggest difference between the two lies in Manziel's ability to take off and pick up chunk yardage as a runner.
Romo, of course, has been an NFL success after going undrafted in the 2003 NFL draft. He's 63-45 as the Cowboys starter since 2006 and has shown the ability to make plays with both his arm and his legs.
A better comparison, though, might be to Robert Griffin III.
RGIII took the NFL by storm in 2012. He racked up 27 total touchdowns and over 4,000 total yards en route to the Offensive Rookie of the Year award and 9-6 record while under center for his Washington Redskins.
Then, his recklessness took over.
It's hard to fault the guy for being a competitor, but the play that caused him to tear ligaments in his knee in a playoff game against the Seattle Seahawks following the 2012 season was an unnecessary incident.
As a result, he was a different player when he returned at the beginning of 2013. The Redskins were terrible last year—as was RGIII. He had just 16 total touchdowns and just under 3,700 total yards. While not your typical sophomore slump given his injury, the results were similar.
Manziel boasts a similar recklessness. He looks to run far too often, exposing himself to more hits than an NFL general manager or owner would like to see. Linebackers in the NFL are just a bit larger than those at the collegiate level, and they won't hesitate to hit Manziel if he's flushed out of the pocket.
It's for this reason alone that I'd be weary to draft Manziel with an early selection on draft day. All it takes is for one hit to (1) suffer a Griffin-like injury or (2) get a serious reality check. While a Griffin-like ACL injury is difficult to predict, it's the latter that has me worried.
Manziel's entire game relies on confidence. You don't just tuck the ball and run for 40 yards with receivers open downfield if you don't have confidence in your game. The same goes for bombing the ball over the top of defenses—it's just something you don't do unless you're rolling.
With a couple eye-opening shots from NFL defenders, Manziel's confidence (that borders, at times, on cockiness) might also take a hit at the next level. RGIII was tentative at times in 2013, after his potentially career-altering injury. Manziel could follow a similar path toward tentativeness.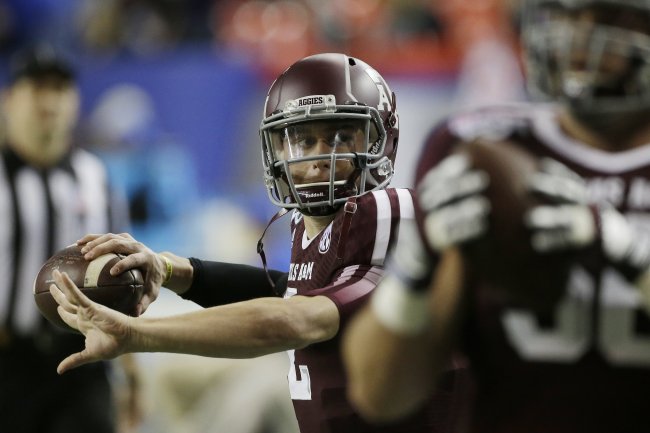 John Bazemore/Associated Press
In essence, the physical nature of the NFL could force Manziel to be a pocket passer. If he were one to begin with, I would have no qualms regarding his NFL legitimacy. But because he doesn't have the arm strength, accuracy or footwork in the pocket to make all the throws required of an NFL quarterback, he won't find as much success as analysts are suggesting.
When Andrew Luck was coming out of Stanford, nearly everyone was sure that he'd be a success because of his maturity in the pocket. He had the arm strength to make the throws, as well as the poise to stand in and take a hit.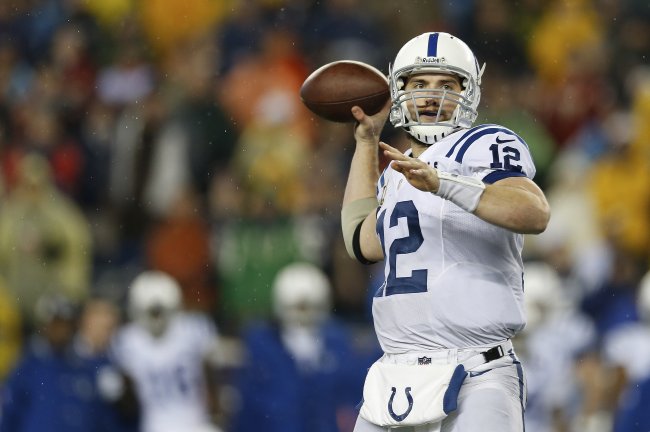 Michael Dwyer/Associated Press
Sure, nobody predicted the immediate impact he would have on the Indianapolis Colts, but most everyone knew he'd be successful at some point.
Take a look at Luck prior to getting drafted, and then take a look at Manziel where he is now. They're not even on the same level.
Will Manziel succeed in the NFL?
Manziel's shortcomings as a pocket passer will ultimately lead to some long, difficult seasons for the team that drafts him—at least, from the start. Manziel appears to have the football mentality to grasp change and listen to coaching, but changes in his passing ability won't come right at first.
It'll take some time—a few seasons, perhaps.
Manziel will not be an immediate success in the NFL. It will take some time for him to become a solid NFL quarterback, if at all.
Follow me on Twitter: @kennydejohn