No. 1 Syracuse (24-0, 11-0 ACC) sent a statement to the rest of the nation on Feb. 12 as it entered hostile ACC territory and took down No. 25 Pittsburgh (20-5, 8-4 ACC), 58-56, when a Tyler Ennis 35-foot prayer found the bottom of the net as time expired.
Despite a box score stacked in Pittsburgh's favor, the Orange get all the credit for doing what has never been done at the Petersen Events Center, according to ESPN Stats & Info:
No. 1 Syracuse pulls it off! It's 'Cuse's 1st win at Pitt since 2004, & Pitt's 1st loss ever to a top-5 team at the Petersen Events Center.

— ESPN Stats & Info (@ESPNStatsInfo) February 13, 2014
According to the win probability calculator at http://t.co/dqu5Nmfb0s Pitt had a 97.7% chance of winning with 1:56 left. #CUSEvsPITT

— ESPN Stats & Info (@ESPNStatsInfo) February 13, 2014
Although, as coach Jim Boeheim put it immediately after the game, luck certainly played a role, via SportsCenter:
"You gotta be a little lucky. That was a little lucky...but you still gotta shoot it." - Jim Boeheim on Tyler Ennis' game-winner

— SportsCenter (@SportsCenter) February 13, 2014
For Ennis, the shot is the defining moment of his career thus far. Nobody summed it up better than Sean Kirst of The Post-Standard:
In a place where Syracuse always struggles, against a fierce indomitable rival, with everyone knowing it'll be him, the kid makes that shot.

— sean kirst (@seankirst) February 13, 2014
It was a poetic ending to a defensive struggle where all of two fast-break points were had in the first half and seemingly every possession lasted until the shot clock almost expired. Syracuse was badly embarrassed on the boards as it allowed 16 offensive rebounds, but its suffocating zone defense held the Panthers offense to 36-percent shooting.
Offensively, Syracuse was not much better from the field with an 18-of-42 showing, but sinking 16-of-19 free throws kept the team in the game despite losing the overall rebounding battle, 35-24.
Although it held just a 27-24 lead at the half, early indications were that Pittsburgh had dissected the Syracuse zone through smart cuts and a barrage of three-point attempts. With more than nine minutes to go in the half, the Panthers had posted a 2-of-7 mark from behind the arc.
Not only did Pittsburgh move around the zone effectively, but it bullied Syracuse in the paint en route to seven offensive rebounds in the early going, as ESPN Stats & Info pointed out:
Pitt already with 7 offensive rebounds, leads Syracuse 6-0 in 2nd-chance points early on.

— ESPN Stats & Info (@ESPNStatsInfo) February 13, 2014
Offensively, Ennis and Jerami Grant were sloppy with the ball, which was an unusual sight for the nation's best team. It was yet another factor the Panthers were able to turn into an advantage, as ESPN Stats & Info indicated:
Syracuse allows 8.9 PPG off TO, fewest among major conference teams. Pitt has 8 Pts off 4 'Cuse turnovers in the 1st half. #CUSEvsPITT

— ESPN Stats & Info (@ESPNStatsInfo) February 13, 2014
Perhaps the biggest story of the first half for Boeheim and the Orange was the absence of Ennis. His lack of production hindered the team in a close half, but the Hall of Fame coach was bailed out by an 8-of-10 mark from the charity stripe and seven bench points from Michael Gbinije.
ESPN Radio's Brent Axe couldn't have said it any better:
Halftime in Pittsburgh. Pitt leads 27-24. Michael Gbinije leads the Orange with 7. Pitt out-rebounding SU 18-11. Smoke if you got 'em

— Brent Axe (@BrentAxeMedia) February 13, 2014
The opening of the second half was more of the same, as both teams were streaky. With just over 16 minutes left, Pittsburgh went on a 7-0 run to go up, 37-28.
In that span, Rakeem Christmas picked up a critical third foul and hit the bench. The foul was of particular significance thanks to injuries, as ESPN's Dana O'Neil detailed:
Lousy call on Christmas, but it's his third regardless. With no Baye Moussa Keita, that's a tough blow for the Orange down 6.

— Dana O'Neil (@ESPNDanaOneil) February 13, 2014
But a 7-0 response from Syracuse brought it back to 37-35 in favor of Pittsburgh.
From there, it was the C.J. Fair show.
With 5:17 remaining in the game, Fair scored eight straight points despite the Orange's continued struggle to crash the boards. His three-pointer while inexplicably left open in the corner with 1:42 on the clock brought his team within three points, before he hit another easy jumper with 52 seconds left to make it a one-point game.
ACC Preseason POY C.J. Fair coming up HUGE. #RivalryWeek

— ESPN College BBall (@ESPNCBB) February 13, 2014
Pittsburgh's next play was a microcosm of the entire game—with a twist. The Panthers ran down the entire shot clock, but missed a tip-in, which allowed Syracuse to grab the board. Ennis then darted down the court, expertly drew the foul and nailed both free throws to give his team a 55-54 lead.
Ballgame, right?
Nope.
Talib Zanna, easily the MVP of the game to that point, hit two free throws with 4.4 seconds left after a foul on Christmas to take back the lead.
Readers know the rest. Ennis pulled a miracle out of his hat to emerge victorious in a rivalry that dates back to the Big East days and is clearly renewed in ACC competition.
Key Player Grades
Tyler Ennis, Syracuse: B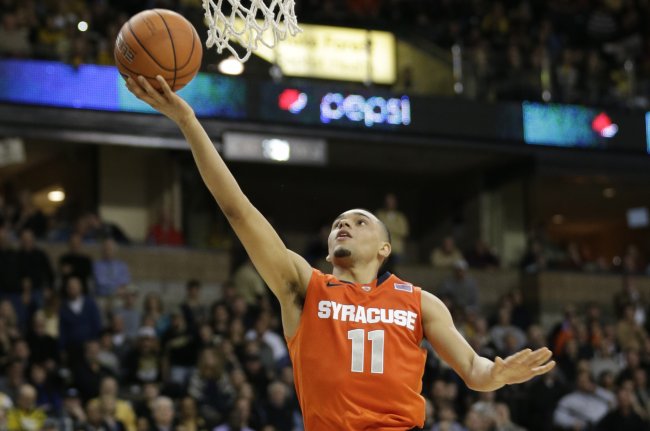 Chuck Burton/Associated Press
Overall, it was a mediocre night for Ennis. He finished with a 3-of-7 mark from the field, but made up for it with a 6-of-8 tally from the charity stripe. His 13 points were good for second on the team and his five boards tied for a team high.
Any and all numbers and mistakes can be forgiven, though. Ennis saved the day, and it is all anyone will remember.
Talib Zanna, Pittsburgh: A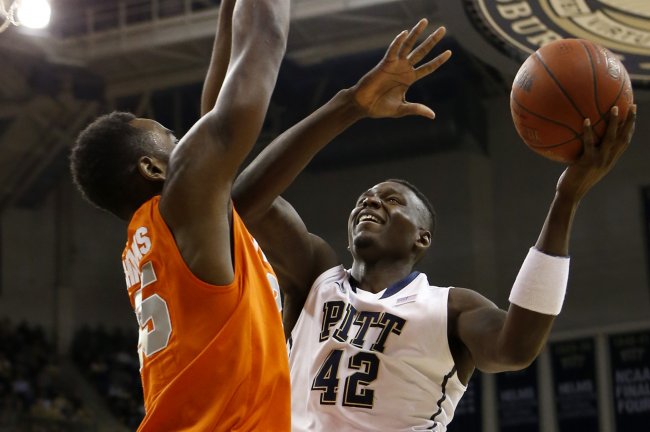 Keith Srakocic/Associated Press
Zanna only posted a 4-of-9 line from the field, but his 16 points were vital to Pittsburgh even staying in the game. He led the team in scoring, but that is hardly the only takeaway from his stellar day.
Zanna was absolutely dominant on the boards. With a little more than five minutes left, the Nigerian big man had himself a double-double and as many offensive boards as the entire Syracuse team, via ESPN Stats & Info:
Talib Zanna with a double-double for Pitt. He has as many offensive rebounds as all of Syracuse (6). Crunch time in #CUSEvsPITT on ESPN.

— ESPN Stats & Info (@ESPNStatsInfo) February 13, 2014
C.J. Fair, Syracuse: A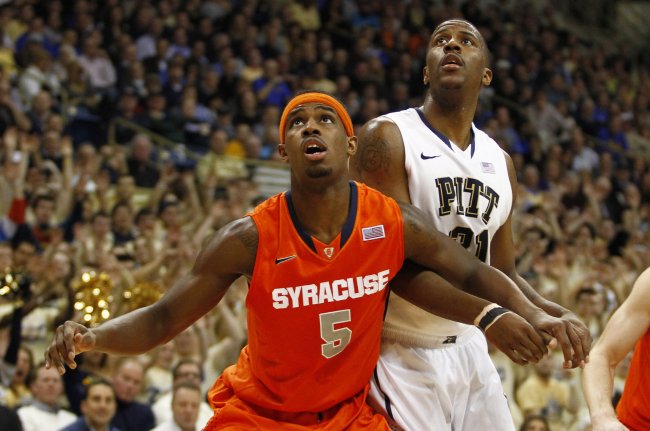 Justin K. Aller/Getty Images
He did not have the sexy shot to win the game, but Fair's late surge is what put Syracuse in a position to win.
Fair led the team with 14 points and grabbed four boards as the best player of the night for the Orange.
What's Next?
This one is tough to swallow for Pittsburgh, especially as it enters a pretty tough portion of the schedule. The Panthers head to North Carolina for their first conference meeting with the Tar Heels.
It has to be discouraging that such a dramatic rebounding edge still amounted to a loss for the Panthers. But if they can continue to play at such a high level defensively, not many teams will be able to compete with them considering the No. 1 team in the nation needed a buzzer-beater to win.
Syracuse remains unbeaten and gets to return to the comforts of home to take on NC State and Boston College as the schedule heats up. The fact that a highly mediocre performance resulted in a win bodes well for the Orange, especially as the roster continues to get healthier. Fair and Ennis did not show up until the closing minutes, which is a rarity. If it happens again, the Orange might end up with their first blemish on that pristine record.