Thanks to the United States placement in Group A at the 2014 Winter Games, the team faces a tough test to officially start things in Sochi, Russia when it collides with the underrated Slovakia.
As the defending silver medalists from the Vancouver Games in 2014, the United States are one of four countries favored to gold, joining Canada, Sweden and host nation Russia.
But the first game in a group that also features Slovenia and the host nation is no easy task, as Slovakia returns a large portion of the group that almost shocked Canada and others back in 2010.
It is an early affair for American viewers, but one that must be seen by all, as the importance of the contest is much higher than most opening-round showdowns.
Where: Bolshoy Ice Dome
When: Thursday, Feb. 13 at 7:30 a.m. EST

Channel: NBC, 7:30 a.m. EST
Live Stream: NBCOlympics.com
Can the United States Start Fast?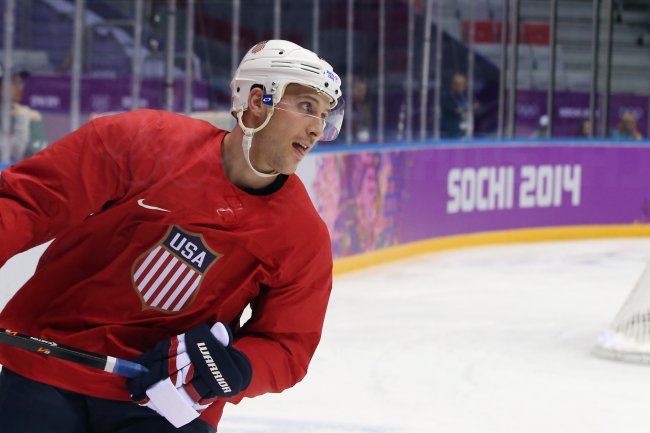 Bruce Bennett/Getty Images
Slovakia is not to be underestimated. In 2010, the team lost by a single goal to Canada, which would have given fans this showdown for the gold medal in Vancouver. Losing to Canada by a goal is a good accomplishment all things considered, and that experience will translate into this year's Games.
For the United States, it comes down to starting fast and quickly adapting to the biggest stage of all—and a bigger rink, which measures in a tad bigger than an NHL rink. Forward Ryan Callahan says this slight difference will have a big impact, via Filip Bondy of the New York Daily News:
"It definitely makes a difference," Callahan said after practice. "It changes everything in the game. You watch video, spend days of practice getting ready."
Perhaps the player under the most scrutiny going into the contest will be goalie Jonathan Quick of the Los Angeles Kings, who gets the nod over the Buffalo Sabres' Ryan Miller, according to the team's Twitter:
Jonathan Quick to start in goal for U.S. tomorrow against Slovakia. #teamusa #usah

— USA Hockey (@usahockey) February 12, 2014
It is quite the interesting decision. On one hand, it makes sense because Quick is the better player on paper. On the other, Miller is the man who led the U.S. to a silver medal in 2010.
The reality is that this is simply a one-game decision, but the propensity for it to backfire with Quick playing his first Olympic contest is certainly there. Bleacher Report's NHL National Columnist Jonathan Willis details the case against Quick:
A challenger who has never played a minute of ice time internationally for Team USA, has an inferior long-term record and has been rather mediocre over the last two seasons for an NHL team that will contend for the Stanley Cup.
The U.S. must adapt in a hurry and Quick must shine in his first encounter with international play, or Slovakia could very well steal one to start the Games.
Prediction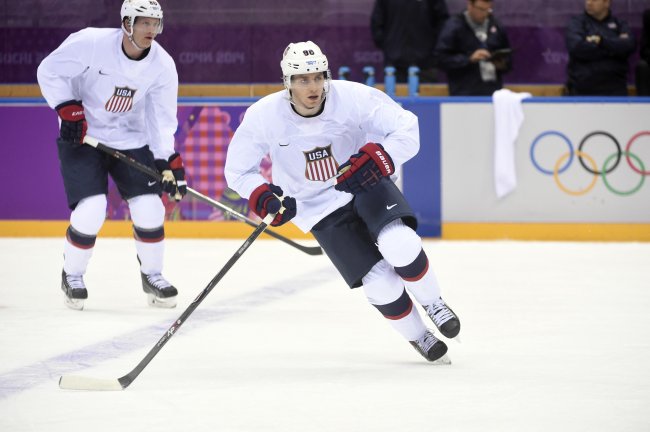 Scott Rovak-USA TODAY Sports
While it may prove to be a bit of a sloppy adjustment period, the United States has brought a roster to Sochi that has a strong scoring balance, depth that will relentlessly tire opponents and two stellar backstoppers.
Make no mistake, Slovakia is no slouch. The adjustment period is easier for them as they are accustomed to European ice surfaces. Marian Hossa is a strong scorer and Jaroslav Halak is adept at defending the back of the net.
Even at a disadvantage, the United States will outlast thanks to the vast overall talent on the roster. This stout opening test will be a strong indicator as to how both countries perform the rest of the way.
Final Score: U.S. 2, Slovakia 1.