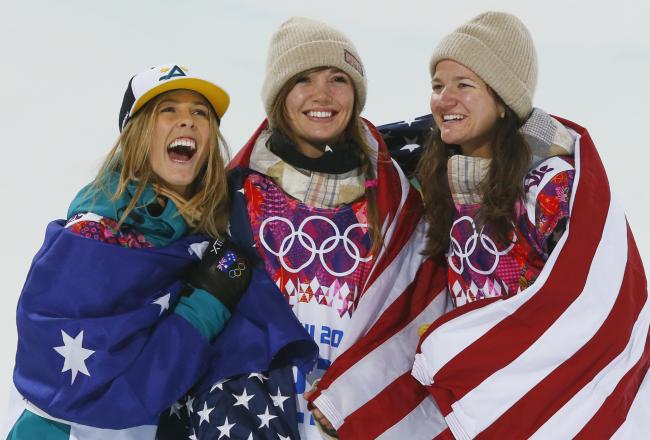 Sergei Grits/Associated Press
A bit of normalcy was returned to Sochi on Day 5.
While the first several days of the 2014 Winter Olympics delivered several shocking results, Wednesday produced some expected winners.
Tatiana Volosozhar and Maxim Trankov continued their domination in the pairs figure skating event, while the women's halfpipe podium was unsurprisingly American heavy with a little Australia mixed in. Over on the luge course, Germany won its third gold in three events.
Of course, it wouldn't be the biggest competition in the world without some surprises, and Wednesday's major upset came on the speedskating track, where two-time gold medalist Shani Davis fell to eighth in the 1,000-meter race.
Let's take a look at the complete results from Day 5, as well as an updated medal tally:
Shani Davis Misses Out on History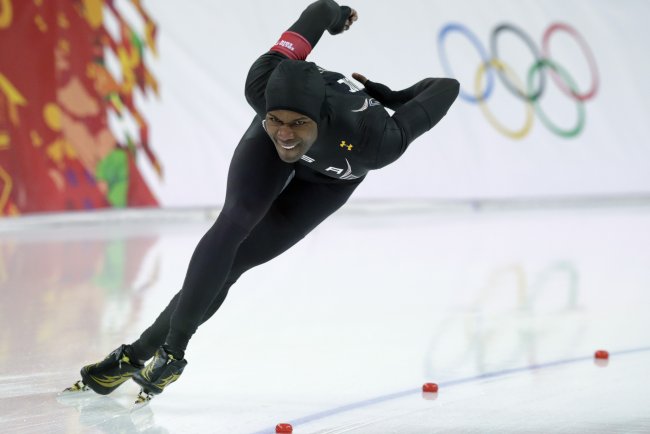 Matt Dunham/Associated Press
Things are not going so great for Team USA right now. On Tuesday, Shaun White had a chance in the men's halfpipe to become the first American male to win gold in the same event in three consecutive Winter Games.
He finished fourth.
Shani Davis had the exact same opportunity during Wednesday's 1,000-meter speedskating race.
He finished eighth, well off the gold-medal pace, as RaysIndex.com's Cork Gaines showed us:
Shani Davis, not even close (blue line on ice is the gold medal pace). pic.twitter.com/QGbpTF46cj

— Cork Gaines (@CorkGaines) February 12, 2014
The Netherlands continued to own the oval, as Stefan Groothuis—who beat Davis by nearly a second—took home gold, and his compatriot Michel Mulder grabbed his second medal of the Games with bronze. Together, they made a Canadian sandwich, as Denny Morrison grabbed silver.
How will Davis do in the 1,500-meter race?
Davis' next chance at gold will come in the 1,500-meter race, where he won silver the past two Olympics.
"Now I have to figure out how to prepare myself the best I can for that 1,500 race," he said during the post-race press conference as per CBS Sports' Matt Norlander. "Since one door closed, hopefully another one opens and I'm able to step in there."
For as much as this is a disappointment story for Davis, though, it's an amazing comeback story for Groothuis.
According to the Associated Press, the Gelderland native has battled through depression and even contemplated suicide in the past. But at 32, he is healthy and now the oldest gold medalist ever in this race.
Remarkable.
American Women Get Redemption in the Halfpipe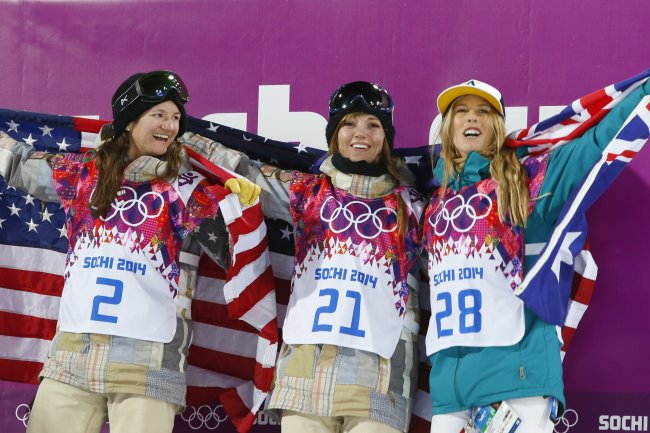 Sergei Grits/Associated Press
As previously eluded, Tuesday marked a forgettable day for the American men during the halfpipe, as they completely missed the podium for the first time in the event's history.
The women made sure there would be no such disappointment.
Although 17-year-old sensation Arielle Gold had to drop out due to a wrist injury, as per USA Today, Kaitlyn Farrington was able to grab gold, while Kelly Clark nabbed bronze.
2010 gold medalist Torah Bright crashed the party by earning silver, which helped push 2006 gold medalist Hannah Teter off the podium, but it was still an extremely successful event for the Red, White and Blue.
Yahoo! Sports' Jeff Passan helped put into perspective the unbelievable achievement for the 24-year-old Farrington, who was competing in her first Olympics:
Kaitlynn Farrington, who was raised on a cattle ranch in Idaho, just beat three previous gold medalists to win Olympic gold.

— Jeff Passan (@JeffPassan) February 12, 2014
It turned out to be a thrilling finish.
Teter was actually in first after her initial run in the finals received a score of 90.50. But after Farrington passed her with a 91.75, Teter fell on her second run and was forced to nervously watch Bright and Clark's final runs.
Bright came through with a 91.50, and on the final run of the event, Clark scored 90.75, surpassing Teter by 0.25 points for the bronze.
Nevertheless, with the way some of the previous events have gone for the United States, the Americans will be happy to see a little friendly competition.
Tatiana Volosozhar and Maxim Trankov Put on a Show...Again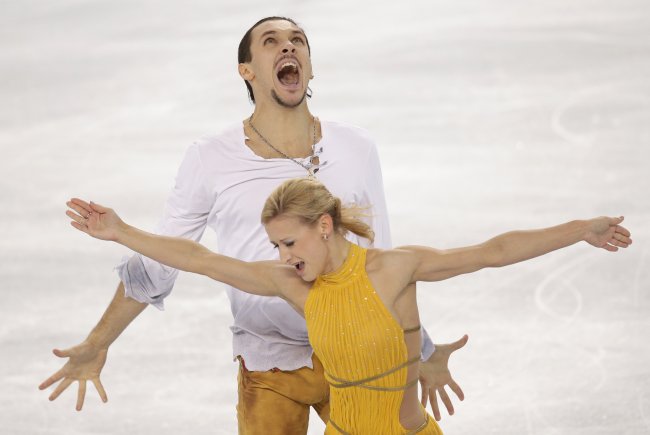 Bernat Armangue/Associated Press
Earlier in the week, this Russian figure skating pair dominated the short program to help their country to a gold medal in the team event. On Tuesday, they somehow bested that performance, setting a World Record in the short program portion of the pairs competition.
On Wednesday, they were at it again with another transcendent performance in the free program. Volosozhar and Trankov finished with a 152.69, giving them a total score of 236.86 to easily win gold.
The combined score was just short of their own world record (237.71), which they set at the 2013 Skate America event, but it was enough to trounce silver medalists Ksenia Stolbova and Fedor Klimov—also of Russia—by more than 18 full points. Germany's Aliona Savchenko and Robin Szolkowy finished third for the second straight Games.
Radio host RJ Choppy summed up the Russian pair's dominance:
When Volosozhar and Trankov skate clean, they are as unbeatable as you can get #Sochi2014

— RJ Choppy (@rjchoppy) February 12, 2014
The Russians shockingly failed to earn a gold medal in figure skating during the 2010 Olympics. But after a powerful team performance and an untouchable pairs performance, it's quite clear they are back on top of the world in this sport.