Sochi Winter Olympics 2014: Day 6 Medal Predictions, Results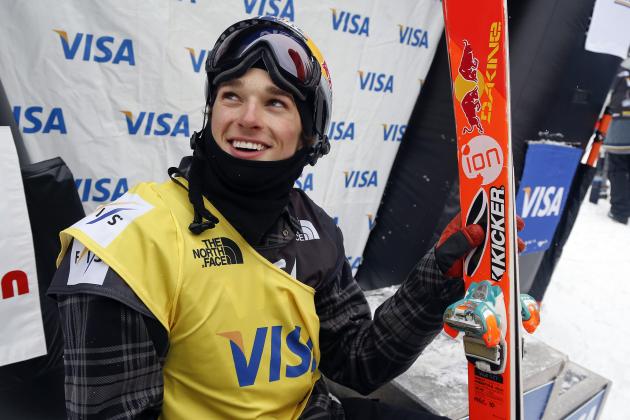 Julie Jacobson/Associated Press
Nick Goepper gives Team USA a shot at skiing glory.
The United States started Day 6 of the Olympics with a podium-crashing performance in men's slopestyle skiing.
Call it a medal sweep in the freestyle event. Joss Christenson took home the gold, while teammates Gus Kenworthy and Nick Goepper were right behind to take the silver and bronze. All three skiers were on top of their games, and it was merely a question of which American would emerge at the top of the podium.
There were no other American medals on the day.
Among the other highlights were Hong Zhang's gold medal performance in the women's 1,000-meter speedskating and Martin Fourcade's triumph in the men's biathlon 20-kilometer individual race. The victory was Fourcade's second gold medal of the Sochi Olympics.
Justyna Kowalczyk of Poland won the women's 10 kilometer classic in cross-country skiing while Li Jianrou of China won gold in the 500-meter short-track speedskating when her three competitors bowled into each other and gave her an easy path to the victory.
Germany's powerful luge team won the team relay and captured its fourth sliding gold medal of the Sochi games.
Update bv Steve Silverman
Begin Slideshow

»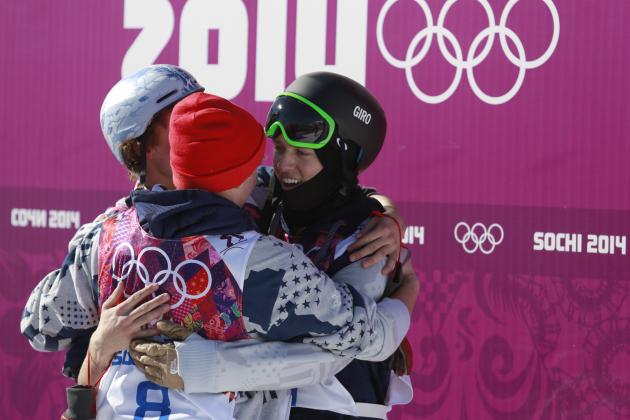 Gero Breloer/Associated Press

It was a day to remember at the Rosa Khutor Extreme Park for the United States as they earned a medal sweep in the men's freestyle skiing slopestyle competition.
Joss Christensen, Gus Kenworthy and Nick Goepper all delivered picture-perfect runs to hand the United States a massive boost in the medal count.
Christensen was the leading rider throughout qualifying, and he delivered a ridiculous first run in the final that netted him a score of 95.80.
Kenworthy starred on his second run in the final round of 12 competitors to earn a score of 93.60.
World No. 1 Goepper used his first-run score of 92.40 to complete the first medal sweep of the Games for the United States.
Christensen became the fourth overall gold medalist in Sochi for the United States. Three of those golds have come from the slopestyle course at Rosa Khutor.
The overall medal count for the Americans now sits at 12 after the sweep.
Gold: Joss Christensen (United States): 95.80
Silver: Gus Kenworthy (United States): 93.60
Bronze: Nick Goepper (United States): 92.40
Pre-Event Predictions
Nick Goepper ranks among the most promising young stars on Team USA. The 19-year-old Indiana native is the two-time defending X Games gold medalist in the event and aims to live up to lofty expectations in Sochi.
U.S. teammate Bobby Brown, a Denver product, is a dark-horse candidate to emerge as a medal contender. American Gus Kenworthy should also be in the mix.
Andreas Haatveit has the skills to secure another medal for Norway. Finnish skier Antti Ollila is only 19 but has two years of experience on the national team.
Prediction
Gold: Nick Goepper, United States
Silver: Andreas Haatveit, Norway
Bronze: Gus Kenworthy, United States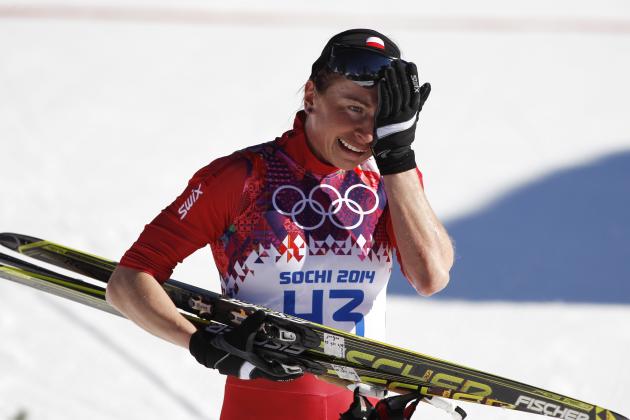 Matthias Schrader/Associated Press

Racing with a broken foot, Justyna Kowalczyk of Poland won the women's 10-kilometer classic race in cross-country.
Kowalczyk burned through the course and blew away from the other favorites as she won by over 18 seconds.
Sweden's Charlotte Kalla finished in second place to earn the silver, while a racer from Norway earned the bronze, but it was not favorite Marit Bjoergen.
Therese Johaug won the bronze for the Norwegians after she exuberantly crossed the line in a time of 28:46.1.
Kowalczyk, who has all five of Poland's cross-country medals, earned the second goal medal of the Games for Poland after Kamil Stoch won the ski jumping normal hill event.
Gold: Justyna Kowalczyk (Poland): 28:17.8
Silver: Charlotte Kalla (Sweden): 28:36.2
Bronze: Therese Johaug (Norway): 28:46.1
Pre-Event Predictions
Charlotte Kalla is the reigning gold medalist in this event and leads a strong contingent of Swedish contenders. Kalla has had a successful start in Sochi, just a few days removed from her silver-medal effort in the skiathlon.
American Sophie Caldwell isn't a favorite to reach the podium, but she is fresh off setting a national record in Monday's sprint. Her sixth-place finish was an all-time best for female U.S. cross-country competitors.
Norwegian Marit Bjoergen earned a bronze medal in the 10-kilometer race four years ago and is the 2014 skiathlon gold medalist. National teammate Heidi Weng is also a strong competitor and secured bronze in skiathlon action.
Four-time Olympic medalist Justyna Kowalczyk is always a serious contender. The Polish veteran is more acclaimed for her success in long-distance events, though.
Prediction
Gold: Marit Bjoergen, Norway
Silver: Heidi Weng, Norway
Bronze: Charlotte Kalla, Sweden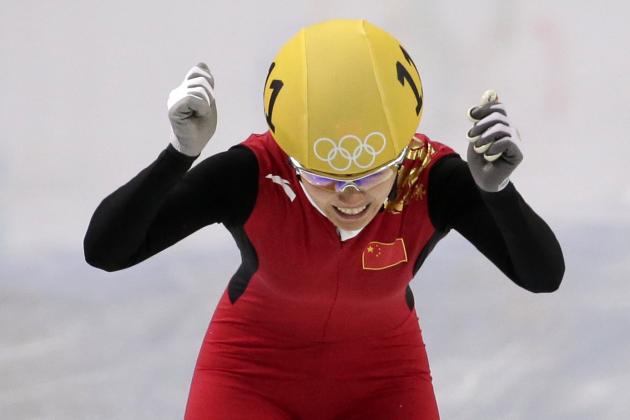 Bernat Armangue/Associated Press

Li Jianrou of China could not have asked for an easier race to win the women's 500 meters as her fellow three competitors took each other out in a crash on the first lap.
As the three skaters collided into each other and into the wall, Li cruised to a time of 45.263 to take home gold for China, whose top medal favorite, Fan Kexin, was knocked out at the semifinal round.
Great Britain's Elise Christie was disqualified after the race as the judges ruled that she impeded the other racers and caused the crash.
With Christie out of the picture, Arianna Fontana of Italy won the silver, and Park Seung-hi won the bronze for South Korea.
Li's victory marked the first gold medal in Sochi for the Chinese, who earned a silver in the men's 1,500 meters in short track as well.
Gold: Li Jianrou (China): 45.263
Silver: Arianna Fontana (Italy): 51.250
Bronze: Park Seung-hi (South Korea): 54.207
Pre-Event Predictions
Shim Suk-hee is a South Korean wunderkind who has quickly vaulted into the elite tier among her contemporaries. The 17-year-old is more established in longer distances but remains a strong contender for gold in the 500-meter race.
Korean compatriots Park Seung-hi and Kim Alang are also in the running to create headlines.
Canadian star Marianne St-Gelais returns after earning silver in Vancouver. Chinese legend and reigning gold medalist Wang Meng is no longer in the hunt, but the country continues to produce top Olympic prospects.
Twenty-year-old Fan Kexin won the event at the 2012 World Championships in Shanghai.
Prediction
Gold: Fan Kexin, China
Silver: Shim Suk-hee, South Korea
Bronze: Marianne St-Gelais, Canada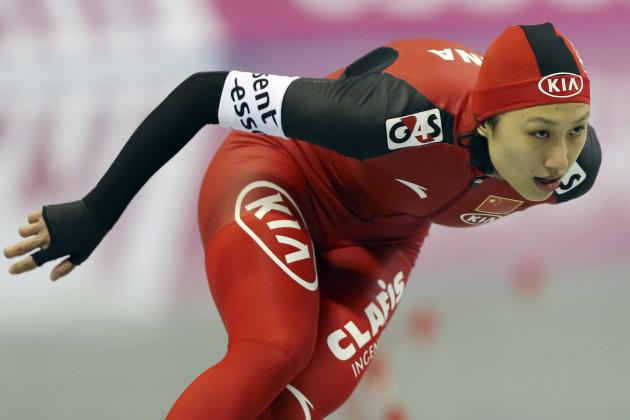 Koji Sasahara/Associated Press
Hong Zhang
Hong Zhang of China did not care that she was not looked at as one of the pre-race favorites in the women's 1,000-meter speedskating race. Instead, she simply overlooked all the expectations and put on a stellar performance to defeat the field and win the gold medal.
Skating in just the seventh pair of the race, Zhang had a solid start and steadily picked up speed throughout and finished the 1,000 meters with a time of 1:14.02. She was ahead by more than a full second throughout the majority of the race until Ireen Wust and Margot Boer of the Netherlands were at least able to get the difference under a second.
Wust picked up the silver medal with a time of 1:14.69, while Boer took home the bronze after skatign the race in 1:14.90. The Dutch skaters have won 12 speedskating medals in the Sochi Olympics.
Heather Richardson and Brittany Bowe of the United States finished seventh and eighth, respectively. Canadian Christine Nesbitt, the defending champion and pre-race favorite in the event, finished a disappointing ninth.
Gold: Hong Zhang, China
Silver: Ireen Wust, Netherlands
Bronze: Margot Boer, Netherland
Update by Steve Silverman
Pre-race prediction
Reigning Olympic champion Christine Nesbitt returns to defend her title. The Canadian can expect some serious competition, headlined by South Korea's Lee Sang-hwa.
The two-time 500-meter gold medalist doesn't carry the same clout into the longer distance but commands respect. The Netherlands placed two competitors on the podium in Vancouver and have a contender in Margot Boer, who should be in the running for a podium finish.
Brittany Bowe and Heather Richardson team up to create a strong American threat. As Gary D'Amato of the Milwaukee Journal-Sentinel notes, "The key to their success, Richardson and Bowe say, is that they push each other every day in training sessions at the Utah Olympic Oval."
Germany's Jenny Wolf could pull off a surprise at 35 years old.
Prediction
Gold: Christine Nesbitt, Canada
Silver: Heather Richardson, United States
Bronze: Margot Boer, Netherlands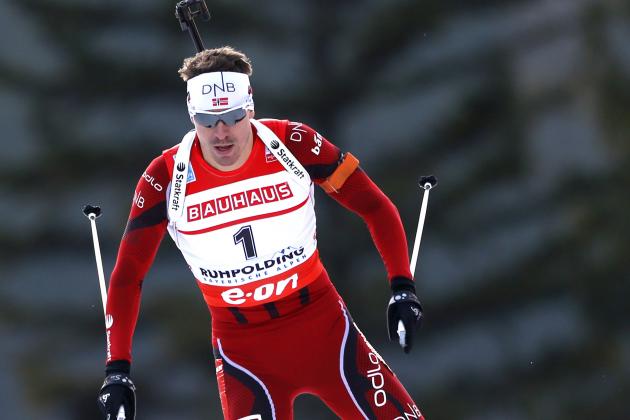 Matthias Schrader/Associated Press
Emil Hegle Svendsen
This has been an Olympics to remember for Martin Fourcade of France.
The skier/shooter picked up his second gold medal as he won the individual 20-kilometer biathlon, just three days after winning the 12.5-KM pursuit.
Fourcade was expected to do well in the pursuit, but he was not one of the favorites in the 20-KM race. The Frenchman won the race with an impressive time of 49.31.7, and that included one penalty that was assessed during his shooting.
Fourcade still beat Erik Lesser of Germany by more than 12 seconds. The bronze medal went to Evgeniy Garanichev of Russia, who finished the race in 50:06.2 and was also assessed a penalty.
Emil Hegle Svendsen of Norway won the gold medal in this event in Vancouver four years ago, and he was considered a heavy favorite to win. However, he finished in seventh, nearly a full minute behind Fourcade.
American Lowell Bailey had an impressive eighth-place performance, finishing less than five seconds behind Svendsen.
Americans Tim Burke and Leif Nordgren finished 44th and 83rd, respectively.
Gold: Martin Fourcade, France
Silver: Erik Lesser, Germany
Bronze: Evgeniy Garanichev, Russia
Update: by Steve Silverman
Pre-event prediction
Norwegian biathlete Emil Hegle Svendsen is a titan in the sport and enters the competition as a prohibitive favorite. The 28-year-old earned a gold medal in this event at the 2010 Vancouver Games.
Svendsen collected three total medals in 2010, including another gold in the 4x7.5-kilometer relay. He placed ninth in the 10-kilometer sprint last Saturday.
All eyes will be on fellow Norway native Ole Einar Bjoerndalen, who is one medal shy of setting the all-time Winter Games career record. He enters the event with 12 total medals in six Olympic appearances.
Bjoerndalen, a seven-time gold medalist, tied the historic mark with a first-place finish in the 10-kilometer race. After the race, he said, via NBC Sports' Nick Zaccardi, "I am satisfied now. … I made my gold and that's cool." Still, it's doubtful that he'll be taking it easy in the 20-kilometer race.
Russian Evgeny Ustyugov aims to reach the podium after missing out on bronze by eight-tenths of a second in Vancouver.
Prediction
Gold: Emil Hegle Svendsen, Norway
Silver: Evgeny Ustyugov, Russia
Bronze: Ole Einar Bjoerndalen, Norway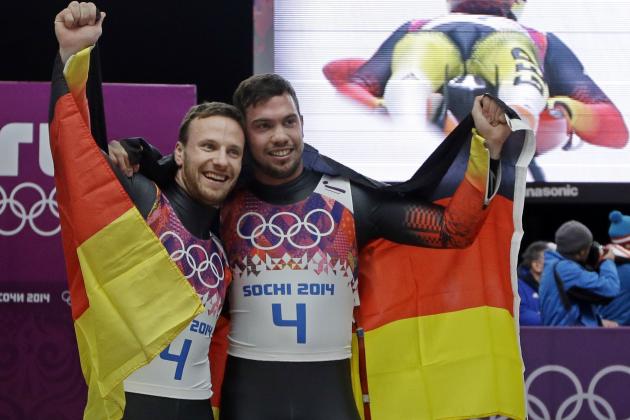 Dita Alangkara/Associated Press
Tobias Wendl and Tobias Arlt
The luge team relay race was another chance for the powerful German team to assert itself.
They made no mistake as the dominant team that included Natalie Geisenberger, Felix Loch, Tobias Wendl and Tobias Arlt simply blew away the field with a combined time of 2:45.649, more than a full second ahead of a strong Russian team that won the silver medal at the Sanki Sliding Center.
Latvia's luge team picked up the bronze, and in doing so they broke the hearts of the Canadians, who finished one-tenth of a second behind in fourth place.
The German team is a virtual sliding machine. This is its fourth gold medal in the sliding events thus far at Sochi.
Erin Hamlin, who had earlier won a bronze medal, got the American team off to a solid start, but the rest of the U.S. could not keep her pace and finished in sixth.
Gold: Germany
Silver: Russia
Bronze: Latvia
Update by Steve Silverman
Pre-event prediction
The luge team relay is another inaugural endeavor at these Sochi Games. Twelve qualifying countries will compete for supremacy Thursday.
German athletes have dominated luge action. The country claimed its third gold medal in the discipline on Wednesday.
The tandem of Tobias Wendl and Tobias Arlt spearhead a strong German squad that seeks to continue the momentum. Luge is a sport the U.S. has struggled in, as no American competitor earned an individual medal until Erin Hamlin captured bronze on Tuesday.
The legendary Linger brothers have dominated doubles competition in recent years and look to extend that success into relay action for Austria. Latvian brothers Andris and Juris Sics are another family tandem capable of winning this historic competition.
Prediction
Gold: Germany
Silver: Austria
Bronze: Latvia
Take a look at Team USA's best bets at gold on Day 6 as predicted by Bleacher Report.