The 2014 Winter Olympic men's hockey tournament kicked off in spectacular fashion on Wednesday as Sweden and the Czech Republic met in a Group C clash between former gold medalists. Sweden lived up to its billing as a top contender by defeating the Czechs 4-2.
There was a great deal of anticipation surrounding the Olympic hockey opener in Sochi due largely to the fact that it is such a wide-open field. According to Dan Rosen of NHL.com, that excitement was confirmed by a near capacity crowd in attendance to witness Sweden vs. the Czechs:
I'd say this could be a full house or close to it at Bolshoy Ice Dome for Sweden-Czech.

— Dan Rosen (@drosennhl) February 12, 2014
Sweden arrived in style just prior to the game as defenseman Erik Karlsson tweeted a photo of himself and his teammates outside of Bolshoy Ice Dome:
On our way to our first game. Let's get this party started. #Sochi2014 pic.twitter.com/PyH6j5Xzms

— Erik Karlsson (@ErikKarlsson65) February 12, 2014
That style unquestionably translated to the ice as Sweden ran the Czech Republic ragged for the first half of the contest. Sweden's skill and depth were on full display from the opening faceoff, and it didn't take Tre Kronor long to jump out in front.
Sweden's first goal came during a delayed penalty with an extra attacker on the ice. Karlsson's wicked shot from the point found its way into the back of the net with ageless forward Daniel Alfredsson setting the screen.
Alfredsson was initially given the goal, but it was ruled that he did not deflect the puck. Even so, Karlsson and Alfredsson working together had to feel nostalgic for Ottawa Senators fans, as Bruce Garrioch of the Ottawa Sun pointed out:

Alfredsson from Karlsson just like old times. #Sens #Wings

— Bruce Garrioch (@SunGarrioch) February 12, 2014
After netting the first goal of the game midway through the first period, Sweden struck again just a few minutes later. Seconds after the end of Michal Barinka's interference penalty, St. Louis Blues forward Patrik Berglund victimized the Czech defense and beat goalie Jakub Kovar with a beautiful short-side finish to give Sweden a 2-0 advantage.
It was yet another example of Berglund rising to the occasion on the international stage, according to Andy Strickland of CBS Sports Radio:
Patrik Berglund gives Sweden 2-0 lead...he's always thrived in international competition #stlblues

— Andy Strickland (@andystrickland) February 12, 2014
There wasn't much Kovar could do on the first goal, and the second goal was an awesome individual effort by Berglund, but many Czech fans had to be left wondering about the decision to start Kovar after the first period of play.
Winnipeg Jets goalie Ondrej Pavelec was the expected starter heading into Sochi, but he served as the No. 3 goalie and didn't even dress for the opener against Sweden. Pavelec is in line to start the Czech Republic's second game against Latvia, and he seemed at a loss in terms of explaining the decision by head coach Alois Hadamczik, per Gary Lawless of the Winnipeg Free Press.
It's the Olympics. Everyone wants to play. That's why we're here. I don't know. I'll work hard in practice. The coaches have their reasons. Hopefully this works for us and we win. Kovar has been hot in the KHL. He's a good goalie and I want him to play well.
Pavelec's assessment of Kovar certainly seemed accurate as his numbers in Russia's KHL were quite impressive leading up to the Olympics, which Mike Morreale of NHL.com highlights:
CZE goalie Kovar 12-14-0, 2.21 GAA, .924 save% in 33 gms for Yekaterinburg in the KHL. Won a bronze for CZE at 2012 IIHF World Championship

— Mike Morreale (@mikemorrealeNHL) February 12, 2014
Unfortunately for the Czechs, none of that translated to Wednesday's game against Sweden. The Swedes picked up where they left off early in the second period when Detroit Red Wings and Swedish captain Henrik Zetterberg beat Kovar again to make it 3-0. This led to Kovar being replaced by Alexander Salak, per Helene St. James of the Detroit Free Press:
#RedWings Henrik Zetterberg just scored to make it 3-0 for Sweden over Czechs, Steen screening. Bye Czech G Kovar, hello Salak. #Sochi2014

— Helene St. James (@HeleneStJames) February 12, 2014
Kovar allowed three goals on just 10 shots at the time of his departure, which necessitated the entrance of a fellow KHL netminder in the form of Salak. The replacement didn't fare much better than his predecessor, at least initially.
Czech defenseman Marek Zidlicky went to the sin bin following a tripping call, and Sweden's explosive power play took center stage. Karlsson netted his second goal of the game to put Sweden up by a four-goal margin, and he continued to make good on his pre-tournament expectations, according to Chris Johnston of Rogers Sportsnet:
Erik Karlsson with his second goal of the game for Sweden. Great start after telling me yesterday that he wants to make a big impact here.

— Chris Johnston (@reporterchris) February 12, 2014
Just when it seemed as though the Czech Republic was dead in the water, Zidlicky atoned for the penalty that allowed Sweden to go up 4-0. Zidlicky blasted a slapper over Henrik Lundqvist's shoulder, which pulled the Czech Republic to within three despite a nearly even shots on goal total, per Jason Brough of Pro Hockey Talk:
Czechs get one back. Zidlicky wires a slapper past King Henrik. 4-1 Sweden now. Shots are only 12-10 for the Swedes.

— Jason Brough (@JasonPHT) February 12, 2014
That marker seemed to energize the Czechs, and it led to increased pressure thereafter. Lundqvist may have been rattled by the previous goal as he allowed another less than two minutes later. At 41 years of age, Jagr is the New Jersey Devils' leading scorer, he is playing in his fifth Olympics and he is as big of an offensive threat as he ever has been.
Proving to be the quintessential power forward, Jagr drove to the net and slid the puck past Lundqvist in spectacular fashion:
Czechs are coming back. Jagr slides one in past Lundqvist with one hand on his stick and it's now 4-2 Sweden with 9:59 left in 2nd.

— Dan Rosen (@drosennhl) February 12, 2014
The goal was initially in question due to the fact that Tomas Plekanec was in the crease and may have obstructed Lundqvist. Players are not allowed to establish themselves in the crease in international play; however, it was determined after video replay that Plekanec's foray into the blue paint was done within the rules, so the Czech Republic pulled to within two.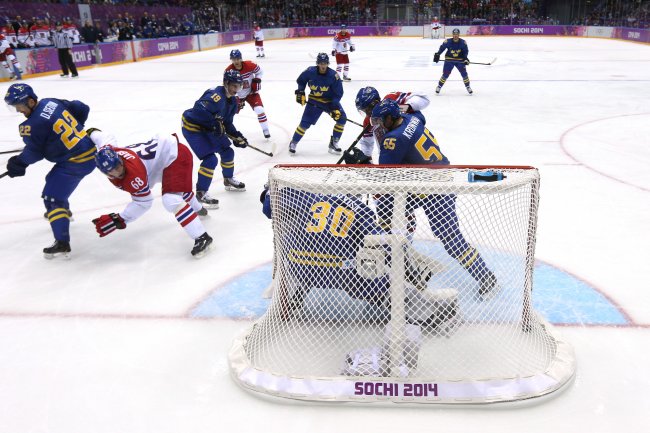 Bruce Bennett/Getty Images
The two-goal margin held up for the remainder of the second period following that controversial tally, and the Czechs appeared to have seized the momentum heading into the final stanza.
There is little doubt that the Czechs were the more aggressive and dangerous team in the third period as they ended up out-shooting Sweden 29-25 overall. The Czech Republic had its opportunities, including two power plays, but Lundqvist was the difference as he diffused a number of solid scoring chances.
Which team will win Group C in the 2014 Winter Olympics men's hockey tournament?
Neither team was able to find the back of the net in the final 20 minutes, and the game ended just as the third period began with Sweden on top by a score of 4-2.
While every team advances to the knockout stage, this was a huge win for Sweden. Winning Group C would ensure a bye into the quarterfinals, and the Czechs were considered by most to be the Swedes' closest competition.
Sweden's next game will be against Switzerland, which scored with just eight seconds left to steal a 1-0 win over Latvia. The Swiss have continued to improve in international play over the past several years, including an appearance in the World Championship gold-medal game last year.
Switzerland is light on NHL talent, but most of its roster is used to playing together, which could be problematic for Sweden. The Swedes have so much firepower, though, that they should be able to come out on tap and take a stranglehold on Group C.
As for the Czechs, they will be heavily favored to beat Latvia, but Ted Nolan's squad proved capable of playing a tight-checking, defensive game. The Czech Republic has to be happy with the way it played in the second half of the game against Sweden despite the loss, so a win over Latvia does seem likely.
Sweden is definitely the class of Group C and a clear gold-medal contender, but there are some chinks in the armor, and the Czech Republic may be more dangerous than it is being given credit for as well.
Follow @MikeChiari on Twitter