The 2014 Premier League Academy Awards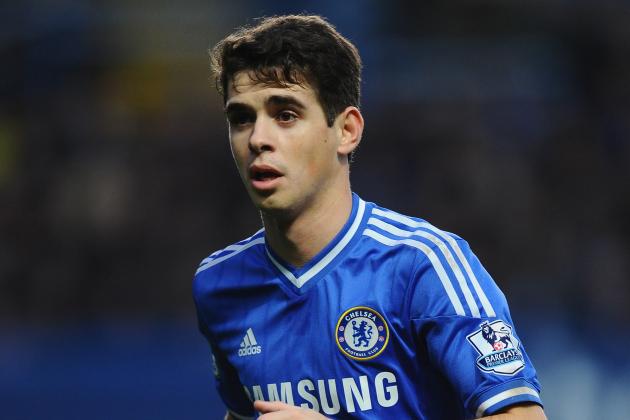 Mike Hewitt/Getty Images
The other type of Oscar
It's awards season, everyone!
Well, not for the Premier League it isn't. English football's time of illustrious prize-giving is still a little way away.
But, for the dazzling world of Hollywood, the Oscars are heading our way very soon, with the glitzy ceremony taking place this coming Sunday night, and what better way to celebrate then by presenting a tenuous list of football-movie-awards crossover references! (I know, I could think of a few ways too). After all, the Premier League is essentially a drama.

All the most coveted prizes are at stake; Best Actor, Best Director, Best Picture. You name it, it's here.
So, without further ado, let us crack on with the 2014 Premier League Academy Awards! (ironically not featuring anything to do with a single Premier League academy...)
Begin Slideshow

»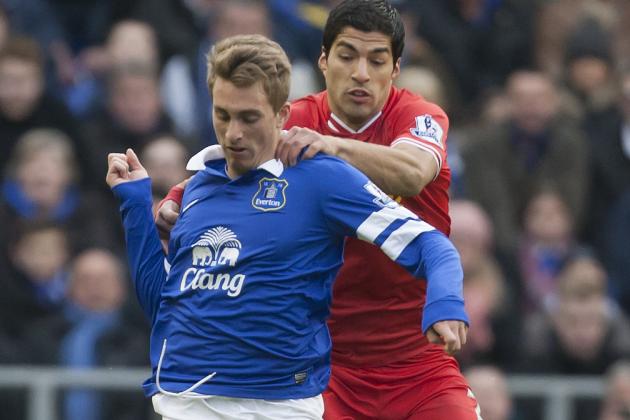 Jon Super/Associated Press

For Best Picture, read best match. After all, it's the only thing that really makes sense isn't it?

And the Academy Award goes to... (drum roll please...) Everton vs Liverpool!
The dramatic 3-3 draw from earlier this season that had pretty much everything. Quality goals, controversy, brilliant attacking and awful defending. What more could you possibly want?
In terms of the drama it provided from first whistle to last, nothing has quite got near it, and chances are that, come the end of May, Liverpool will feature pretty heavily on every list of best Premier League games, thanks to their brutal offensive play and their Kolo Toure-inspired approach to defending.

But it was the first Merseyside derby that remains the best of the year and takes home the gong for Best Picture.
Who else could it be. The Special One, the Happy One, whatever you want to call him, there is currently no finer actor honing his craft in the English top flight.
Only a Thespian as daring as Jose Mourinho would have the sheer audacity to completely write off his incredibly expensively assembled side's own title chances straight after beating the previously unbeatable Manchester City on their own turf.
Throw in some textbook improvisation about some horses and you've got yourself an Oscar, my friend.
The wonderfully gifted Chico Flores deserves every accolade thrown at him for this masterful display of acting prowess.

But why the Supporting Actor award, you may ask?
Well much like an Actor in a Supporting Role in a real film, a diver and a cheat can only fling himself about or fool the referee if "felled" in the presence of a leading man or lady. In this case, the leading man or lady just so happened to be the big-elbowed Andy Carroll.
And you have to admire Chico's range as a performer, not only can he do the dramatic stuff as shown above, he is also a dab hand at comedy. After all, it takes a lot to make a certain someone laugh as much as you'll see a bit later on...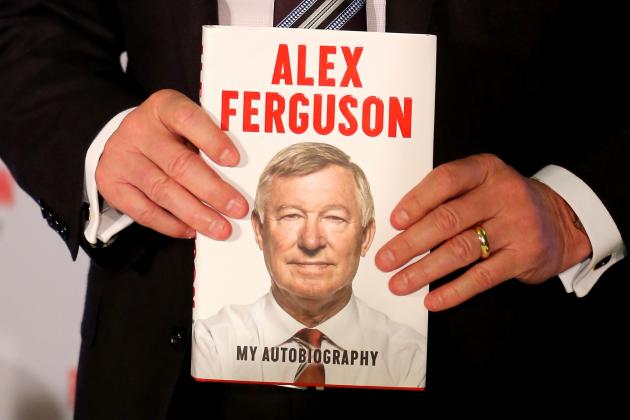 Clive Rose/Getty Images

The key to a great screenplay is to make waves, create tension and drama with your words and to force people to sit up and take notice.
If you've got a better example of this than Sir Alex Ferguson's highly sought-after autobiography, then I'd like to hear it.
It's 416 fiery pages contained no fewer than 1,368 controversial statements and 725 damning indictments (these numbers may be exaggerated and/or made up).
I mean, he was even critical of David Beckham. David Beckham is undoubtedly the greatest human being currently alive. You really are looking to cook up a storm if you write bad things about David Beckham.
It may not necessarily have been to everyone's taste, and at times it made for uncomfortable reading, but that is the sign of a great screenplay (probably), and that is why it is more than worthy of this award.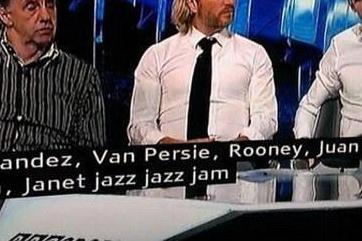 BBC

Is there anything more amusing than lazy subtitling?
Under normal circumstances, yes. But in this case we're going to say a big, resounding no, after this superb effort from whoever happened to be at the big BBC captioning keyboard during this particular edition of Match of the Day.

How you can adapt (see, fitting it nicely into the awards motif there) Adnan Januzaj into "Janet jazz jazz jam" is nothing short of staggering.
Whoever it was is clearly not a football fan. Or an angry Belgian who has felt wronged by the youngster's reported refusal to play for Belgium. Or they were simply just hard of hearing.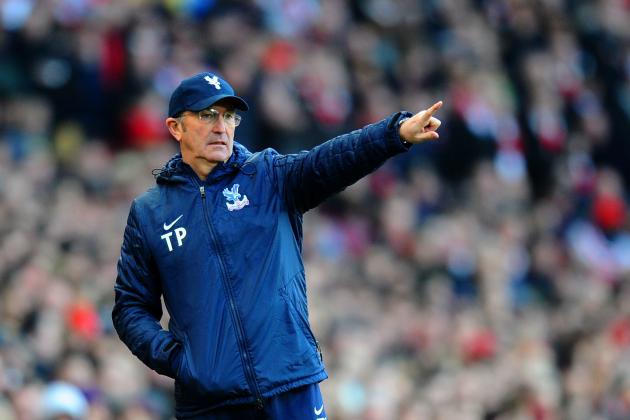 Mike Hewitt/Getty Images
Tony Pulis doing some literal directing.
So Best Director must translate to best manager, right?
I mean, that is unless we start talking about the actual Directors of Football around the country. But they're only really interesting when they're doing something a bit stupid (step forward, Joe Kinnear).
So, in an ever more desperate attempt to keep things fresh and interesting, I've decided to give the award for Best Director to Tony Pulis for his work at Crystal Palace.
In terms of saving a sinking ship, Pulis has done better work than any award-winning Director since James Cameron...
Oh, actually, Titanic sunk didn't it. Well, ignore that analogy.
But the work that the former Stoke City man has done in improving the fortunes of what was a really, really awful squad has been nothing short of sublime.
He certainly has them going in the right, ahem, direction...
Just look how animated his features are!
Need I say any more? Well, I could. But I'm not going to.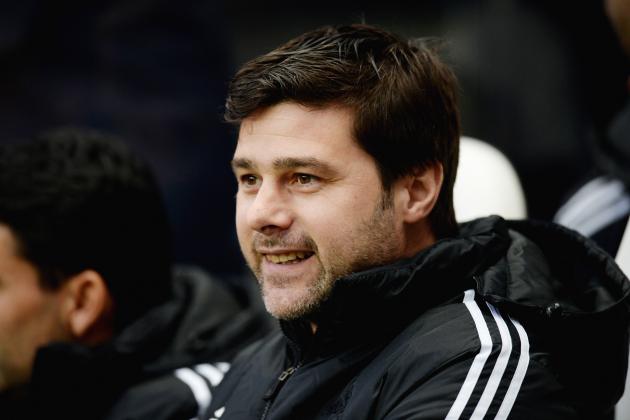 Tony Marshall/Getty Images

Come on, mate, you can speak English, we know that now, stop pretending.

Seriously, Mauricio Pochettino, you've been managing in the Premier League for over a year now. It's about time to own up in interviews and admit you can speak the language. The Independent were onto you as far back as December.
To be fair, though, much like the award for the Best Foreign Language film at the actual Oscars, nobody actually really cares that much. So carry on I guess, Mauricio...
Quite possibly the greatest, catchiest and most infectious football song ever. In terms of transcending fierce rivalries and national divides, there has surely been nothing greater.
How often do you see a gaggle of Geordies in the street singing a song about two players that have never played for Newcastle?
And, like all great songs, there are a wealth of abject imitations out there looking to siphon off a bit of the success (Southampton fans, I'm looking squarely at you. Kelvin and Steven Davies indeed...).
The Toon also produced their own instant classic this season with the wonderful "Don't Sell Cabaye", but it was unfortunately undermined by the Magpies eventual selling of Yohan Cabaye.
And ultimately there was huge disappointment all-round when owner Mike Ashley didn't have the said "riot" on his hands. Because, much like the great Homer Simpson, I hate it when people lie through song...

Michael Regan/Getty Images

And our final award of the night goes to... Who else, but David Moyes. The undoubted star of the Premier League season so far.
In not one, not two, but three fell swoops, Sir Alex Ferguson's successor masterminded the relinquishing of almost a combined century of home invincibility against West Brom, Everton and Newcastle United.
A 2-1 defeat at the hands of the Baggies, and two 1-0 home losses to the other two, have certainly made for some original scores at Old Trafford this campaign.
Congratualations, David. You deserve it. I'm sure you can turn it around...