Roberto Carlos and the 20 Most Wickedly Curled Free-Kick Goals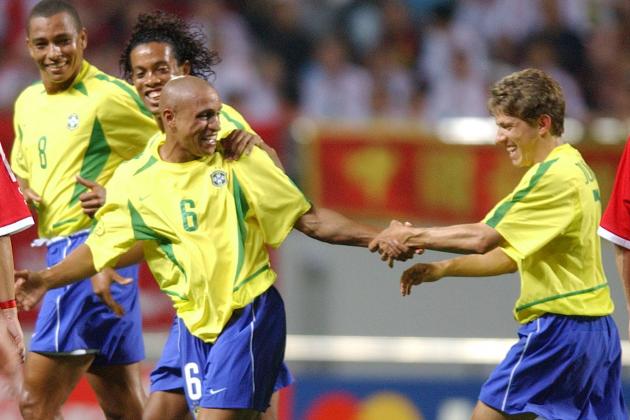 ARIS MESSINIS/Associated Press

Everybody loves a good free-kick goal.
Some of the very best live long in the memory, few of them more so than Roberto Carlos' wicked effort for the Brazilian national team against France.
Seeing a well-struck free kick from right behind the effort and watching it glide mesmerically into the top corner before your eyes is amongst the finest sights in football.
Here are the top 20 curled free kicks of (relatively!) recent times!
Begin Slideshow

»
We may as well kick off with that Roberto Carlos strike.
This came against France in Le Tournoi in 1997 as part of the World Cup '98 preparations for both sides.
Bending the ball is one thing, but it's an outrageous outside-of-the-boot effort that has a trajectory taking it well wide of the post...before bending ludicrously back inside the goal.
Alessandro Del Piero was a top-class player in his time at Juventus and a real club legend.
With strikes like this, it's not hard to see why.
Del Piero scored bundles of free kicks and you can take your pick as to which one is best, but this strike against Roma showed his unerring accuracy and curl on the ball from a full 30 metres.
Here's an absolute stonker from IFK Gothenburg's Mikael Nilsson.
This came in a Champions League game in the 1992-93 season, with the Swede absolutely hammering a free kick from range into the net.
The bend on it is unbelievable—it starts heading toward the keeper's left-hand post, yet beats him on his opposite side!
Here's one of the modern-day greats, Leo Messi, with a free-kick goal for his club Barcelona.
This is a different type of curl in that he curls it away from goal, and it's left-footed from the left bending in and out.
Such is his ability that he still manages to find the far top corner.
Like Del Piero, Alvaro Recoba made a wonderful habit of scoring outrageous free kicks in Italy.
The Uruguayan was a real magician, though he never quite made as much of his career as he could have done.
This strike against Bologna highlights not only the curl and bend he got on his free kicks, but the awesome power and accuracy generated.
David Beckham built his career on the back of his monstrous ability from set-piece plays, and his wondrous technique benefited the likes of Manchester United and Real Madrid at club level.
For his international side, England were indebted to it in qualification for the 2002 World Cup, when he scored a late curled effort to send his nation to the finals.
There is a whole library of Beckham curled free kicks to enjoy, with this was maybe one of the most poignant.
For many fans, the best free-kick taker in the game for a long time.
Juninho Pernambucano mainly rattled in his dead balls for Lyon, including this one against Bayern Munich.
It never seemed to matter how far out the Brazilian midfielder was—he could still hit the target.
Liverpool's Steven Gerrard is perhaps more known for hitting his free kicks with power rather than curl, but over the years he's added both abilities to his game.
This curled effort was a last-minute winner against Aston Villa.
Finding the very top corner was about the only way he'd score from that range and angle and he managed it perfectly.
Shunsuke Nakamura might be remembered around Europe as the man who beat Manchester United in the Champions League, but for Celtic fans he's something else far bigger.
He is, indeed, the man who sealed the league title for them in the last minute of the season—again with another of his whipped, curled, trademark free-kicks.
Cue ensuing madness and celebrations.
Arjen Robben's goals are all the same, right? Cut in off the right, belt it left-footed into the top corner?
So just for a bit of variation, here's a fantastic swinging free kick, curled in from range.
There's something about left-footed free-kick takers.
Here's an absolute worldie from Bochum's Christian Fuchs, who bent one in from an outrageously narrow angle on the right flank against Bayern Munich.
Juan Arango has been doing this for years.
He has previously played in Mexico and Spain and has been with Borussia Moenchengladbach for nearly five years—and he's managed a fair few of these in that time.
Here he is bending one in against Wolfsburg.
This is Atletico Madrid's Brazilian attacking midfielder Diego, scoring one of his many sumptuous free kicks of his career.
This particular goal came whilst at Wolfsburg in the Bundesliga.
Famed for his spectacular strikes as much as his creativity, Diego can pull all the tricks out of the bag to put the ball in the net.
This goal apparently comes from Benedikt Koep of Rot-Weiss Essen, a lower-league team in Germany.
It's well worth seeing for its ingenuity as much as the well-struck curled free kick itself.
Not too many players can match the consistency and longevity of Ronaldinho with regards to scoring from free kicks.
He's almost scored too many of them to pick just one, but here's a typically superb curling effort from his Barcelona days.
Leaning away, curling right to left and finding the inside netting—an typical Ronaldinho free kick.
You'll want 1:15 for the actual free kick here.
This is Rogerio Ceni, legendary Brazilian keeper, netting his 100th goal of his career!
There's apparently nothing Luis Suarez can't do on a football pitch these days, and free kicks have quickly become part of his repertoire.
He's hit a few great ones this season, but his best for Liverpool so far might be this pearler against Zenit St. Petersburg.
Suarez netted two set-piece goals in that game—this was the second and the best.
Sebastian Larsson has previously been noted for his excellent set-piece taking, though that particular skill seems to have deserted him of late.
Here he is in action for Sunderland, bending in a mighty effort against Arsenal—the Black Cats could probably do with one or two more of these this season as they fight relegation.
We finish up with perhaps the grand master of them all, Andrea Pirlo. And as an extra treat, here's not just one of his free kicks but a whole bushel of them.
Placement, accuracy, curl, technique, timing...the bearded Italian maestro has it all.
Drink them in, enjoy...then go outside and practice your own.