History was made in Sochi on Wednesday in the women's downhill skiing race. But as seems fitting for these stranger-than-fiction Games, it wasn't the history that anyone was expecting.
While all eyes were on Julia Mancuso to see if she could tie Bode Miller for the most U.S. Alpine medals in Olympic history, Tina Maze and Dominique Gisin stole the show by tying for the gold medal.
In a sport where athletes hurl themselves down the mountain at jaw-dropping speeds and times are measured to hundredths of a second, a tie seems nearly impossible.
But it seems like nothing is impossible in Sochi.
Slovenia's Maze and Switzerland's Gisin both raced down the hill in the exact same time: 1 minute, 41.57 seconds. Lara Gut, who got the second-fastest time but left with a bronze medal, clocked in at 1:41.67.
Bill Pennington of The New York Times reported just how unusual this result is in Alpine skiing:
Although there has never been a tie for a gold in an Olympics Alpine event, there have been ties for other medals, most recently at the 1998 Nagano Games when Didier Cuche and Hans Knauss tied in the men's Super-G. There were also ties for silver in the 1992 and 1964 women's giant slalom, and for bronze in the 1948 men's downhill.
This isn't just a rare result in the sport of Alpine, though. OlympStats reports this is only the eighth time in Winter Olympics history that two gold medals have been awarded in the same event. The last time it happened was in 2002.
While the tie is certainly a cool historical footnote, all that Maze and Gisin cared about was the gold medal.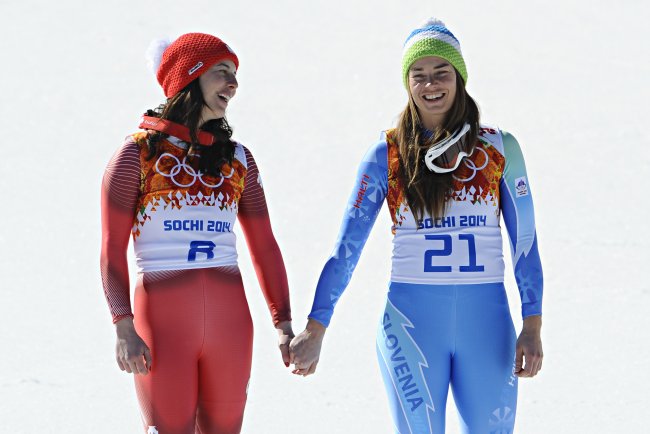 Alain Grosclaude/Agence Zoom/Getty Images
Gisin was the surprise of the race. The 28-year-old was one of the first racers out of the gate—most of the contenders ski toward the end—and she wasn't a part of anyone's medal predictions before the Games. She finished the 2013 season ranked 19th in downhill, and she hadn't made a World Cup podium in any discipline since the end of 2011.
She didn't even officially make the deep Swiss Alpine team until the very last minute. According to the Associated Press, Gisin had to qualify for her spot during a training run on February 8.
After her aggressive ski, Gisin knew that her time was good enough to threaten the top contenders, but since she skied in eighth place, she had to play the waiting game. Compatriot Lara Gut, skiing 18th, threatened her placement, but it wasn't until Maze came out of the gates 21st that Gisin was given a real scare.
According to Ollie Williams of the BBC, she could hardly watch as Maze crossed the finish line.
"I didn't want to look when Tina crossed the line, then zero. Zero? Zero's good!" Dominique Gisin, shares downhill gold with Tina Maze.

— Ollie Williams (@OllieW) February 12, 2014
Maze was in a more expected position. Though she has struggled at times this year, the skier and pop star had a record-breaking 2013 season, winning 11 World Cup races and a world championship in the super-G.
After finishing a disappointing fourth in the super combined on Monday, Maze was thrilled to win her first Olympic gold. She certainly didn't mind that she had to share it.
Mancuso, meanwhile, went home empty handed.
The American took home the bronze medal in the super combined on Monday and was first in the downhill portion of that event, but she couldn't recapture that magic on Wednesday, finishing a disappointing eighth.
Still, even she could appreciate the significance of the quirky result.
Ahh! It happens! Not my day today- but pretty cool to see a tie for gold! #believeinUS still proud to represent my country in 8th!

— Julia Mancuso (@JuliaMancuso) February 12, 2014
The Olympics are far from over for Mancuso, though. The 29-year-old will get another chance to tie Miller's medal count on Saturday in the super-G, where Maze and Switzerland's Gut will be contenders as well.
It's tough to gauge Mancuso's odds of winning her fifth Olympic medal. As we've learned over the past few days, the snow and ice in Sochi breed unpredictability. No favorites can be counted on. No underdogs can be overlooked. No records can sleep soundly.
Only five days into the event, the Sochi Games have already made headlines in nearly every possible way. There have been human rights violations, gay rights protests and, of course, the viral #SochiProblems.
In competition, Shaun White has gone home empty handed, a 15-year-old Russian has stolen the figure-skating show and we've seen multiple pairs of siblings share the podium.
Now, there's been a historic tie for gold in the downhill.
It's safe to say that nobody knows what is next in Sochi. It's just nice for the headlines to finally be about the athletics.