Finland narrowly overcame a spirited Switzerland side 4-3 to win the Group A ice hockey encounter at the 2014 Winter Olympics in Sochi.
Switzerland started the match with a power-play proficiency of zero percent and seemed incapable of penetrating throughout the opening exchanges. The recent 9-0 thrashing against USA certainly looked to be on the team's mind as the match got underway.
Finland started strongly and took the lead after eight minutes. Jenni Hiirikoski scored from Mira Jalosuo's pass, setting up another difficult challenge for the Swiss.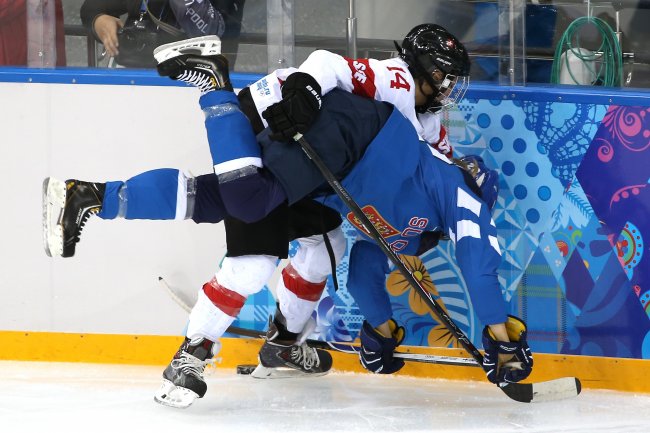 Bruce Bennett/Getty Images
Michelle Karvinen made it 2-0 before 10 minutes had elapsed after the assist from Susanna Tapani, but with 35 seconds left in the first period, Switzerland came close to its first success after a goalmouth scramble.
The Swiss finally notched their opening goal of the tournament shortly after the first intermission. Nicole Bullo's pass across goal was clipped home by Romy Eggimann, giving the strugglers hope.
Finland then lost Emma Terho for two minutes after she was called for holding, something Switzerland quickly took advantage of.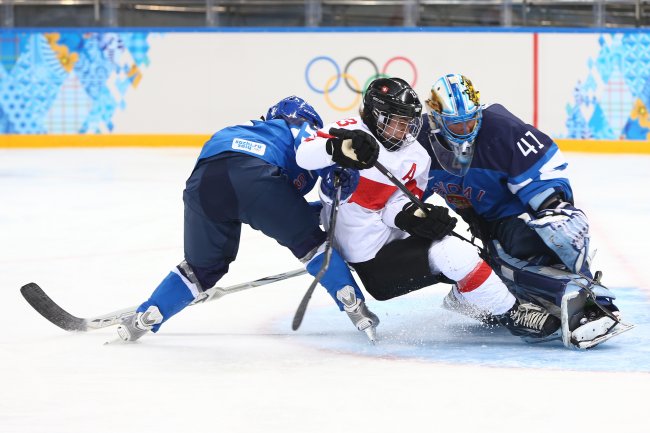 Martin Rose/Getty Images
A flurry of action pressured the Finnish goalmouth, but Phoebe Stanz calmly equalised during the power play. It then became four-on-four after some tough contact from Sandra Thalmann, who was given a two-minute penalty for interference.
The bad tempers continued. Evelina Raselli was thrown out of the game after raising her leg in a melee with Annina Rajahuhta, who dumped Raselli on her back before the decisive reaction.
Finland made the most of the penalty and went 3-2 up after 35 minutes. Karvinen quickly restored the nation's advantage during a one-player power play, once again assisted by Tapani.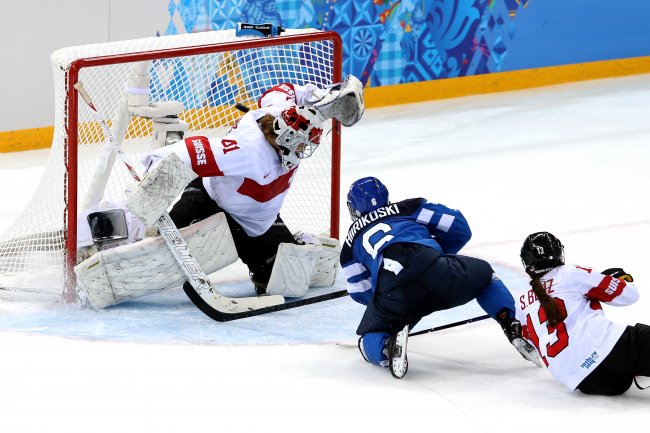 Bruce Bennett/Getty Images
Laura Benz suffered a two-minute penalty at the onset of the third period for the Swiss before Rajahuhta joined her on the bench. Stefanie Marty rekindled Swiss hopes with a frantic goal during the power play, assisted by Bullo.
Kevin McGuire of NBCSports.com described the incredible moment and reaction inside the arena:
Whoa. Switzerland's women's hockey team ties up Finland on a power play in the final four minutes, 3-3, and the arena goes in to #DOOP mode.

— Kevin McGuire (@KevinOnCFB) February 12, 2014
Despite their fine effort, it was Hiirikoski who broke Swiss hearts in overtime. She launched her body toward the puck deep on her opponents' line and just managed to steer the pass in. A fantastic finish.
Dan Marrazza of NBCOlympics.com reflected on the match and where it leaves the two teams:
That's all she wrote. #Finland with the OT-winner. "Finnish"es 3rd in Pool A. Swiss finish 4th. #Sochi2014

— Dan Marrazza (@DanMarrazza) February 12, 2014
While Finland's first victory of the competition will certainly be celebrated after such a hard-fought battle, they narrowly overcame a Switzerland side that just hasn't been able to keep up with the fast-paced, brutal play of Group A.
Both USA and Canada highlighted their strengths against the European nations but are set to do battle against each other in the group decider.
"(USA playing Canada) brings out the best in both teams and it showcases women's hockey so well," said Canadian defender Catherine Ward, per Kevin Allen of USA Today.
Which team will win gold?
For the Swiss, the loss to Finland is another example of a team that couldn't muster enough during its preliminary showing. Three straight defeats suggest there is plenty of work to do if the team is to progress in future tournaments.
Although Finland gave a resilient account of themselves, the Games' top teams won't be quaking in their skates.
Finnish head coach Mika Pieniniemi will hope his team can continue to improve when it faces the losers of Russia vs. Sweden, while Switzerland will look to rescue some dignity with a decent performance against the victors of the upcoming match.