No. 22 Ohio State turned back the clock on Tuesday night, but Jim Jackson, Chris Jent and Lawrence Funderburke weren't walking through that door. The No. 22 Buckeyes (19-6, 6-6 Big Ten) fell 70-60 to the No. 15 Michigan Wolverines (18-6, 10-2 Big Ten) in Columbus.
This snaps OSU's three-game winning streak, knocking it back to .500 in the Big Ten, thus drastically reducing any hopes of a regular-season title.
It's Michigan's third road win over a ranked opponent this season, which is half of its total from the previous 15 seasons combined, per ESPN Stats and Info:
Tonight is Michigan's 3rd road win vs ranked team this season; over previous 15 seasons, Wolverines were 6-47 on road vs ranked foes.

— ESPN Stats & Info (@ESPNStatsInfo) February 12, 2014
Michigan head coach John Beilein acknowledged how odd it is that a team can win three tough road games in the Big Ten, per Andrew Holloran of BuckeyeGrove.com:
"This is unusual in this league, to have the road wins that have been coming to us and other teams," John Beilein.

— Andrew Holleran (@andrewjholleran) February 12, 2014
It's also the Wolverines' first win in Columbus since 2003, per Ozone Communications:
It's Thad Matta's first home loss to #Michigan. #Wolverines hadn't won in Columbus since 2003.

— Ozone Communications (@theOzonedotnet) February 12, 2014
This game was a microcosm of the Buckeyes' entire season. They started off hot and then faded late. That 15-0 start to the season looks like a lifetime ago.
Ohio State jumped out to an 18-7 lead nine minutes in, which grew to 28-18 with 3:21 left in the first half.
Then OSU's shooters went cold with six-and-a-half minutes left in the first half, and OSU watched its massive cushion nearly evaporate:
Ohio State didn't make a field goal in final 6:25 of 1st half - still leads Michigan by 4 at half. #MICHvsOSU

— ESPN Stats & Info (@ESPNStatsInfo) February 12, 2014
The fact that Michigan could play as badly as it did in the first half and only be down four points was a bad sign for Ohio State. This stat from Dylan Burkhardt of UMHoops.com shows how odd the first 20 minutes of the game were:
Michigan shot 28% on twos in the first half. Ohio State shot 73% on twos. Buckeyes had 2nd worst 2pt D in B1G, Michigan had best 2pt O.

— Dylan Burkhardt (@umhoops) February 12, 2014
The Wolverines and Buckeyes were bound to regress to the mean, which meant Ohio State would have to pick things up to start the second half.
The Bucks kept their opponents at bay for a while, but Michigan would eventually take a 44-43 lead with 10:56 to go in the game and didn't look back from there.
The offense simply dried up for the Buckeyes. In the first half, they were scoring at will as a result of some awful transition defense from Michigan. That changed in the second, as the Wolverines ratcheted up on the defensive end and found their shooting stroke on the offensive end.
They went on a 33-17 run to end the game, per Kyle Rowland of Eleven Warriors:
Michigan outscored Ohio State 33-17 over the final 12 minutes.

— Kyle Rowland (@KyleRowland) February 12, 2014
Michigan simply bullied the paint, getting bucket after bucket and grabbing rebound after rebound.
This wasn't better demonstrated than in the performance of Derrick Walton Jr.. The freshman guard only finished 3-of-10 from the floor, but he had 10 rebounds and 11 points to earn a double-double. It wasn't pretty, but Walton worked his butt off and helped propel the Wolverines into the lead.
Former Michigan football star Desmond Howard thought Walton thoroughly outplayed his opposite number—Aaron Craft:
OSU's A. Kraft is a good player, but he is clearly being outplayed tonight by Michigan's freshman Derrick Walton Jr.

— Desmond Howard (@DesmondHoward) February 12, 2014
Walton acknowledged that he's taking more of a leadership role on the court, per Daniel Wasserman of The Michigan Daily:
Walton: "I'm the point guard…it's becoming second nature to speak up"

— Daniel Wasserman (@d_wasserman) February 12, 2014
Nik Stauskas added 15 points, while Glenn Robinson III had an off night, with only nine points, but it was more than enough to see the Buckeyes off.
As a team, Ohio State shot 23-of-52 from the floor. That's overshadowed by the 3-of-20 clip from behind the three-point line. When the Buckeyes needed a key shot to go down, it was nowhere to be found.
Compare that to Michigan's 8-of-17 from three-point range, which was a far cry from where OSU usually held teams from that distance:
Michigan is 8-17 (47.1%) on 3-pt FG so far; Ohio State entered game leading Division I in 3-pt FG pct defense (26.3%). #MICHvsOSU

— ESPN Stats & Info (@ESPNStatsInfo) February 12, 2014
The good news for the Buckeyes is that they don't have to play another ranked opponent until the No. 9 Michigan State Spartans in their final game of the regular season, on March 9. That's a lot of time to build some momentum heading into the Big Ten tournament and bolstering that NCAA Tournament resume.
Michigan isn't quite so lucky. The fun only begins for the Wolverines, as they have back-to-back home games against the No. 21 Wisconsin Badgers and then the Spartans within the span of a week.
Key Player Grades
Glenn Robinson III, Michigan: C-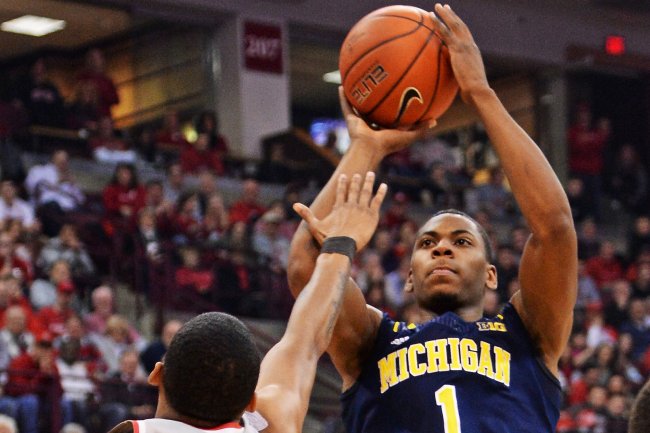 Jamie Sabau/Getty Images
You can take a shooter having a bad night and missing a lot of shots. What you can't take is a player like Glenn Robinson III getting opportunities right under the basket and missing most of them. Things didn't much better as the game went on, either, as Robinson finished the game 3-of-10 from the field.
He did hit a big three with a little under three minutes to make it a seven-point game, 59-52, but on the whole, the sophomore forward didn't do enough for his team.
Derrick Walton Jr., Michigan: A-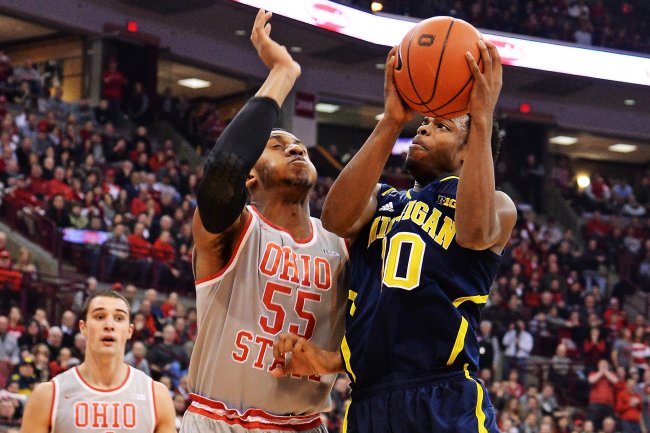 Jamie Sabau/Getty Images
Derrick Walton Jr. was the only player on the floor to record 10-plus rebounds. Just 6'1", he was constantly crashing the boards in the second half, which helped to eliminate any second-chance opportunities for OSU and start the transition to the Michigan offense.
This is a case where a player's real performance doesn't show up in the box score. Although he did have a double-double, Walton's stats don't jump off the page. However, no player was more integral to the Wolverines' second-half comeback than him.
LaQuinton Ross, Ohio State: B+
The Buckeyes lost through no fault of LaQuinton Ross. The junior forward led all scorers, with 24 points on 8-of-17 shooting. He tried to put the team on his back in the second half in order to spur a run, but he didn't get any help.
Lenzelle Smith Jr. was the only other Buckeyes player in double figures, while Amir Williams and Aaron Craft combined for 15 points.
If Ross had somebody else to share the scoring burden, perhaps the Buckeyes could've prevailed.