Men's ice hockey kicks off on Wednesday, and the 2014 Olympics in Sochi will get a huge boost of compelling action. One of the most popular sports taking place in the Olympic Games, ice hockey will surely continue to be a crowd-pleaser this year.
The opening match of Group C features Sweden—considered the tournament favorites by some—against the Czech Republic. The winner of this contest will be just two more wins shy of gaining an all-important first-round bye heading into the single-elimination round.
In time for first game tomorrow, Sweden vs. Czech Republic--Men's Olympic Ice Hockey preview: http://t.co/qJou1htMHv

— New York Rangers (@NYRangers) February 11, 2014
It doesn't appear that the Czech Republic has the firepower to keep up with the Swedes in this contest; however, anything can happen during the Olympic Games.
Let's take a look at the viewing information and outlook of this impending game along with a prediction of the outcome.
Viewing Informaiton
Men's ice hockey gets under way at Olympics Wednesday at noon (ET) with big game right off the bat between Czech Republic and Sweden.

— Tom Gulitti (@TGfireandice) February 11, 2014
What: Czech Republic vs. Sweden: Men's Preliminary Round, Group C
Where: Bolshoy Ice Dome
When: Wednesday, Feb. 12
TV Time: Noon ET
Channel: NBC
Live Stream: NBCOlympics.com
Outlook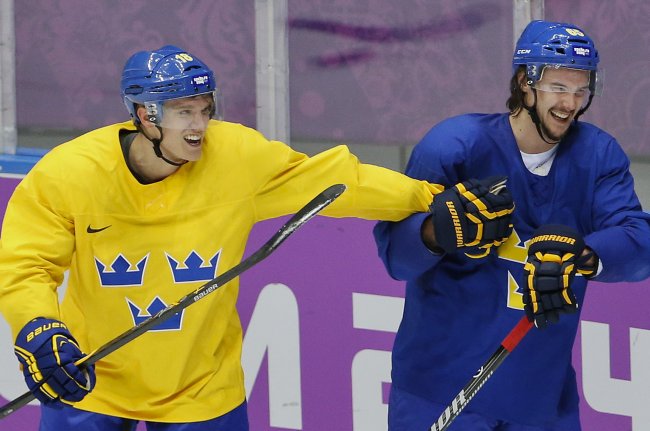 Julio Cortez/Associated Press
The Swedes have one of the deepest all-around teams in the tournament. Featuring players such as Henrik Lundqvist, Niklas Kronwall, Nicklas Backstrom, Henrik Zetterberg and Erik Karlsson—among many others—they will be extremely difficult to defeat.
In an article by Mike Brehm of USA Today, columnist Helene St. James of the Detroit Free Press gives her take on the team from Sweden:
They're extremely well-rounded, from a slew of highly skilled forwards to a high-end defensive corps to the elite goaltending of Henrik Lundqvist. They'll be inspired, too, by the presence of 41-year-old Daniel Alfredsson.
Lundqvist is hitting the ice at the Olympics at the right time as well. He has shown great form lately as the goaltender for the New York Rangers, allowing three goals or fewer in his last 13 games. Of those games, opponents scored three goals against him just three times.
NHL goalies with best GAA since Jan. 1 Schneider NJ 1.47 Lundqvist NYR 1.91 Halak STL 1.92 Quick LA 2.01 Crawford CHI 2.15

— Yahoo Sports NHL (@YahooSportsNHL) February 9, 2014
His play has sparked the Rangers, leading the team to a 11-2 record over that span. Expect him to do the same for Sweden.
Swedes pinning their hopes on a resurgent Lundqvist. Not a bad choice if you ask them (or anyone). http://t.co/hTCYhzfjhY

— Dan Rosen (@drosennhl) February 11, 2014
The Czech Republic features a very experienced team; however, they have a glaring weakness on the defensive side of the team. With weak goaltending and lackluster defensemen, the Swedes should not have trouble finding the back of the net on multiple occasions.
The Czech team can make up for their lack of defense with a solid forward group. With teammates Jaromir Jagr and Patrik Elias lining up next to each other, their familiarity could play a factor in the chances for the team's success.
Prediction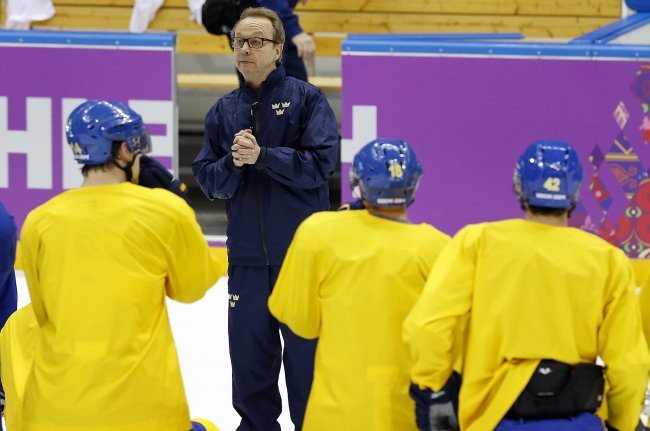 Julie Jacobson/Associated Press
The Swedes really shouldn't have much of a problem in this contest. They are a far superior team, boasting plenty of the NHL's premier talent. Expect the offense to roll right over the weak Czech defense and Lundqvist to pitch a shutout for Sweden.
Sweden 5, Czech Republic 0