There was no shortage of excitement at the RusSki Gorki Jumping Center in Sochi, Russia, on Tuesday, as some of the planet's top female athletes broke ground on the first-ever ladies' ski jumping competition at the 2014 Winter Olympics.
Germany's Carina Vogt took home women's ski jumping's top prize, outlasting Austrian veteran Daniela Iraschko-Stolz and France's Coline Mattel, who finished second and third, respectively.
Germany's Carina Vogt wins the first women's #skijumping gold medal ever #Sochi2014

— NBC Olympics (@NBCOlympics) February 11, 2014
Japanese prodigy and event favorite Sara Takanashi barely missed out on a medal, finishing fourth.
Day 4's ladies' normal hill competition also featured reigning world champion Sarah Hendrickson representing Team USA. Unfortunately, the 19-year-old superstar was far less than 100 percent physically and missed out on the podium, finishing 21st in the field of 30 skiers.
Ladies' Normal Hill Ski Jumping Results

| | | |
| --- | --- | --- |
| Place (Medal) | Athlete | Total Score |
| 1 (Gold) | Carina Vogt (GER) | 247.4 |
| 2 (Silver) | Daniela Iraschko-Stolz (AUT) | 246.2 |
| 3 (Bronze) | Coline Mattel (FRA) | 245.2 |
| 4 | Sara Takanashi (JPN) | 243.0 |
| 5 | Evelyn Insam (ITA) | 242.2 |
| 6 | Maja Vtic (SLO) | 241.9 |
| 7 | Yuki Ito (JPN) | 241.8 |
| 8 | Maren Lundby (NOR) | 235.5 |
| 9 | Line Jahr (NOR) | 234.6 |
| 10 | Jessica Jerome (USA) | 234.1 |
Sochi2014.com
Click here to view complete results courtesy of Sochi2014.com.
Vogt, who had previously earned bronze in the mixed team normal hill at the 2013 World Championships, got off to a fast start on Tuesday, turning in the top first-round score, posting a 126.8 to set the bar high and earn the final run for the final round.
Meanwhile, Americans Lindsey Van, Jessica Jerome and Hendrickson struggled to achieve maximum distance in the first round. Van and Jerome each covered 97 meters, but Hendrickson, who is five months removed from surgery to repair a torn ACL and MCL in her knee, was only able to reach 94 meters, nine fewer than Vogt.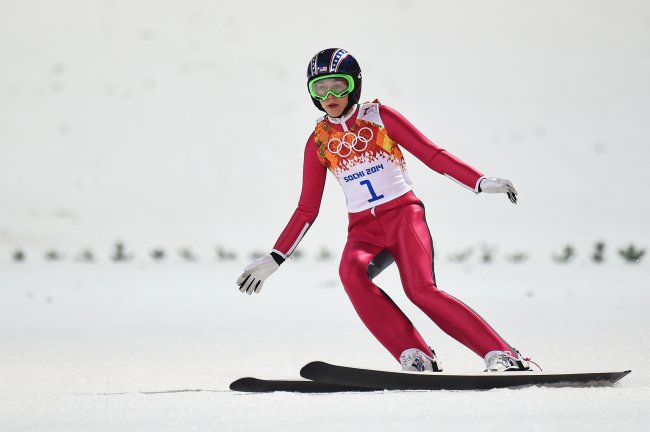 Lars Baron/Getty Images
Mattel didn't go quite as big as Vogt in the early stages, but earned a first-round-best 56 points from the judges to secure the second-best overall score for Round 1. Takanashi was close behind as the three medalists were the class of the field in the opening round.
A 105.2 second-round score would temporarily propel Hendrickson into a podium spot. But with half the field still left to go, she would quickly drop out of medal contention.
Hendrickson was clearly held back by her surgically repaired knee, which she talked about ahead of the competition, per The Boston Globe's John Powers:
My coach and I decided. I still have pain in my knee. There's no need to jump too far. I don't want to sacrifice anything. Of course, I have this in the back of my head. I know I can get injured again, but I have to push it out of my head.
Given the circumstances, Hendrickson can't be too disappointed with her performance.
Jerome would cover 99 meters in her second run, but it wasn't enough to crash the podium as her judges score of 47 held her back. She would finish 10th, five spots ahead of Van.
While Hendrickson's knee injury severely hampered the Americans' shot at earning medal in the first-ever women's ski jumping event at the Winter Games, the three U.S. athletes can be proud of their efforts in Sochi.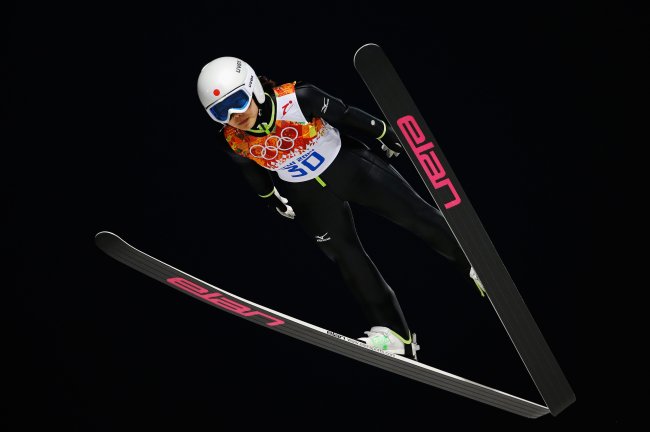 Ezra Shaw/Getty Images
On the other hand, Takanashi has to be upset that she was unable to finish atop the podium. The 17-year-old was viewed as the favorite coming in, and Hendrickson's injury opened the door for a potential gold-medal-winning performance.
Afterward, Takanashi expressed her disappointment, per BBC Sport's Rob Hodgetts:
I couldn't jump the way I wanted on both attempts. In Japan, the jumps are different. I came here wanting to do my best. I'm incredibly disappointed. It's a good experience being at the Olympics and I'm glad to be a part of it.
Nonetheless, all 30 riders can hold their heads up high knowing just how important Tuesday's landmark event was for female athletes at the Olympic Games, per the The Washington Post's Liz Clarke:
No medal for US in inaugural Olympic women's ski jumping, but all earned victory by getting sport added to Games. Event still under way.

— Liz Clarke (@lizclarketweet) February 11, 2014
With the first-ever ladies' normal hill ski jumping competition qualifying as a success, the next generation of female skiers will have an opportunity to compete at the highest level on the sport's grandest stage.
Although Vogt will be the only competitor taking home gold this February, the women's ski jumping community was the big winner on Day 4 in Sochi.
Follow Bleacher Report Featured Columnist Patrick Clarke on Twitter.