The medal race at the 2014 Winter Olympics took another turn on Day 4 as Norway jumped into the overall lead.
However, Canada, the Netherlands, Russia and the United States are still within striking distance heading into Wednesday's action.
Germany has also emerged as a contender after claiming two gold medals on Tuesday.
With that in mind, below we'll take a closer look at the updated medal count heading into Day 5 and highlight some of the top performing nations thus far.
Norway Picks Up Medals in Biathlon, Cross-Country
Doug Pensinger/Getty Images
Norway was by far the biggest winner on Day 4, earning four medals in all, including two gold medals in cross-country.
Norway's fans celebrate again at #Sochi2014 as @idrett continues its dominance in #crosscountry with Gold for @hattis pic.twitter.com/MUXdtEKhh6

— Sochi 2014 (@Sochi2014) February 11, 2014
Maiken Caspersen Falla and Ola Vigen Hattestad won the women's and men's sprint free competitions, respectively, posting impressive times and edging out stiff competition in the process.
In the women's event, Norway's Ingvild Flugstad Oestberg also finished second to secure the silver medal.
The Scandinavian powerhouse would pick up another medal later in the day with Tora Berger taking home silver in the women's biathlon 10-kilometer pursuit. Berger's time of 30 minutes and 8.3 seconds, which included just one penalty, was 37.6 seconds off Darya Domracheva's gold-medal-winning pace.
Tora Berger takes silver, her second Olympic medal (gold in 15km individual); she shared the podium with Domracheva that day as well (3rd)

— real biathlon (@realbiathlon) February 11, 2014
Despite Norway's big day in biathlon and cross-country, the Olympic leaders saw opportunities go by the wayside in women's ski jumping, as Maren Lundby and Line Jahr finished eighth and ninth respectively, in the ladies' normal hill.
Lundby's 120.0 second-run score was among the best of the competition, but it wasn't enough to put her and Norway on the podium.
Canada Maintains Dominance on Slopes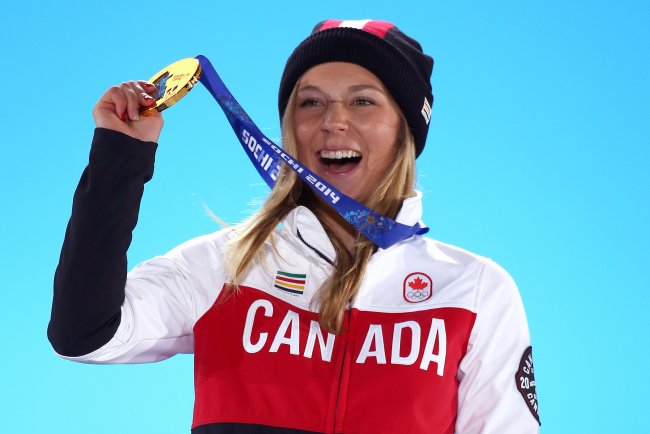 Streeter Lecka/Getty Images
Although Day 4 was one to forget for ladies' ski slopestyle favorite Kaya Turski, Canadians had plenty to cheer about at Rosa Khutor Extreme Park as Dara Howell and Kim Lamarre each landed on the podium.
Dara Howell's 78-year old grandmother says she's "stoked" about her granddaughter's gold in ski slope. pic.twitter.com/WoXTVViONR

— Paul Waldie (@pwaldieGLOBE) February 11, 2014
Howell's first-run score of 94.20 was enough to win gold. Afterwards, the 19-year-old dedicated her run to fallen compatriot Sarah Burke, per The Guardian's Steve Busfield:
I said the other day that I really hope a Canadian brings home a gold medal and it will be for Sarah. This medal is definitely for Sarah. She pushed the sport. She always wanted to see the progression. To see the girls throwing what the guys were throwing...today I feel like that's what I did.
American Devin Logan scored 85.40 on her first run to secure silver. But the most dramatic second run was Kim Lamarre's, which scored an 85.00, enough to propel her from the bottom to the bronze.
Despite the strong Canadian presence on the podium, Turski's disappointing exit in the qualifying round and Yuki Tsubota's nasty fall likely cost the North Americans a shot at another medal on Day 4.
Germany is Golden on Day 4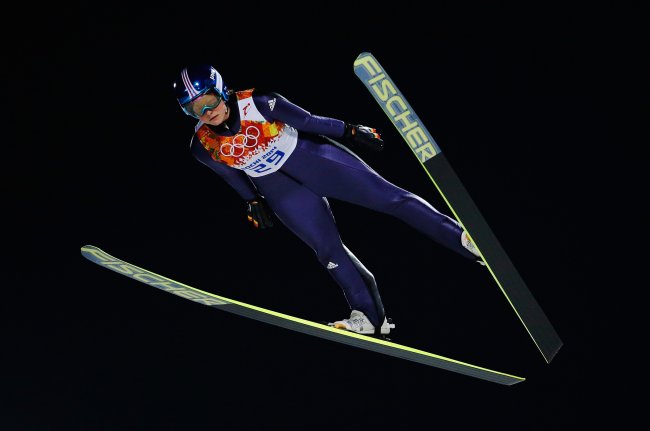 Ezra Shaw/Getty Images
While Norway earned four medals total on Day 4, Germany was every bit as successful, coming away with three, including two golds to create a three-way tie for most gold medals thus far.
Carina Vogt of Germany makes history at #Soch2014 by winning first ever gold in first ever Olympic woman's ski jumping competition.

— Eric Reguly (@ereguly) February 11, 2014
Natalie Geisenberger's triumph in the women's singles luge and Carina Vogt's inspiring performance in the first-ever ladies' normal hill ski jumping event have the European powerhouse in the medal race mix.
Meanwhile, luge silver medalist Tatjana Huefner earned Germany's first silver medal of the Games.
Unsurprisingly, after her landmark victory in ski jumping, Vogt was overcome with joy, per BBC Sport's Rob Hodgetts: "It's amazing; I'm the first women's champion in ski jumping."
Germany will have a shot to add to their tally on Day 5, when Alpine skier Viktoria Rebensburg will go for gold in the women's downhill. The Germans will also have podium opportunities in pairs figure skating, luge doubles, Nordic combined and speedskating.
Follow Bleacher Report Featured Columnist Patrick Clarke on Twitter.