Longtime MLB pitcher Roy Oswalt is hanging up his glove after a 13-year career and heading over to the business side of baseball.
According to a tweet by ESPN's Buster Olney on Tuesday afternoon, the three-time All-Star will be working with his agent, Bob Garber, during a post-playing career:
All-Star pitcher Roy Oswalt has decided to retire, and plans to work with his agent, Bob Garber. 163 wins, 102 losses.

— Buster Olney (@Buster_ESPN) February 11, 2014
Brian McTaggert of MLB.com confirms that Oswalt and Lance Berkman will retire as Houston Astros:
Oswalt says he and Berkman will retire as Astos

— Brian McTaggart (@brianmctaggart) February 11, 2014
Oswalt also shared his favorite memory from his career with McTaggert:
A retiring Roy Oswalt tells http://t.co/hyzCSYqpEI his greatest memory is pitching Game 6 of 2005 NLCS

— Brian McTaggart (@brianmctaggart) February 11, 2014
Oswalt finishes his tenure in the majors with 163 wins and 102 losses, most of those coming during his time with the Houston Astros. He began his MLB career with the club in 2001 and will end it there as well.
According to Daniel Gotera of KHOU 11 Sports, the club confirmed that it would be seeking one-day contracts for Oswalt and former teammate Lance Berkman so that the pair can retire as members of the team.
The 36-year-old Oswalt pitched for Houston from 2001 to midway through 2010, helping guide the team to the World Series in 2005, where they lost in four games to the Chicago White Sox. He earned NLCS MVP honors that year, pitching 14 innings in two starts against the St. Louis Cardinals and compiling an ERA of just 1.29.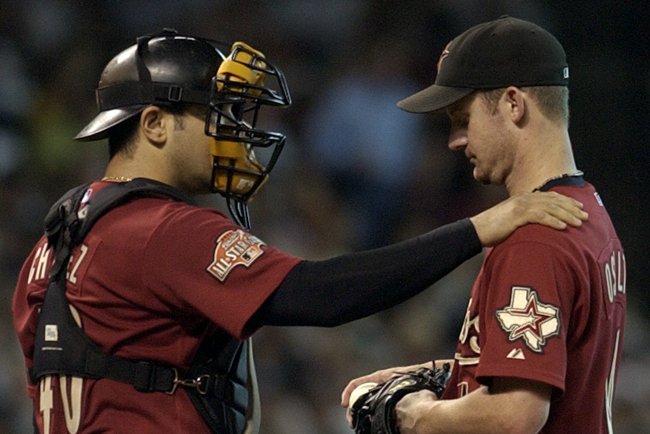 PAT SULLIVAN/Associated Press
Oswalt's career figures are also impressive, as the 6'0", 190-pounder racked up 1,852 strikeouts and posted a 3.36 ERA. He made three straight All-Star teams from 2005 through 2007 and led the majors in ERA in 2006.
The right-hander was traded to the Philadelphia Phillies in the midst of the 2010 season. He pitched there for two seasons before closing out his career with stops in Texas and Colorado, respectively.
While Oswalt never won a World Series during his lengthy MLB career, he'll always be remembered as one of the more effective pitchers during that time.
He had a five-pitch repertoire and great control for much of his career, while also being regarded as one of the quickest workers—a trait that kept his fielders engaged and opposing hitters unsettled.
Did Oswalt make the right decision?
Then-teammate Michael Young had heaps of praise for Oswalt during their time with the Texas Rangers, as the third baseman told Jeff Wilson of the Star-Telegram: "Having Roy Oswalt is a huge shot in the arm for our team. He works extremely fast, keeps the defense involved, great tempo, and we're excited to have him."
It'll be quite interesting to follow Oswalt's career into the post-playing era. Agent Bob Garber has a quality list of clients, and his staff could definitely use a class act like Oswalt lending a helping hand in the bullpen.
Major League Baseball and its fans should sincerely miss Oswalt and wish him the best in his future endeavors. Considering his experience and wealth of knowledge of the game, he should have no trouble making a smooth transition and finding even further success.