Even though WWE Elimination Chamber 2014 will mark just the 12th year the Chamber match has existed and feature only the 17th installment of the match, the structure's history of violence and intensity has made it an indispensable part of the company.
Cramming six men into a steel-lined coliseum has resulted in some of WWE's most memorable moments.
The Chamber has been the home of startling surprises and in-ring action that has resembled car crashes. John Cena, Randy Orton and Daniel Bryan are set to add to the match's timeline of violence, one that began in 2002.
Eric Bischoff, former WCW executive, controlled Raw at the time.
He would force Triple H to defend the World Heavyweight Championship in a bout no one had seen before. The Elimination Chamber was the merging of a steel cage match and a traditional Survivor Series elimination match, an intersection of star power and an injurious environment.
Survivor Series 2002 hosted the first edition of the Chamber match.
Shawn Michaels outlasted Triple H, Kane, Rob Van Dam, Chris Jericho and Booker T to claim the world title. The match remains one of the greatest Chamber bouts in WWE history, a showcase of Kane's power, Michaels' theatrics and Van Dam's fearlessness.
Wrestling Observer (h/t ProFightDB.com) rated it 4.25 stars.
The match's excellence continued early on. It had yet to find a permanent home and remained a special attraction. SummerSlam 2003 boasted the second-ever Chamber match. The New Year's Revolution pay-per-view provided a home for the next two in 2005 and 2006.
Triple H, Jericho and Michaels were a part of the first three, when future Hall of Famers regularly filled the structure.
Although it was Triple H, by way of his sledgehammer, who won the Chamber match at SummerSlam 2003, it was Goldberg who created the most lasting memories. He tore through his opponents that night like a coyote let loose in a chicken coop.
Sending Jericho through one of the Chamber pods via the spear made Goldberg an essential part of the match's history.
A year later, Edge made the Chamber his playground, the stage on which he introduced the world to the Money in the Bank concept. Cena survived the WWE title match at New Year's Revolution 2006 against Michaels, Kurt Angle and others, but his night was not over.
Vince McMahon announced that Edge would be cashing in his Money in the Bank contract.
Cena had nothing left in him after the brutal Chamber match. He was simply prey waiting to be had.
ECW inserted itself into the Chamber match mix later that year. WWE resurrected ECW, or at least a version of that innovative company, as a brand and thought the inherent violence of the Chamber was a perfect fit for this new venture.
The result was either forgettable or horrendous, depending on who you ask.
CM Punk, Van Dam and Bobby Lashley battled in what many consider the worst match in Chamber history. Wrestling Observer (h/t ProFightDB.com) gave it only 2.5 stars.
The addition of weapons did little for the bout. A lack of star power hurt as well. Fans had seen big names like Michaels, Jericho and Cena enter the fray in the past and now had to settle for Lashley and Hardcore Holly.
The Elimination Chamber briefly found a new home at the No Way Out pay-per-view.
In 2008 and 2009, WWE put on two Chamber matches each year. The Undertaker and Triple H earned WrestleMania title bouts in 2008 thanks to victories inside the imposing structure. Triple H and Edge won 2009's two Chamber contests.
Edge's victory is especially noteworthy because he wasn't scheduled to be in that match.
Earlier in the night, Edge lost his world title in a Chamber match. He then attacked Kofi Kingston in the main event to steal his spot and eventually dethrone Cena as WWE champ.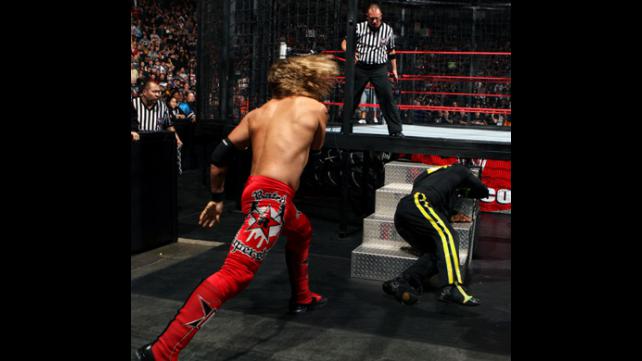 Credit: WWE.com
The Chamber then moved to its own pay-per-view, one named after the match itself.
Both of the Chamber bouts from Elimination Chamber 2010 ended in shocking fashion. Only Undertaker and Jericho remained in the battle for the World Heavyweight Championship. "The Deadman" closed in on his foe, but Michaels popped out of the steel grate and superkicked his longtime rival Undertaker.
That unsanctioned appearance and subsequent ambush allowed Jericho to win the title.
Earlier that night, Cena was not lucky enough to have someone hiding inside the Chamber structure to help him. Cena did win the WWE Championship by defeating Sheamus, Triple H and others, but right after the match, McMahon announced that Batista would be getting an impromptu title shot.
John Cena has to fight after his Chamber match. Shawn Michaels makes his mark on a match he's not in.
As much as the Elimination Chamber has been Van Dam's showcase and Edge's place for trickery, it has been a consistent source of setbacks for Cena.
It's been far kinder to aerialists. Jeff Hardy launched himself from various points of the structure in 2008 and 2009 en route to dazzling performances. John Morrison stole the show in 2011, pushing the limits of what a WWE acrobat can do inside the Chamber.
Neither of those men won, though. The house of steel and pain has mostly been the place for established stars to add to their collection of titles.
In 2012, it was Santino Marella who had WWE fans locked in, unsure if the impossible was set to happen.
The field inside the Chamber match for the world title included Big Show and Great Khali as well as the champ, Bryan. Santino's addition felt out of place at first. He then rode a series of unexpected eliminations to become one of the final two men standing.
He nearly bested Bryan that night, but in the end, the champ retained. The underdog getting that close to triumph is one of the Chamber's most memorable moments.
The match has generated a surplus of them, from acts of breathtaking athleticism performed by men like Morrison and Mysterio to Superstars using the Chamber's harshness as a weapon. But the match's novelty has worn off, and there seems to be few options left in terms of creating new spots.
For Orton, Bryan, Cena, Sheamus, Christian and Antonio Cesaro, that will be the challenge when they step inside "Satan's Prison" on Feb. 23.
One man will add his name to the bout's list of victors, but beyond that, fans hope to see something on the level of Edge's forced entry, Van Dam crashing into Triple H or Michaels lying in wait for Undertaker.
That's how one moves from simply being entertaining to being a part of history.