The 2014 NBA All-Star Game is just around the corner, with teams getting set to take an extended break and players converging on New Orleans to prepare for the marquee contest.
The Big Easy always promises a good time for visitors, and it should be no different now that the All-Star Game is in town. While most fans won't be attending live, the game and the events surrounding it will be a nationally televised treat for all to enjoy.
If you aren't sure when exactly the 2014 All-Star Game takes place or aren't even sure of how you can catch the action, keep reading, as I have you covered.
Let's take a look at where and when you can watch the league's best talent in an exhibition contest and make some predictions on the outcome.
When: Sunday, Feb. 16 at 8 p.m. ET
Where: Smoothie King Center, New Orleans
Watch: TNT
Live Stream: TNT Overtime
Rosters
2014 NBA All-Star Game Rosters

| | |
| --- | --- |
| Eastern Conference | Western Conference |
| Starters | |
| Kyrie Irving, G (Cavaliers) | Kobe Bryant, G (Lakers)# |
| Dwyane Wade, G (Heat) | Stephen Curry, G (Warriors)* |
| Carmelo Anthony, F (Knicks) | Kevin Durant, F (Thunder) |
| Paul George, F (Pacers) | Blake Griffin, F (Clippers) |
| LeBron James, F (Heat) | Kevin Love, F (Timberwolves) |
| Reserves | |
| DeMar DeRozan, G (Raptors)* | James Harden, G (Rockets) |
| Joe Johnson, G (Nets) | Damian Lillard, G (Trail Blazers)* |
| John Wall, G (Wizards)* | Tony Parker, G (Spurs) |
| Chris Bosh, F (Heat) | Chris Paul, G (Clippers) |
| Paul Millsap, F (Hawks)* | LaMarcus Aldridge, F (Trail Blazers) |
| Roy Hibbert, C (Pacers) | Anthony Davis, F (Pelicans)* |
| Joakim Noah, C (Bulls) | Dirk Nowitzki, F (Mavericks) |
| | Dwight Howard, C (Rockets) |
# = Injured and will not participate. * = First-time Selection. Courtesy of NBA.com
If you can't tell by just looking at the rosters for the upcoming All-Star Game, it's going to be a good one.
Both starting lineups are stacked with talent, with the East trotting out the world's best player—LeBron James—and his sidekick, Dwyane Wade. They'll be joined by two superstar forwards, Paul George and Carmelo Anthony, as well as emerging guard Kyrie Irving.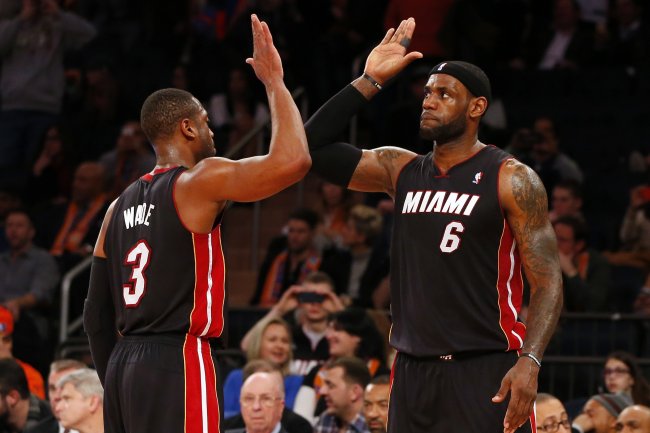 Rich Schultz/Getty Images
The West still has to iron out its starting five after Kobe Bryant announced he would miss this All-Star Game as he recovers from injury. As of now, Stephen Curry, Kevin Durant, Blake Griffin and Kevin Love are the West's four starters.
Anthony Davis, the New Orleans Pelicans superstar who has emerged as one of the best young big men in his second season, was recently named Bryant's replacement. He's honored to represent the host franchise, telling The Associated Press (via ESPN):
It's a great opportunity for me. I'm excited to play in the game. When coach said it, I was speechless. I didn't know what to say. I'm glad they chose me. I'll try to go out and represent New Orleans and the Pelicans.
Davis should see plenty of time on the floor and get one of the biggest receptions from the crowd when he's on the hardwood. He's well on his way to becoming one of the NBA's brightest stars, and a great showing in the All-Star Game could launch his profile to new heights.
The 20-year-old is one of the many first-time competitors in this event. It is also John Wall's, DeMar DeRozan's and Paul Millsap's initial selection as an All-Star for the East, while Damian Lillard, Curry and Davis are the West's newest faces.
This group of mostly young guns, with the notable exception of the 29-year-old Millsap, should all be ready to show out in NOLA. It's a major honor to be selected to this competition, and some contestants cannot be so sure they will be back here on a regular basis. Expect them to make the most of it and do their best to leave a lasting impression.
While the All-Star Game is often scrutinized for having its players perform at less than full speed and coast through the competition, the endings of these games have often come down to the wire and been very intense.
Which side will win the 2014 All-Star Game?
The East has lost three in a row by five points or less and is looking to finally navigate past its rival on Sunday. You can expect these fierce competitors to turn on the gas and give their all in the waning minutes, playing some defense and actually working to score the ball in an efficient—not pretty—fashion.
Don't be surprised if a last-second shot decides the outcome this year, as that is what I am predicting to happen in the Big Easy.
Prediction: Eastern Conference 154, Western Conference 152