The first ever women's freestyle skiing slopestyle Winter Olympics appearance was plagued with a catalogue of heavy falls during Day 4 of the Sochi games.
Although Canada's Dara Howell stormed to a fantastic victory in the final, her score of 94.20 was the only example of riders hitting top form in testing Russian conditions, as suggested by Graham Bell of BBC Sport:
"The snowboarders had the better conditions. The warm weather has certainly not helped these women competing here today and the only really fantastic run we saw was Dara Howell's."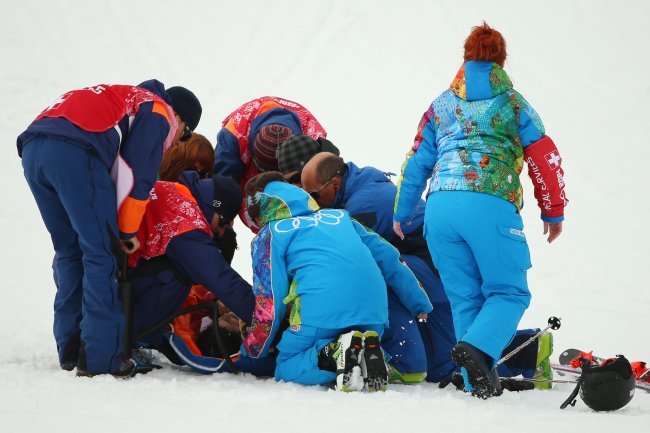 Mike Ehrmann/Getty Images
Howell's victorious score sat almost 10 points ahead of America's Devin Logan in second, highlighting how the majority of competitors couldn't get up to speed on a bumpy surface.
Falls started early in the day. Medal favorite Kaya Turski battled hard to appear in Sochi after tearing her anterior cruciate ligament during the summer, per Jason Blevins of the Denver Post.
The 25-year-old was one of the first casualties in qualifying and sadly wasn't destined to join Howell and Kim Lamarre in a Canadian whitewash atop the podium, as reported by USA Today:
The Olympics ended quickly for slopestyle favorite Kaya Turski (@USATSportsImage): http://t.co/jMdMijy4Wj pic.twitter.com/zx4gZdrQRO

— USA TODAY Sports (@USATODAYsports) February 11, 2014
With top-quality riders such as Turski struggling to maintain balance, it came as no surprised that many of the women's finalists failed to land big tricks.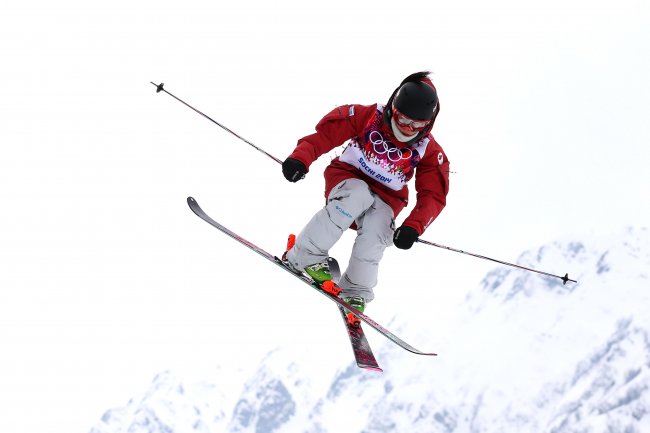 Cameron Spencer/Getty Images
Canada's double-medal swoop was hampered by a terrifying fall from Yuki Tsubota, who couldn't muster enough speed to clear one of the course's lips, resulting in a dangerous head-to-knee collision, per Bruce Arthur of the National Post:
Canadian Yuki Tsubota just crashed, hard. That looked bad. Still down.

— Bruce Arthur (@bruce_arthur) February 11, 2014
Early word is Yuki Tsubota has been taken to hospital with a jaw injury. No sign of concussion so far.

— Bruce Arthur (@bruce_arthur) February 11, 2014
Alyssa Roenigk of ESPN also reported jaw damage to Tsubota, but confirmed the fallen rider will pull through:
Being told by the Canadian presa officer: "The team medic is with Yuki and she is hoing to be okay. That's all I know."

— Alyssa Roenigk (@ESPN_Alyssa) February 11, 2014
Accoring to Peter Judge, Yuki has a possible broken jaw, but no signs of concussion.

— Alyssa Roenigk (@ESPN_Alyssa) February 11, 2014
Tsubota appeared proud of her achievements before taking to the final and will hope for a speedy recovery:
Good job to my girl @jennabeaann today. Proud of you! Remember just being @ the games alone is such an accomplishment pic.twitter.com/2PBggmzKK0

— Yuki Tsubota (@yuki_tsubota) February 9, 2014
Despite breaking up the Canadian dominance with a smart 85.40 during her first run, Logan was forced to wait anxiously after hitting the deck during her second attempt, reported by Lindsay Jones of USA Today:
American Devin Logan crashed on final jump of 2nd run in slopestyle finals. Will have to wait to see if first run score keeps her in medals.

— Lindsay Jones (@bylindsayhjones) February 11, 2014
Whether a heightened amount of falls comes down to conditions, nerves, pure bad luck or a conglomeration of all, safety has been a huge concern for those taking part.
Halfpipe events have suffered similar occurrences, suggesting facilities in Sochi are not up to standard Olympic athletes can expect. Indeed, after many falls and complaints, the halfpipe was altered, per the Associated Press and via ESPN.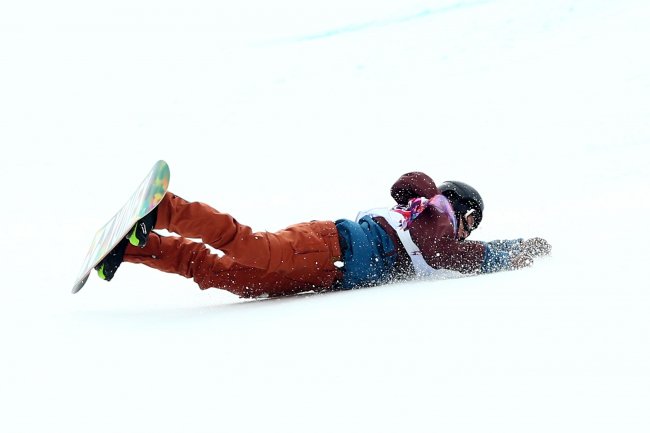 Cameron Spencer/Getty Images
Conditions during the women's slopestyle event were noticeably slow, as the course didn't appear to be as smooth as it should be. As highlighted by Kelly Whiteside of USA Today prior to the final, a huge proportion of participants have suffered in the brutal conditions:
At women's freeski slope , 75 percent of field has had significant knee injuries, stadium announcer says #sochismg

— Kelly Whiteside (@KellyWhiteside) February 11, 2014
It will be extremely interesting to see if falls continue throughout Day 4, and indeed, the rest of the games. Further changes will need to be made if this continues, suggesting the host nation will have plenty to answer for in the coming days.
With international names such as Shaun White vying for a gold medal in the upcoming halfpipe final, plenty of unfortunate falls could once again make headlines as competition rolls on. The safety and well-being of each and every athlete must be the ultimate focus moving forward. Although these athletes compete in high-risk sports, any alterations that could be made to improve the conditions must be prioritized.