The third day of the 2014 Sochi Winter Olympics is in the books, and team Canada has grabbed the lead in the medal count with three golds, three silvers and a bronze. Netherlands is tied with them in golds with three and has two silvers and two bronze medals to go along with those golds.
Norway, Russia and the United States round out the top five in the medal count with seven, six and five medals, respectively for each country.
So how did we get to this point?
Well if you missed any of the action on Monday, here is a full recap of each event that handed out medals on Day 3 in Sochi.
Alpine Skiing: Women's Super Combined
Gold: Maria Hoefl-Riesch, Germany
Silver: Nicole Hosp, Austria
Bronze: Julia Mancuso, United States
Julia Mancuso of the United States had a big lead after the downhill event in the morning as she led by nearly half a second over the rest of the field. The slalom was not her strongest showing, though, in the afternoon. Mancuso finished 13th in the slalom and saw her name fall from first to third on the leaderboard. Still, a medal was thrilling for Mancuso.
Maria Hoefl-Riesch of Germany was one of the favorites to win gold as the defending gold medalist in this event, so there is no surprise there. Nicole Hosp was not favored to win a medal, but after putting together two consistent races, she was able to take home the silver.
Short-Track Speedskating: Men's 1,500 Meters

Gold: Charles Hamelin, Canada

Silver: Han Tianyu, China
Bronze: Victor An, Russia
The short-track speedskating competition was certainly a disappointing day for the Americans, as American favorite J.R. Celski came up just short with a fourth-place finish. The biggest surprise of the day has to be the South Koreans failing to collect a medal in an event they have historically dominated.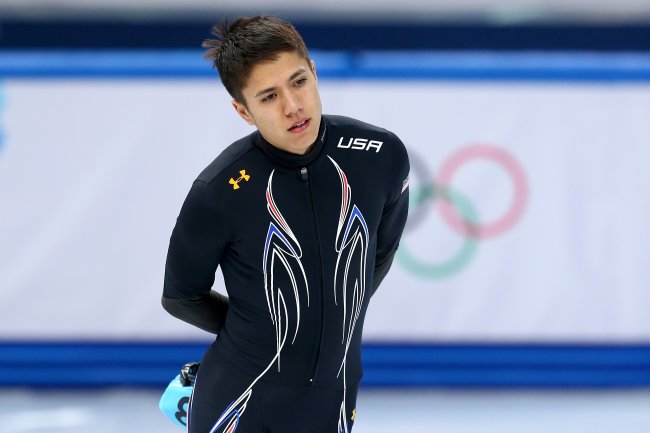 Streeter Lecka/Getty Images
Charles Hamelin looked strong all day as he won his heat race, semifinal race and the gold medal, while Han Tianyu pulled a bit of a surprise by sneaking onto the podium with a silver-medal finish. Victor An of Russia brought home a medal for the home country as well.
Speedskating: Men's 500 Meters

Gold: Michel Mulder, Netherlands
Silver: Jan Smeekens, Netherlands
Bronze: Ronald Mulder, Netherlands
Things could not have gone any better for the Dutch side on Monday as they swept the podium in speedskating for the men's 500-meter race.
The result was a pretty stunning one. The Dutch are extremely good in speedskating, but most expected at least someone from South Korea to get a medal on Monday. That did not happen, though, as the Dutch showed their might and took home the gold, silver and bronze.
Oddly, despite the Netherlands' dominance in long-track speedskating, this was the first time in 90 years of Winter Olympic history that a Dutch skater won the men's 500 meters.
Biathlon: Men's 12.5-Kilometer Pursuit
Gold: Martin Fourcade, France
Silver: Ondrej Moravec, Czech Republic
Bronze: Jean-Guillaume Beatrix, France
Much like in speedskating, the biathlon included a big surprise as well. Martin Fourcade of France was expected by many to medal in the event, but no one thought that Norway would be shut out of the top three and be left off the podium.
Historically, Norway has been very good in the biathlon, but this time they could only manage finishes of fourth and seventh place. Not enough to go home with a medal.
Freestyle Skiing: Men's Moguls
Gold: Alex Bilodeau, Canada
Silver: Mikael Kingsbury, Canada
Bronze: Alexandr Smyshlyaev, Russia
The Canadians were expected to dominate in men's moguls much like they did in the women's moguls, and they didn't disappoint. Canada finished with three of the top four spots in the finals and had another competitor finish in ninth place.
Russia was able to bring home another medal behind Alexandr Smyshlyaev, which put them past the Americans for fourth in the medal count at the end of Day 3.
Patrick Deneen, a medal contender from the United States, only managed to finish in sixth on Monday.