In the NFL draft, offensive tackle (and especially left tackle) is annually one of the most coveted positions. Beefeaters capable of successfully protecting quarterbacks (and the huge investment associated with them) are worth their weight in gold.
It's only fitting, then, that one of the top prospects at the position this year is already football royalty.
Texas A&M offensive tackle Jake Matthews is more than just the son of Hall of Fame offensive lineman Bruce Matthews, the nephew of former Pro Bowl linebacker Clay Matthews of the Cleveland Browns and the cousin of Clay's namesake, who is a Pro Bowl linebacker in his own right with the Green Bay Packers.
He's also a powerful, polished blocker capable of manning both tackle spots, a starter in the NFL from the get-go and a near-lock to be among the first 10 players chosen in May's NFL draft.
As Polished as They Come
Matthews' resume at A&M is every bit as beefy as he is.
The 6'5", 305-pounder was a three-year starter, a two-time All-SEC performer and a two-time All-American.
His impact in College Station can be summed up quite aptly by this blurb from Matthews' profile on the Texas A&M Website.
"With Matthews in the starting lineup, the Aggies allowed just 14 sacks in the final seven games after allowing 23 in the first six games of 2010." (Cue several NFL quarterbacks are nodding vigorously)
In fact, Matthews probably would have been a top-10 pick in the 2013 NFL draft had he chose to declare after his junior season.
Instead, he returned to Texas A&M. It was a decision indicative of his maturity level, a maturity that manifests on the field as well.
Bleacher Report NFL National Lead Writer Matt Miller lauded it, calling Matthews "polished and smooth:"
Looking at his game film, you see a young man with smooth footwork when reaching to the left or right. He's experienced playing either tackle position and has the length to punch and knock edge-rushers off their path. And if you come chest-to-chest with him, he's strong enough to bend his back, sink his weight and stop you cold. The biggest knock on Matthews might be that he's as good as he'll ever be. And if that's the case? He's still pretty dang good.
If there's a "knock" on Matthews, it's that he appears to have already hit his "ceiling," at least if a relatively flat 2013 season is any indication.
However, there are scouts who see more than a little room to grow with Matthews, both literally and figuratively.
Get Jake Matthews in a weight room and to play with a little more anger he's a stud. Even without that, he's very good. Upside there.

— Ben Natan (@BenNatan2) February 6, 2014
Even if Matthews has plateaued a bit, Rob Rang and Derek Stephens of CBS Sports still see plenty to like, comparing Matthews to Pro Bowler Joe Staley of the San Francisco 49ers.
Though Matthews won't blow anyone away with his athleticism, like Staley he's a sound technician with impressive toughness who exhibits no major weaknesses, and is tough to beat in both facets of the offense.
Rang and Stephens rank Matthews as the draft's top tackle, while Miller prefers Greg Robinson of Auburn, but the vast majority of draft pundits have Matthews in the top two at his position. It's a similar debate to last year, when Luke Joeckel was the "safe" play and Eric Fisher was perceived to have more "upside."
Jake Matthews 2014 NFL Draft Rankings

| | | |
| --- | --- | --- |
| Ranker/Site | OT Rank | Overall Rank |
| Matt Miller/Bleacher Report | 2 | 5 |
| Daniel Jeremiah/NFL.com | 2 | 8 |
| Gil Brandt/NFL.com | 1 | 4 |
| Rob Rang/CBS Sports | 1 | 2 |
| Todd McShay/ESPN | 2 | 4 |
As of February 10, 2014
Assuming Matthews is indeed a top two offensive tackle, there's very little chance he falls out of the top 10.
Like none.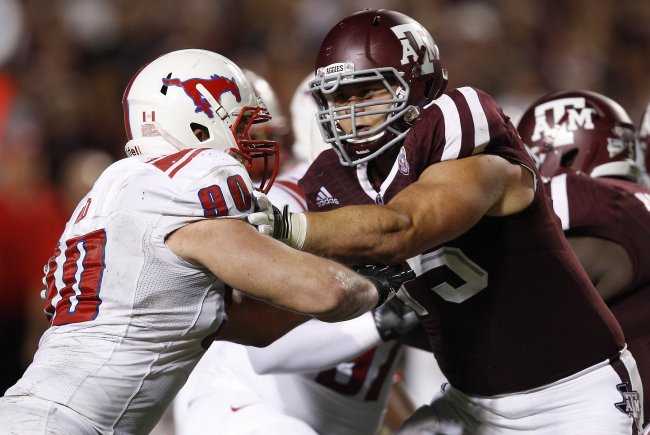 Bob Levey/Associated Press
A Consensus Top-10 Pick
Of the more than a dozen mock drafts I checked in researching this article, only one draftnik, Dane Brugler of CBS Sports, projected Matthews dropping out of the top 10:
With 31-year-old David Stewart a candidate to be released this offseason, the Titans could be looking at offensive tackle in the draft. Matthews could step in and start at right tackle as a rookie before eventually taking over for Michael Roos on the left side in a year or two.
Some pundits, including Miller, have the St. Louis Rams making Matthews the second overall pick in 2014, with Miller citing Matthews' versatility as a major selling point:
The Rams invested heavily in a left tackle during free agency last year, and Jake Long played well for the team. But he also tore his ACL late in the year, putting his start date in question for 2014. And even with Long back healthy in a perfect world, the Rams still need help at right tackle in the worst way.

Matthews played right tackle for two seasons at Texas A&M while Luke Joeckel held down the blind side. It's that versatility that makes this blue-chip prospect so intriguing. He could immediately play on either side of the line for the Rams while giving Sam Bradford the edge protection he's never had once Long is back in the lineup.
The "clubhouse leader" appears to be the Atlanta Falcons at sixth overall, with ESPN's Todd McShay calling it a very sensible move by the Falcons:
Defensive end, offensive tackle and tight end are the Falcons' top needs in this draft, and Matthews is a guy who fills a need and is also a top-five talent in this class. He brings versatility, having played both right tackle and left tackle for the Aggies, and he has good bloodlines (Bruce Matthews is his dad), commitment to the game and an understanding of what it takes to succeed. This feels like a good, safe pick for a team that needs to better protect QB Matt Ryan in 2014 and beyond.
USA Today's Mike Loyko echoed those sentiments:
6.#Falcons Jake Matthews OT Texas AM - About time the Falcons sure up their OL for future. Matthews one of safests bets in draft #LoykoMock

— Mike Loyko (@NEPD_Loyko) February 10, 2014
And that's the thing with Matthews. "Safe" may not be the adjective an agent necessarily wants associated with a high-end client before the draft. "Dominant" or "explosive" may have the better ring.
But teams know what they're going to get with Jake Matthews. Yes, it's possible that Matthews is just about as good as he's going to get.
But as Miller said, that's still pretty dang good.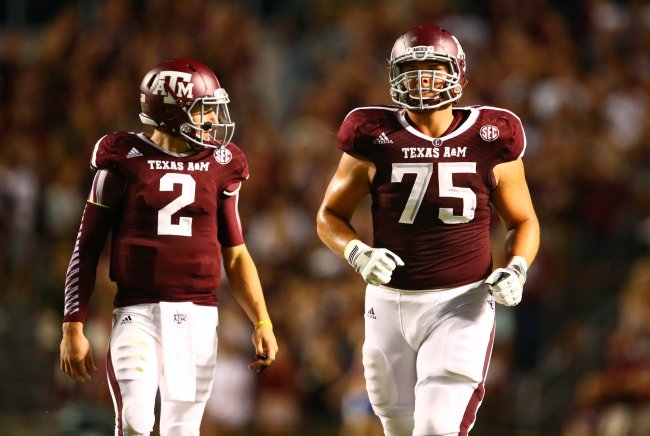 Mark J. Rebilas-USA TODAY Sports
What Scouts will Look for at the Combine
Frankly, it also affords Matthews a cushion of sorts heading into the combine later this month. It's possible that a strong performance from Matthews could bump his stock a tad, although it's essentially assumed Matthews will excel in interviews and positional drills.
After all, he's been preparing for this moment his entire life, all under the watchful eye of one of the greatest offensive linemen in NFL history.
Is Jake Matthews Worthy of a top-five pick in the NFL draft?
Matthews could potentially goose his stock a bit with a better-than-expected display of athleticism. Now is the time to show off his raw power by tearing it up in the bench press and surprising scouts with his speed by reeling off a 4.4 40-yard dash time. (Kidding, of course, but you get the gist.)
With that said, though, the odds of Matthews doing any real damage to his draft stock with a poor outing at Lucas Oil Stadium are pretty slim.
There's just too much tape on Matthews. Too many examples of the excellent footwork, the good technique and the quickness in space.
Too many examples of showing he can be a Pro Bowl offensive tackle.
And far too many teams that need one for him to drop out of the top 10.