Day 3 in Sochi marked the rise of mighty Canada in the official 2014 Winter Olympics medal count.
With three medals on Monday—including two golds—Canada's three-day total bloomed to seven, moving the nation ahead of the Netherlands, which also had another big day.
Here's a look at all the top nations through three days of action:
Cathal Kelly of the Toronto Star noted this as the first time ever that Canada has led a medals count at the Olympics:
This is the first time Canada has ever led the medal count in an Olympics.

— cathalkelly (@cathalkelly) February 10, 2014
SI.com's Richard Deitsch waxed poetic about the achievement, referencing a magically delicious dish Canadians are famous for:
The Land of Poutine is rolling in the land of Putin: Canada currently leads the Sochi Games medal count.

— Richard Deitsch (@richarddeitsch) February 10, 2014
As is the case every year, those who immerse themselves in the Olympic experience often experience anxiety regarding how well—or how poorly—one's home nation might be doing compared to the rest of the world.
Paul Wells of Maclean's magazine captured this dynamic perfectly after Canada's huge day:
Maybe we can switch out the day-four medal-count-angst thumbsuckers and replace them with over-confidence thumbsuckers #WeAreWorryWarts

— Paul Wells (@InklessPW) February 10, 2014
But Day 3 wasn't all about Canada.
As mentioned in the opening, the Netherlands also had a big day, doing tremendous damage in just one event. Dutch speedskaters swept the men's 500-meter race on Monday, knocking American Shani Davis off the podium to win three medals in one fell swoop.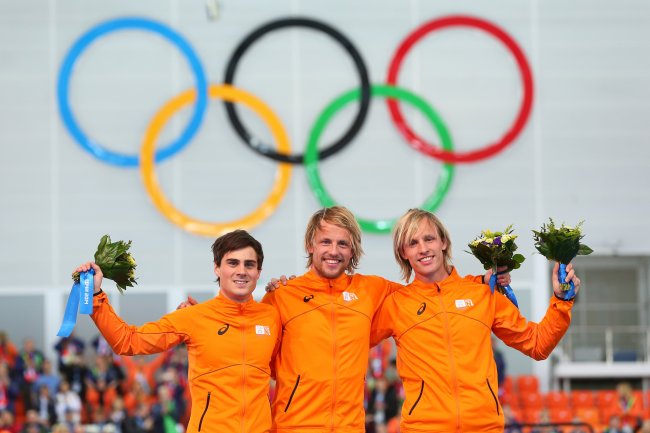 Quinn Rooney/Getty Images
A clean sweep wasn't the most remarkable aspect of the result, either. As detailed by IceNetwork, a couple of twins—Michel and Ronald Mulder—were two of the three medalists in the event:
Thrilling finish to the men's 500 meters, with a Dutch sweep. Twins Michel and Ronald Mulder go 1st and 3rd. What a race! #Sochi2014

— icenetwork (@icenetwork) February 10, 2014
Another remarkable result from Monday's action was the bronze medal won by America's Julia Mancuso in the women's super combined ski race. Mancuso hasn't medaled all season long during World Cup competitions, but like she's done in the past, she performed at her best on the world's biggest stage.
She even had the lead for a while. This impressive series of events caused B/R's Dan Levy to believe Mancuso must have mixed feelings about her finish:
Julia Mancuso lost her lead, settled for bronze in the Super Combined. Has to be one of those relieved/happy/disappointed situations for her

— Dan Levy (@DanLevyThinks) February 10, 2014
In the long run, her fourth career Olympic medal not only helped Mancuso cement herself as the greatest American woman Olympian skier in history, but it also helped the U.S. contingency hang around atop the medal standings for another day.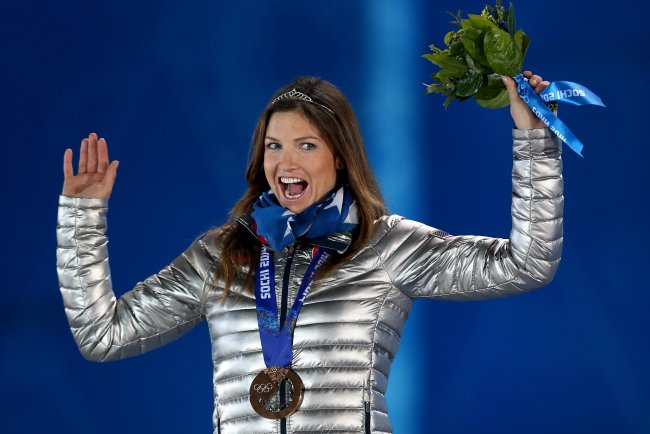 Matthew Stockman/Getty Images
The Olympics aren't about medal counts for every fan, however. There are those who prefer to cheer for every nation. Courtesy of BuzzFeed Sports, here's an example of one such fan:
Now THIS is an Olympic hat. Bravo, sir. pic.twitter.com/HVDlUk9dnb

— BuzzFeed Sports (@BuzzFeedSports) February 10, 2014
Additionally, there are those who couldn't care less about medal counts, like Chirp Hard Hockey, which is focused on just one particular sport (color me shocked):
Medal count means nothing, it's all about who takes gold in hockey.

— Chirp Hard Hockey (@ChirpHard) February 10, 2014
With three days down, there are still 13 more to go until the 2014 Winter Games in Sochi come to an end. Medal counts are likely to fluctuate from day to day, but as it happens every four years, there are always a handful of nations that emerge as winter-sport powerhouses.
It's going to be fun to see how the action unfolds this time around, and with so many events yet to be contested, there's plenty left to see.
Follow me on Twitter @JesseReed78