Sochi Winter Olympics 2014: Day 4 Medal Predictions and Results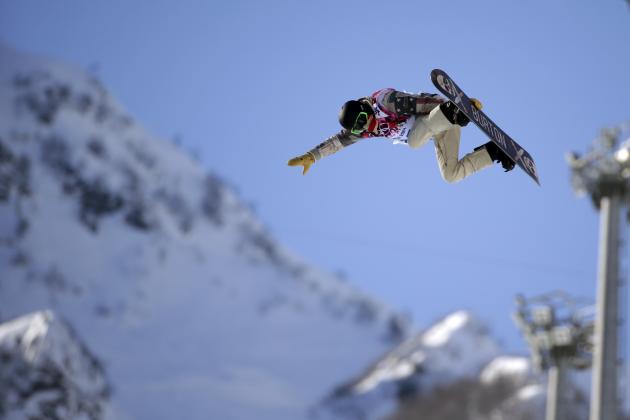 Jae C. Hong/Associated Press
Shaun White expects to fly high in the men's snowboard halfpipe.
The king is dead. Long live the king.
That's the story in halfpipe snowboarding, an event that had been the province of Shaun White for each of the last two Olympics. There was no gold medal for White, and no spot on the podium as he was beaten by younger and more agile snowboarders.
Iouri Podladtchikov of Switzerland is the new king of the halfpipe. "I-Pod" edged out two Japanese boarders for the gold medal
Dara Howell of Canada took home the gold medal in the women's slopesytle event while Norway's Ola Vigen Hattestad won the men's cross country skiing sprint.
Natalie Geisenberger of Germany dominated the women's luge event, but there was good news for American Erin Hamlin, who won the bronze.
Carina Vogt of Germany joined Geisenberger in celebration as she won gold in the first women's ski jumping event in Olympic history. No American finished better than 10th in that event.
Finally, Sang Hwa Lee of South Korea won the women's 500-meter sprint, edging out Olga Fatkulina of Russia for the gold.
Begin Slideshow

»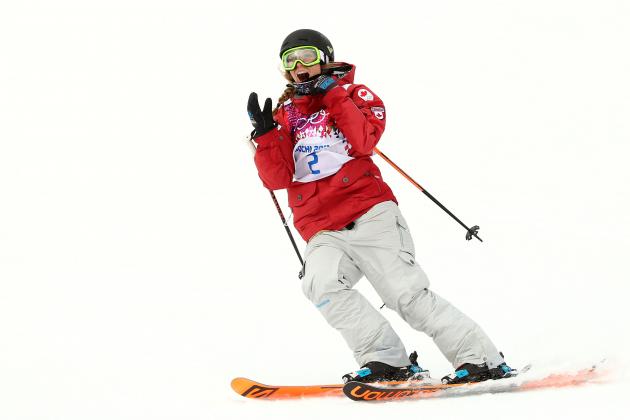 Mike Ehrmann/Getty Images

At just 19 years old, Dara Howell of Canada won the first-ever gold medal in women's freestyle skiing slopestyle.
Howell was one of the few skiers who was able to stay upright through most of her runs as she put on a show at the Rosa Khutor Extreme Park.
The Canadian was the leader after the first two qualifying runs, and she kicked her score up another notch during her first run of two in the final round.
Howell impressed on her first run by earning a score of 94.20, which was good enough for Canada's fourth overall gold in Sochi.
The United States' Devin Logan, 20, also had her first-run score hold up for a medal as she earned the silver with a mark of 85.40.
Kim Lamarre, 25, of Canada did enough in her second run to earn the bronze medal with a score of 85.00.
Medal results
Gold: Dara Howell (Canada): 94.20
Silver: Devin Logan (United States): 85.40
Bronze: Kim Lamarre (Canada): 85.00
Last updated by Joe Tansey
Pre-Event Predictions
When X Games champion Tiril Sjastad Christiansen of Norway had to withdraw from the Olympics because of a knee injury, it left this event, the first of its kind in Olympic history, wide-open for a slew of other competitors.
At the top of the long list of possible medal contenders are a pair of Canadians: 25-year-old Kaya Turski and 19-year-old Dara Howell.
Turski is the more experienced of the two, and she is considered a slight favorite to claim the gold. She has done so in three of the last four X Games and was expecting to challenge for the top spot even if Christiansen had been healthy enough to compete.
Howell, however, won the bronze at the last two X Games and seems to be peaking at the right time. She could pull off a major surprise.
Also expected to challenge for a place on the podium are Germany's Lisa Zimmermann, Great Britain's Katie Summerhayes and Keri Herman of the United States.
Predictions
Gold: Kaya Turski, Canada
Silver: Dara Howell, Canada
Bronze: Lisa Zimmermann, Germany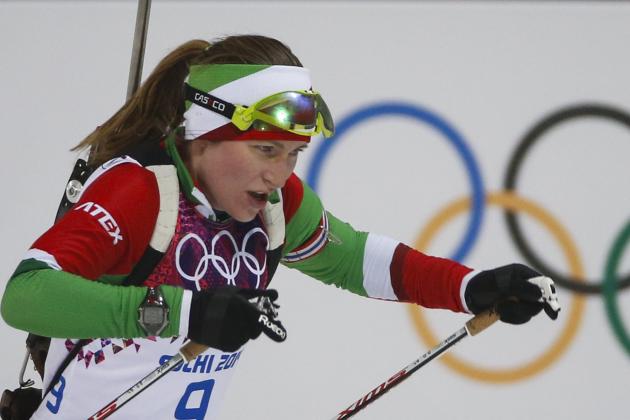 Felipe Dana/Associated Press
Darya Domracheva
Darya Domracheva of Belarus earned her second Olympic medal when she picked up the gold in the 10-kilometer pursuit.
Domracheva struggled in the 7.5-kilometer sprint earlier in the Olympics and finished ninth in that event, but she put it behind her and had a notable time of 29:30.7 in winning the 10-km event. She finished well ahead of second-place finisher Tora Berger of Norway.
The bronze medal went to Teja Gregorin of Slovenia, who finished the event in 30:12.7. All three of the top finishers had one penalty deduction, giving the big win to Domracheva.
The Belarusian skier/shooter won a bronze medal in the 15-kilometer individual race in Vancouver in 2010, but she had been kept off the podium in four other events. Domracheva won the world championship in the 10-kilometer event in 2012.
Susan Dunklee finished 18th, the best placement among all Americans.
Medal results
Gold: Darya Domracheva, Belarus
Silver: Tora Berger, Norway
Bronze: Teja Gregorin, Slovenia
Last updated by Steve Silverman
Pre-Event Predictions
Slovakia's Anastasiya Kuzmina is in great position to double down on the gold medal she won in Sunday's 7.5-kilometer sprint.
That victory earned her a 19.9-second head start on sprint silver medalist Olga Vilukhina of Russia and the rest of the field in Tuesday's 10-kilometer pursuit, as the start order and intervals are based on the results of the sprint competition.
Kuzmina's biggest challenge could ultimately come from Norway's Tora Berger, despite Berger's atypical poor finish in the sprint on Sunday.
Berger won four gold medals and two silvers at the 2013 world championships. She also set a single-season World Cup record with 11 victories and 19 podium finishes overall during the 2013 campaign. But Berger's real specialty is in the longer 15-kilometer event, and she'll start this event 33.8 seconds behind Kuzmina, largely because of a rare shooting penalty incurred in the sprint that relegated her to a 10th-place finish.
Like Berger, Darya Domracheva of Belarus has a long way to go to catch Kuzmina or find her way to the podium at all. Domracheva finished ninth in the 7.5-kilometer sprint, 31.8 seconds off the pace, after she also incurred a shooting penalty. She and Berger had been widely considered the favorites to battle for the gold in the sprint and put themselves in better position to do the same in the pursuit event.
Predictions
Gold: Anastasiya Kuzmina, Slovakia
Silver: Tora Berger, Norway
Bronze: Olga Vilukhina, Russia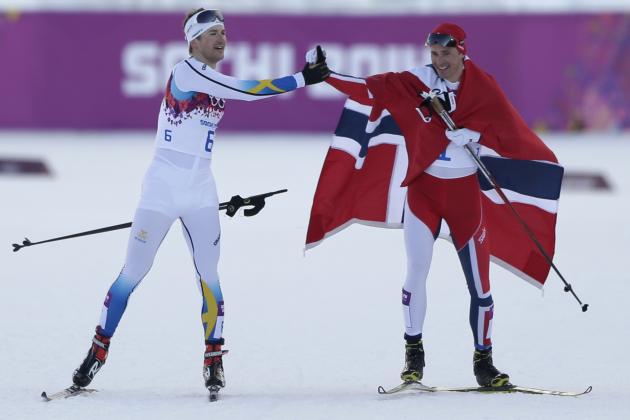 Matthias Schrader/Associated Press

Ola Vigen Hattestad had the race of his life as he gave Norway yet another gold medal in cross-country skiing as he took the men's sprint.
However, while there was joy for the Norwegian skier, there was a spectacular crash that ruined medal plans for Norway's Anders Gloeersen, Russian skier Sergey Ustiugov and Marcus Hellner of Sweden.
Teodor Peterson and Emil Joensson of Sweden finished second and third, respectively.
Joensson was the only pre-race medal favorite to hit the stand.
Medal results
Gold: Ola Vigen Hattestad, Norway
Silver: Teodor Peterson, Swedon
Bronze: Emil Joensson, Sweden
Last updated by Steve Silverman
Pre-Event Predictions
Make no mistake about it. Petter Northug Jr. is a rock star in Norway, both in terms of style and popularity.
But he also gets the requisite results in his chosen field of athletic play. Northug came to Sochi with a handful of Olympic medals already earned: two golds, one silver and one bronze in 2010 at Vancouver.
Northug also has a lucrative endorsement deal with Red Bull that reportedly pays him at least 1 million Norwegian krones annually and up to 2 million krones depending on performance incentives. Depending on fluctuating currency conversion rates, that means Northug has been earning the equivalent of between $325,000 and $650,000 or more in U.S. dollars annually over the four years leading up to these Olympics just on that one endorsement.
No wonder he felt comfortable competing in the 2010 World Series of Poker, where they presumably accepted his krones and converted them to dollars without the slightest bit of quibbling.
Although Northug is the favorite in the sprint, he's usually more dominant in the longer events and will be pushed by the likes of Russia's Nikita Kriukov and sprint specialist Emil Joensson of Sweden.
Predictions
Gold: Petter Northug Jr., Norway
Silver: Nikita Kriukov, Russia
Bronze: Emil Joensson, Sweden
Gregorio Borgia/Associated Press

It was joy for the Norwegians and pain for American cross-country skier Sophie Caldwell.
Caldwell made it to the finals, but she fell early in the event and had to settle for sixth place. That's the best an American woman has ever finished in this event.
However, it was a sensational showing for Norway's Maiken Caspersen Falla, who won the gold medal with a time of 2:35.49. She defeated teammate Ingvild Flugstad Oestberg by 0.38.
Oestberg, meanwhile, edged Vesna Fabjan of Slovenia by just .02 for the silver medal.
Medal results
Gold: Maiken Caspersen Falla, Norway
Silver: Ingvild Flugstad Oestberg, Norway
Bronze: Vesna Fabjan, Slovenia
Last updated by Steve Silverman
Pre-Event Predictions
It has been a long time since the United States earned an Olympic medal in cross-country skiing.
In fact, it has been 38 years.
That's why the emergence of Kikkan Randall as not only a medal contender, but a gold-medal contender, is so exciting for the U.S. team in Sochi. After winning two World Cup races last month, Randall represents America's best hope for a cross-country medal since Bill Koch earned a silver in the 1976 Winter Games.
Randall, a 31-year-old from Alaska, also won the World Cup sprint title in 2012.
Her strongest competition likely will come from eight-time Olympic medalist Marit Bjoergen of Norway and Bjoergen's teammate, Ingvild Flugstad Oestberg. Denise Herrmann of Germany is considered a dark-horse contender for a medal.
Predictions
Gold: Kikkan Randall, United States
Silver: Marit Bjoergen, Norway
Bronze: Ingvild Flugstad Oestberg, Norway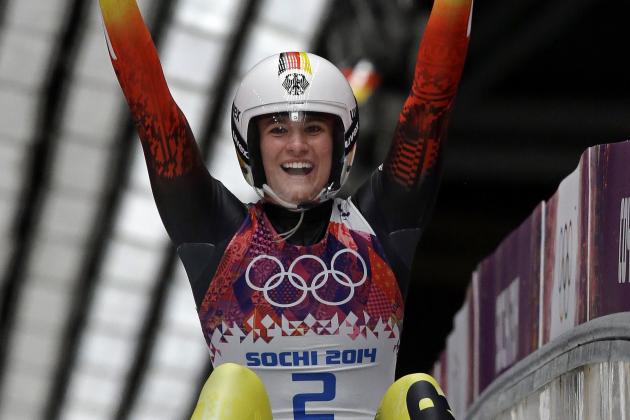 Dita Alangkara/Associated Press
Natalie Geisenberger won the gold medal for Germany in the luge.
Women's luge singles once again is the domain of the German sliders, but an American made her presence felt in a big way.
Natalie Geisenberger was widely considered to be the best in the world, and she did not disappoint any of her followers. She won the luge with a four-round time of 3:19.768 over highly regarded teammate Tatjana Huefner, giving the Germans a sweep of the top two positions. Geisenberger's margin of victory was an impressive 1.139 seconds.
The victory was the fifth consecutive gold medal for the Germans in women's singles luge competition.
While the Germans had plenty of reason to celebrate, so did the United States lugers. American Erin Hamlin strung together four consistent runs on the ice at the Sanki Sliding Center for a time of 3:21.145 to earn the bronze medal.
A small but loud group of American fans supported Hamlin before she took off for her final run and let out large whoops when she finished and they knew she was assured of a medal.
Kate Hansen and Summer Britcher both performed well for Team USA as well. Hansen finished 10th, while Britcher was the 15th-best slider.
Medal results
Gold: Natalie Geisenberger, Germany
Silver: Tatjana Huefner, Germany
Bronze: Erin Hamlin, United States
Last updated by Steve Silverman
Pre-Event Predictions
Germany is going for its fifth consecutive gold medal in this event, and Natalie Geisenberger, who won the bronze at Vancouver in the 2010 Winter Games, is the overwhelming favorite to keep the German team's streak intact.
In the four years since Vancouver, Geisenberger has won a combined 18 World Cup or world championship races. Everyone else entered in this event, combined, has managed a total of 21 wins in the same time period.
But hold on. One of those losses pinned on Geisenberger came on the Sochi track last year when her German teammate, Tatjana Huefner, scored a narrow victory. Huefner is no joke herself, coming in as a four-time world champion and the reigning Olympic gold medalist.
Erin Hamlin is America's best hope for a medal, and she'll probably be battling for bronze along with Canada's Alex Gough, Russia's Natalia Khoreva and U.S. teammate Kate Hansen. They were the top four finishers in the last World Cup event prior to the Olympics, with Hansen first and Hamlin fourth.
But the Germans skipped that World Cup warm-up event, and after the first two runs at Sochi on Monday, Hamlin stood third in the standings behind Geisenberger and Huefner while Hansen was 10th.
Predictions
Gold: Natalie Geisenberger, Germany
Silver: Tatjana Huefner, Germany
Bronze: Erin Hamlin, United States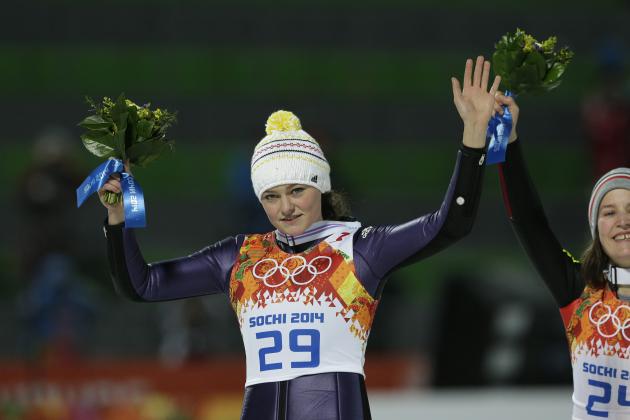 Matthias Schrader/Associated Press
Carina Vogt of Germany took home the gold medal in ski jumping.
The barrier has been broken and medals have been handed out in women's ski jumping in the Olympics for the first time.
Remember the name of Carina Vogt of Germany. She will forever be listed as the first Olympic winner in women's ski jump as she was the best in the field and came away with the gold medal. Vogt had a cumulative score of 247.4, and that enabled her to edge out Austria's Daniela Iraschko-Stolz, who finished second with a mark of 246.2
The bronze medal went to Coline Mattel of France, who edged out favored Sara Takanashi of Japan. The 17-year-old could not get on the podium and finished fourth.
American ski jumper and former world champion Sarah Hendrickson had designs on earning a medal, but she finished a disappointing 21st. Americans Jessica Jerome and Lindsey Van finished 10th and 15th, respectively
Medal winners:
Gold: Carina Vogt, Germany
Silver: Daniela Iraschko-Stolz, Austria
Bronze: Coline Mattel, France
Pre-event prediction
Ski jumper Sara Takanashi, a mere 17-year-old who stands only 5' tall, knows how to fly high.
That's why Takanashi seems poised to become one of the enduring darlings of these Olympics. Takanashi rates as one of the top medal contenders heading into this event, along with Daniela Iraschko-Stolz of Austria, Carina Vogt of Germany and former world champion Sarah Hendrickson of the United States.
Hendrickson, however, is coming off a right knee injury that may prevent her from competing at her best.
Women's ski jumping is making its debut at the Winter Games. Iraschko-Stolz was one of the 15 female athletes to unsuccessfully sue organizers of the 2010 Games to be allowed to compete.
Iraschko-Stolz, 30, also is openly gay and took on her partner's surname of Stolz after the two were married last year, according to David Ljunggren of Reuters. Despite news reports suggesting otherwise, she told Reuters that public reaction to a Russian law banning homosexual propaganda among minors has been exaggerated: "I had a very good welcome like every other athlete. There were absolutely no problems."
She also told the news agency that she wanted to focus on sport at the Winter Games.
She'll need to in order to challenge the diminutive but high-flying teenager from Japan for the gold.
Predictions
Gold: Sara Takanashi, Japan
Silver: Daniela Iraschko-Stolz, Austria
Bronze: Carina Vogt, Germany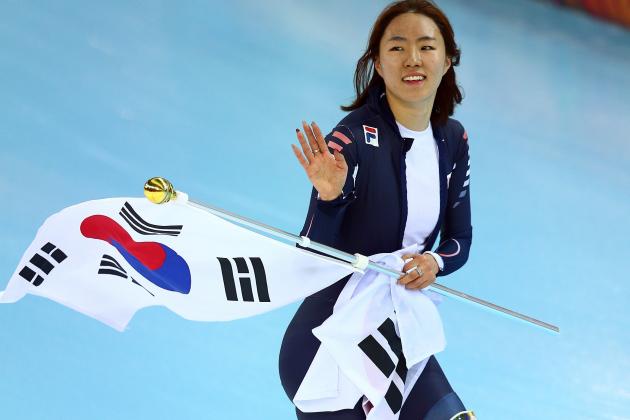 Clive Mason/Getty Images
San Hwa Lee celebrates after setting an Olympic record.
Sang Hwa Lee of of South Korea was not shy about her desire to defend her gold medal in the 500-meter sprint, and she asserted herself boldly in winning the gold medal.
Seconds after Russia's Olga Fatkulina had moved to the top of the standings with a scintillating sprint around the track at the Adler Arena Skating Center, Lee took the ice and ripped first place away from the Russian.
Not only did she set an Olympic record with her time of 37.28 sprint around the oval, she set the overall Olympic record for the event with a two-race time of 74.70. Lee celebrated emphatically as she saw her time flash on the scoreboard.
Fatkulina earned the silver with a time of 75.06, beating out Margot Boer of the Netherlands, who won the bronze with a time of 75.48.
American Heather Richardson was in fourth place and in good position to challenge for a medal after her first race, but she fell back to eighth after a slow final race (38.02). She had a combined time of 75.75.
Medal results
Gold: Sang Hwa Lee, South Korea
Silver: Olga Fatkulina, Russia
Bronze: Margot Boer, Netherlands
Last updated by Steve Silverman
Pre-Event Predictions
South Korea's Sang Hwa Lee is attempting to become only the third woman speedskater in Olympic history to capture the gold medal in the 500-meter sprint in back-to-back Winter Games, and she's the odds-on favorite to join American Bonnie Blair and Catriona Le May Doan of Canada in earning that distinction.
It obviously is not easy to repeat as 500-meter champion, however, and a pair of Americans seem poised to make it all the more difficult for Lee.
Heather Richardson became the first American in nearly a decade to earn the world sprint crown last year and could make this the first strike in what should be a multiple-medals Olympics for her. Her roommate and U.S. teammate Brittany Bowe, a former college basketball player, also could be a factor—although both Americans typically perform their best in longer events.
Also expected to figure in the hunt-for-a-medal mix are Germany's Jenny Wolf, Russia's Olga Fatkulina and China's Wang Beixing, who earned the bronze in the 500 meters in the 2010 Winter Games in Vancouver.
Predictions
Gold: Sang Hwa Lee, South Korea
Silver: Jenny Wolf, Germany
Bronze: Heather Richardson, United States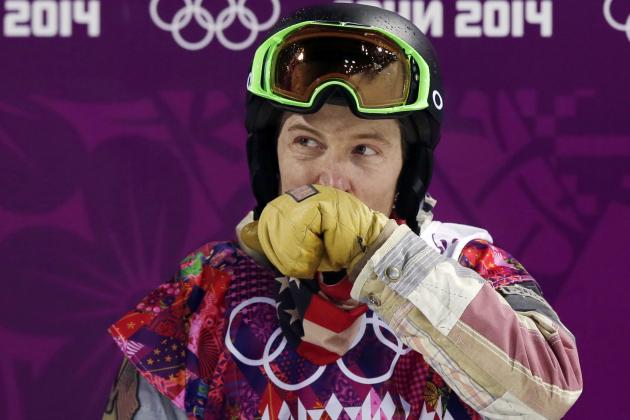 Andy Wong/Associated Press
Shaun White struggled in the halfpipe finals and was kept off the podium.
Call it the end of an era.
Shaun White has been the Godfather of snowboarding through the history of the sport. While it seems likely that White, 27, is nearing the end of his brilliant career, he appeared to have an excellent chance to bring home a gold medal in this event for the third straight time.
Not this time. While he got plenty of big air at the Rosa Khutor Extreme Park as he completed his last run on the halfpipe, there were a couple of shaky landings and he lacked the explosiveness of eventual winner Iouri Podladtchikov of Switzerland and he could not claim victory in the event.
It gets worse for White. He did not even get to the medal stand as he was beaten by two Japanese boarders who finished second and third. It was truly an impressive performance for Ayumu Hirano, the second-youngest medalist ever at 15 years, 74 days. Hirano won the silver medal, while countryman Taku Hiraoka brought home the bronze medal.
Americans Danny Davis and Gregory Bretz also struggled in the finals. Davis finished 10th, while Bretz finished 12th and last.
However, the huge news of the day was White's failure to make the podium, and perhaps the end of his era in snowboarding.
Medal results:
Gold: Iouri Podladtchikov, Switzerland
Silver: Ayumu Hirano, Japan
Bronze: Taku Hiraoka, Japan
Update by Steve Silverman
Update
Shaun White got off to a sensational start in the halfpipe with a score of 95.75 in his first run through the pipe, and that gave him a 2.50-point lead in the event.
Pre-Event Predictions
When it comes to the men's snowboarding halfpipe, all conversation must begin and end with American Shaun White.
Well, except at Sochi, of course. Much of the conversation leading up to the halfpipe competition has centered on the condition of the course at the Rosa Khutor Extreme Park. American Danny Davis, who is expected to contend for a medal, called it "garbage" and "crappy" in an interview with Yahoo's Jeff Passan. Others, including White, have been more restrained in their comments but still less than complimentary.
Whatever the case, it is the venue on which they must compete in these Olympics.
No matter what the conditions, the creative and energetic White remains the overwhelming favorite to win the gold.
Davis likely will be left to battle his own negativity over the course and the likes of Russian-born favorite Iouri Podladtchikov—now skating under the Swiss flag—for the remaining places on the podium.
Predictions
Gold: Shaun White, United States
Silver: Iouri Podladtchikov, Switzerland
Bronze: Danny Davis, United States